Professional Quintet plays premier performance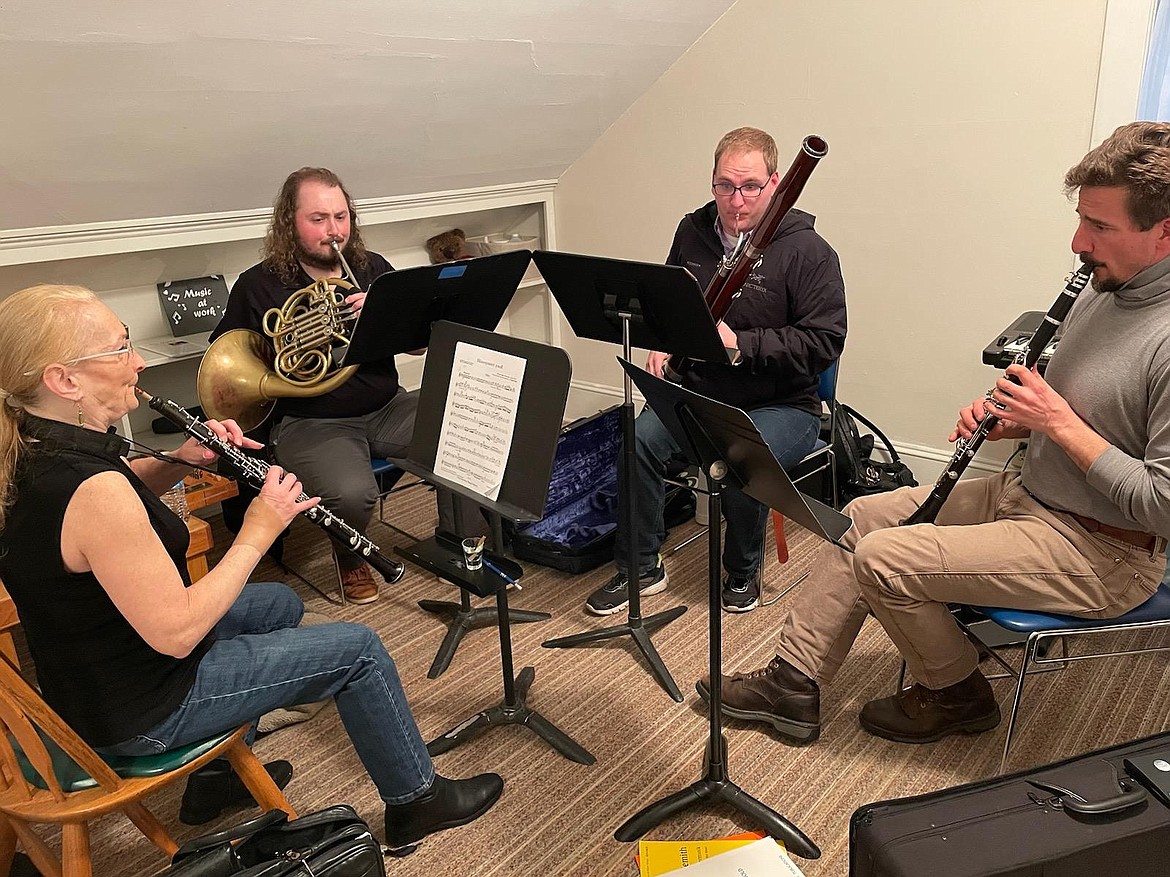 The Coeur d'Alene Woodwind Quintet rehearses at the Coeur d'Alene Music Conservatory for their premier performance as part of a Chamber Series presented by the conservatory. From left, AlekSandra Ratajczak, Hunter Strobel and Caleb Hill play, and Michelle Hannaford is not pictured.
Photo courtesy of the Coeur d'Alene Music Conservatory
by
JOSA SNOW
Staff Writer
|
March 3, 2023 1:00 AM
The Coeur d'Alene Woodwind Quintet will play Gershwin, Bizet and Hindemith to introduce a chamber series to Coeur d'Alene at 7:30 on March 10 at the First Presbyterian Church.
The quintet and chamber series share a goal of bringing world class music to Coeur d'Alene.
The quintet will begin the chamber series by illustrating what chamber music can be with music selections spanning 130 years.
The quintet performance will feature the following artists:
Michelle Hannaford is a flutist in the Coeur d'Alene Woodwind Quintet, North Idaho Wind Symphony and frequently plays woodwinds and piano in musical pits between Spokane and Coeur d'Alene. Hannaford graduated with a bachelor's in music education degree from Cleveland State University and holds two master's degrees. She takes her passion for music and events on tour throughout Europe while performing and managing with various ensembles.
Hunter Strobel is the music director in St. Maries for high school and middle school bands and choir director.
He began his pursuit of music in middle school and before leaving high had decided he wanted to be a music teacher. He was accepted at the Lionel Hampton School of Music at the University of Idaho on the French horn, but quickly began chasing as many other instruments as he could. In his time at U of I, he took special interest in the cello and began studying that alongside the French horn. He graduated in 2020 with a bachelor's in music education.
AlekSandra Ratajczak has played oboe and English horn in many pit orchestras, chamber music and music ministry for decades, including the last 12 years (before COVID-19) with the International Symphony Orchestra of Sarnia Ontario and Port Huron, Mich. In North Idaho, she has played with Messiah orchestra, the Music Conservatory of Coeur d'Alene, the Music Conservatory of Sandpoint and now the Music Conservatory of Coeur d'Alene Quintet.
She auditioned for a scholarship to the music school at the University of Michigan while attending Interlochen Music camp. Scholarship in hand, she went on to study oboe performance under Detroit Symphony oboist Ron Odmark, and under Harry Sargons while at U of M.
Caleb Hill has played bassoon since 2005 and taught since 2011. He serves as principal bassoon in both the Coeur d'Alene Symphony Orchestra and the North Idaho Philharmonia, and is excited to perform as part of the Coeur d'Alene Woodwind Quintet.
Hill studied bassoon performance under Christian Smith at Brigham Young University. While there, he played bassoon and contra-bassoon in the Philharmonic and Symphony Orchestras. He spent four years working as a recording engineer for the BYU School of Music and discovered a love for digital audio technologies. He has performed in many different places and with many groups across Utah, Nevada and Idaho.
Jim Sullivan has played clarinet and bass clarinet with the Los Angeles Philharmonic, the Santa Barbara Symphony and the Los Angeles Korean Orchestra, among many others.
He's the director for the chamber program and clarinet teacher at the Coeur d'Alene Music Conservatory. He has also coached and taught in California before he moved to Spirit Lake.
Sullivan has a master's degree from the California Institute of the Arts and a bachelor's degree from Florida State University, both in clarinet performance. He also studied at the Cleveland Institute of Music Clarinet Performance.
Recent Headlines
---