ZERO-ing in — Early morning workouts have made senior Blake Buchanan a Lake City High basketball star, an ACC recruit and a USA Basketball team selection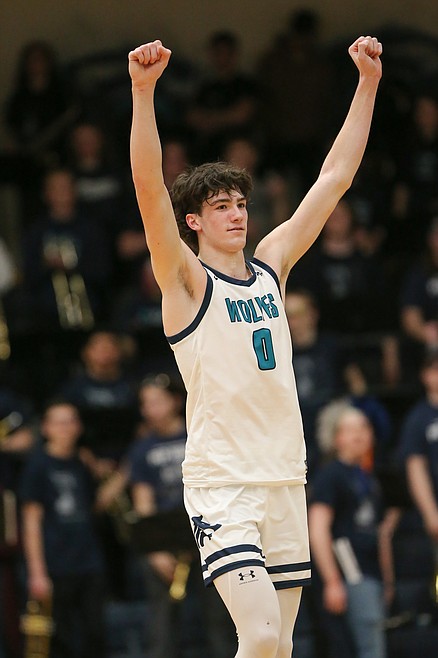 JASON DUCHOW PHOTOGRAPHY Lake City High senior Blake Buchanan leaves his home court for the final time last Tuesday, in the Timberwolves' win over Coeur d'Alene for the 5A Region 1 championship.
By MARK NELKE
Sports editor
6:30 a.m.
A time when most kids — heck, most adults — are still in bed, trying to squeeze out a few more minutes of sleep.
Not Blake Buchanan.
Nearly every morning for the past three years, the 6-foot-11 Lake City High senior basketball star has pulled himself out of bed, headed for the school gym for what they call "Zero Hour."
Sometimes, there are other players in the gym as well.
But many times, it's just Blake and longtime Lake City assistant coach Kelly Reed, working on individual skills.
At first, it was simple post stuff. Eventually, it evolved to all-around basketball skills.
"I don't think I'm the same player without all that time put in, especially sophomore year and junior year," Buchanan said. "It's been great for me, I get a credit for it, I get to wake up and play, it gets my day going. That's been one of the best things about coming to Lake City is, I think, the access I have.
"What started it was, I started to realize I have a chance to go play, and I wanted to start putting the work in. And coach Reed was like, 'I'm here to do it, to help you out.'
This work also continued into the summer, when there was no class — and no credit.
Just Blake and Kelly.
"I've had a rule with … tons of kids," Reed said. "They have to call me (to work out). If I have to call them, that's me wanting to. If they call me or text me, that's them wanting to. There's a big difference. Blake called and texted a lot."
The result — Buchanan has developed into a top-100 player in the class of 2023. He's helped Lake City, which is No. 25 in the MaxPreps national high school rankings, to 23 wins without a loss, heading into the state 5A tournament at the Ford Idaho Center in Nampa, beginning Thursday.
In April, Buchanan will play in the Nike Hoop Summit in Portland, suiting up for USA Basketball against a team of international players.
And next year, he's off to Virginia, which won the NCAA title in 2019.
"It is not a sexy thing," Lake City coach Jim Winger said of those early morning workouts. "They (Blake and Kelly) have had a special bond, and that's been awesome. They've spent every morning for three years, add that up … it's been remarkable, and Kelly's done such an awesome job with him, in particular, the post moves are great, but the hours and time spent on that shooting machine … that's why his game's improved, and I would love to know the number of hours that kid shot and worked with coach Reed. That's been a huge, massive deal."
"Yes, Blake is 6-foot-10, and yes, he has unbelievable DNA, but yes, he has put in a bazillion hours in the gym, and in the weight room," Reed said. "This didn't just happen by accident. He's been willing to do the work. That's what's so fun. He wants to learn, like he knows he has a lot to get better at."
"You know that your kid is going to be successful when you don't have to tell them that they should go work out, right?," said Debbie Buchanan, Blake's mom and former Idaho volleyball coach and former St. Maries High volleyball standout. "There's so many times I'll text Blake or call him … 'Hey, where are you?' 'I'm doing an extra training.' Or, 'I'm lifting.'"
SOME EIGHT years ago, at a girls volleyball camp in Moscow, Blake Buchanan met Kolton Mitchell.
Blake was there because his mom was putting on the camp. Kolton was there, with his mom Karla, because her daughter, Klaire, was attending the camp, and Debbie was recruiting the future Lake City High standout, who eventually ended up at Grand Canyon University in Phoenix.
Blake and Kolton, the only two boys there, wound up jumping in on drills and scrimmages, and immediately hit it off. A little while later, while Debbie was in Spokane for a tournament, her husband, former Idaho football player Gayle "Buck" Buchanan, took Blake and Kolton jeepin'.
The two boys kept in touch for years after that chance meeting.
As a freshman in 2019-20, Buchanan became a starter during the season, and helped Moscow High reach the state 4A title game.
But that summer, there were rumblings that, because of COVID-19, Moscow was considering not offering interscholastic sports for the 2020-21 school year — just intramurals.
"And I needed to play," Buchanan said.
Buchanan had known Kolton from that chance meeting several years earlier, and later on played AAU basketball with him on the Spokane-based Eastern Washington Elite.
Driving up some 90 minutes from Moscow 2-3 times a week for practice was getting old. Plus, Debbie and "Buck" were thinking about retiring, and building a place in the Coeur d'Alene area.
One thing led to another, and …
Buchanan transferred to Lake City just prior to the 2020-21 school year — partially because of COVID, partially so he could play at a higher competition level.
"It was super hard to leave; super emotional, that's where I grew up, all my friends," Blake said. "I cried when I called the coach (Josh Uhrig) and let him know. It was emotional, especially coming off the year we had. That was hard, because I knew we were going to be good the next couple of years. But at the end of the day, it's one of the best decisions of my life. Just coming up here, the access I have, the resources … I could never do what I do here, in Moscow. I wouldn't be going where I'm going if I didn't move."
As a slender sophomore, Buchanan averaged 11.4 points and 7.6 rebounds as Lake City reached the state title game, losing to Meridian.
But Buchanan recalls being pushed around in that game, and that season, and knew he needed to get stronger.
He's been in the gym, and the weight room, ever since.
As a junior, Buchanan averaged 13.7 points and 8.5 rebounds for the Timberwolves, who rolled into state with only one loss, but lost twice in three days and failed to bring home a trophy.
This year, he's averaging 15.0 points and 9.4 rebounds heading into state.
"I wouldn't have known to come to Lake City without Kolton," Blake said.
"And honestly, I don't know if all of this would have happened if they hadn't have met," Debbie said. "Them meeting, and their friendship, on and off the court … probably helped guide some of the decisions that we made."
Last summer, Buchanan was one of 40 high school and college players selected for the Formula Zero camp, run by Portland Trail Blazers star Damian Lillard.
"They like guys that have to work; they're not handed everything, Buchanan said. "Dame, he went to Weber (State), he had to work his way up, and now he's one of the best players in the NBA."
At the camp, last August in Portland, the players learned everything that Lillard does during his workout. There would also be meetings, with a pastor and a "spirit guy" talking.
Even after the camp, the players and coaches and Lillard meet monthly on Zoom, where Lillard and the camp coaches talk, and players are later quizzed on what they learned.
"He taught us that it takes everything, on and off the court, to make it to the NBA," Blake said. "You can't just be good on the basketball court, you have to be good off the court, good in the classroom … that was probably one of the most beneficial things I've been to in my life. That kind of changed my mindset on things."
AND TO think — Blake Buchanan could have been a volleyball star.
Or a standout quarterback.
Blake's older brother, Austin, is a 6-8 setter/right side hitter at Hawaii, and played sparingly in 2022, when the Rainbow Warriors won the NCAA title.
The downside to him playing volleyball — at least in the Buchanan household — Austin had to move away from Moscow when he was 15 so he could play high school volleyball in California, as Idaho does not offer high school volleyball.
"He would have probably been a pretty good volleyball player," Debbie said of Blake. "But, it's hard … we had to let Austin move away from home when he was 15. And I always told the kids, 'I'm not shipping another kid away from home, so, you're going to play basketball.'
From third through eighth grade, Buchanan loved football. He was a passing quarterback on Junior Tackle teams coached by his dad.
At that time, Blake's bedroom was filled with football stuff — Fatheads, jerseys, etc. He wanted to play football at USC, because that's where his mom went to play volleyball, then later started to like Oregon because of the Ducks' bright colors.
"I was never really into basketball," Blake said of those years.
But when Blake hit his growth spurt in seventh and eighth grade, football was out and basketball was in.
It has turned out to be a pretty good decision.
"I tell him, thanks for making my life so special, with getting calls from Indiana and almost everybody in the country," Winger said. "Sitting in a restaurant in Arizona with (a Pac-12 coach), and, he's mad at his assistant — 'Why weren't we on him sooner?' We've had college coaches in our gym. Four years ago we won three games, and now we're talking to all the D-I coaches in the country."
"It worked out really well," Blake said.
"He's just been an amazing kid," Winger said. "He's 6-11 and a great player, but he's worked his way to where he is. This is not somebody that just coasted in on being 6-11 and have some talent. He has progressed and worked his way to be able to play at Virginia."
Last summer, with Virginia practicing for an overseas trip, Reed traveled to Charlottesville, Va., and was granted access to coaches, practices, etc., picking the brains of a national championship staff. The stuff he gleaned from there, he has helped apply to Blake — but also to the rest of the Lake City team.
"I'm not the player I am without (coach Reed). He's helped me so much," Buchanan said.
"I can get on the phone with guys on a national championship staff, and they'll pick up," Reed said. "Wait 'til he's like 22, 23 years old. If you think he's athletic right now …"
Winger is almost more impressed with Blake the person, instead of Blake the player.
"He's a great young man, and comes from a great family, good in the classroom, a very courteous and polite kid. He's the full package, and I don't see a lot of blemishes. A lot of the college coaches feel if he improves his outside shooting, he might even play at the next level."
Only a handful of NBA players have ever been born in Idaho.
"Last year people kinda started telling me, this year more people are telling me I have a chance to be a professional basketball player," Buchanan said. "It's scary; it's crazy to think about that, but I've just got to keep doing what I'm doing. My goal is to play as high as I can, but if not, I'm going to have a great degree from Virginia."
Recent Headlines
---