North Idaho College awaits accreditation decision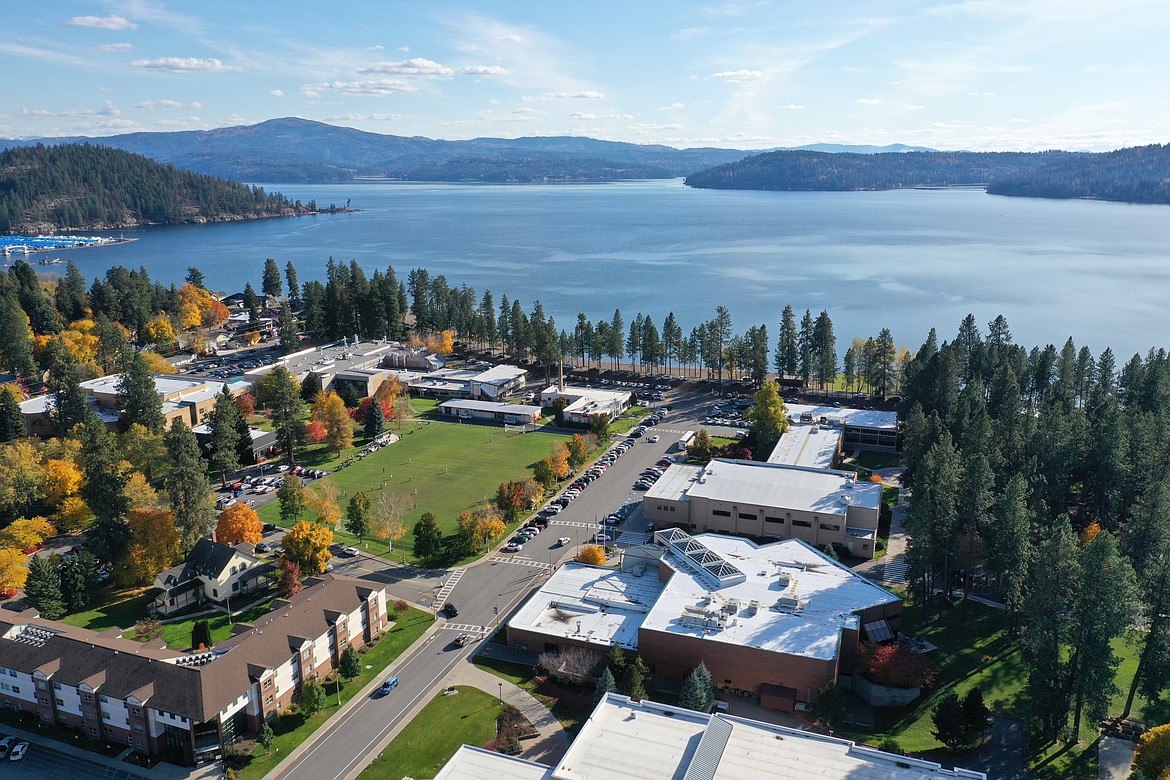 The North Idaho College campus in Coeur d'Alene.
Courtesy of North Idaho College
COEUR d'ALENE — The fate of North Idaho College is in the hands of the Northwest Commission on Colleges and Universities as the commission deliberates whether NIC will retain accreditation.
NIC President Nick Swayne, board chair Greg McKenzie and several college employees met with the commission Friday in Seattle for a hearing regarding NIC's accreditation.
The commission will make a decision within 30 days. Possible outcomes could be negative, neutral or positive.
If the college loses accreditation, it may be impossible to regain it.
"I can tell you that the NWCCU basically said, 'If you lose accreditation, the chances of coming back, the Phoenix plan, is really not a realistic hope,'" Swayne told community members at a public forum in May. "We'd have to figure out some other way of restoring education on this campus."
Most colleges that face accreditation loss do so because of problems with finances or academics. That is not the case at NIC.
North Idaho College's accreditation has been in jeopardy since April 2022, when the commission sanctioned NIC with a warning, citing persistent issues specifically related to the board.
The roots of the accreditation turmoil stretch back to 2020, however. The Coeur d'Alene Press has created a timeline of events leading up to Friday's hearing.
The college received another warning in December, after a series of chaotic meetings the board later admitted may have violated Idaho's open meeting laws. During those meetings, trustees cast split votes to place the college president, Nick Swayne, on administrative leave for no disciplinary reason and hire Art Macomber as new legal counsel for the college.
The board's decisions triggered multiple lawsuits — including one from Swayne, who sued for reinstatement — as well as a "show cause" sanction from the NWCCU in February. Show cause is the last step before the potential loss of accreditation.
Since then, the board has taken steps to cure the open meeting law violations and hire new legal counsel.
Trustees also complied in March with a court order to reinstate Swayne as active president, though the board majority soon voted to nullify his contract while allowing him to continue to work until further notice.
This month, Swayne won his lawsuit. He received summary judgment without going to trial, as well as a stipulation that any attempts to void his employment agreement are invalid.
After conducting a visit to NIC's campus, a team representing the NWCCU reported in May that North Idaho College has made some progress since receiving a show cause sanction but cautioned that only time will tell if effective change can continue.
North Idaho College has requested a reduction in sanctions.
In a worst-case scenario, NWCCU could revoke accreditation immediately after rendering its decision. The college would have to implement "teach out" agreements with other institutions throughout the region, in coordination with the Idaho State Board of Education.
The commission may leave NIC on "show cause" status and put off a final decision until a later date while specifying what changes NIC should make in the meantime. The college could also receive a less severe sanction, such as probation.
Should accreditation be lost, the State Board of Education has committed to ensuring there are "off-ramps" to other high education institutions for students already enrolled at NIC. Degrees earned before the loss would remain valid.
But dual-enrollment programs for high school students, who comprise nearly a third of NIC's student population, would cease to exist. So would satellite programs with other colleges.
Loss of accreditation would also impact instructional programs that are accredited through other bodies.
For example, NIC's nursing program was recently granted continuing accreditation through 2030. But if the college's institutional accreditation from the NWCCU is withdrawn, the nursing program would be ineligible for accreditation through the Accreditation Commission for Education in Nursing.
The full impact of accreditation loss is hard to envision because it has never happened in Idaho.
State law requires all public postsecondary institutions to be accredited by the NWCCU.
"This is uncharted territory," said Mike Keckler, chief communications and legislative affairs officer for the Idaho State Board of Education, in December to The Press. "There's nothing in statute, no framework in place for how we would manage the loss of accreditation and what it would mean for the school."
The Press contacted the NIC board and President Nick Swayne offering an opportunity for them to provide comment for this article. Swayne responded and said the college would refrain from speculation and further comment at this time.
---
Timeline of events:
April 8, 2020 — Board privately censures Todd Banducci for "threatening, intimidating and/or rude" conduct with college employees and fellow trustees
Aug. 24, 2020 — Trustees vote 4-1 to adopt a conduct policy for board members; Banducci is the sole dissenting vote
June 2020 — NWCCU reaffirms NIC's accreditation as part of a regular seven-year review
Nov. 3, 2020 — Greg McKenzie and Michael Barnes elected to NIC board; Todd Banducci reelected in uncontested race
Dec. 16, 2020 — Board votes 3-1 to rescind the board member conduct policy; Banducci, McKenzie and Barnes support the motion, while Christie Wood opposes it
Jan. 15, 2021 — Banducci sends a series of emails to NIC President Rick MacLennan requesting a 1.5-year accounting of MacLennan's expenses, a clarification of how MacLennan will report future paid leave and weekly or biweekly summaries of MacLennan's activities representing NIC
Jan. 18, 2021 — In an email to the board, MacLennan described the earlier emails from Banducci and described a post-election conversation in which he said Banducci threatened MacLennan's employment; MacLennan also said in an email that he witnessed Banducci assault a female NIC employee at a college event in 2019
March 12, 2021 — Complaint of civil rights and civil liberties violations at NIC submitted to NWCCU by four area human rights groups (Kootenai County Task Force on Human Relations, Spokane County Human Rights Task Force, Bonner County Human Rights Task Force, Boundary County Human Rights Task Force)
Aug. 23, 2021 — NIC President Rick MacLennan announces mask mandate on campus to mitigate the spread of COVID-19
Aug. 26, 2021 — Trustees vote 3-2 to rescind the mask mandate
Sept. 22, 2021 — Board votes 3-2 to fire MacLennan
Sept. 24, 2021 — Board authorizes search for new college president
Oct. 1, 2021 — MacLennan sues NIC for wrongful termination
Oct. 24, 2021 — Head wrestling coach Michael Sebaaly named interim president
Jan. 12, 2022 — Trustee Michael Barnes resigns the same day The Coeur d'Alene Press reveals he is likely a legal resident of South Dakota, not Idaho
Feb. 3, 2022 — MacLennan agrees to $500,000 settlement
April 4, 2022 — NWCCU sanctions NIC with a warning
April 6, 2022 — Locked in 2-2 votes, the board is unable to choose a fifth trustee to fill the seat vacated by Barnes
April 8, 2022 — Trustees Ken Howard and Christie Wood announce their resignation, effect May 3, leaving the board without a quorum and forcing the Idaho State Board of Education to step in and appoint temporary trustees to fill the vacant seats
April 27, 2022 — Judge Cynthia Meyer blocks a lawsuit levied by Banducci and McKenzie that sought to prevent the Idaho State Board of Education from appointing temporary trustees
May 6, 2022 — The Idaho State Board of Education appoints David Wold, Pete Broschet and John Goedde to the vacant seats on NIC's board
May 11, 2022 — NIC's insurer, the Idaho Counties Risk Management Program, announces it will not renew NIC's policy when it expires
June 1, 2022 — NIC announces five finalists for the permanent president position, including Dr. Nick Swayne
June 22, 2022 — Board votes 3-2 to hire Swayne as NIC's president
Aug. 22, 2022 — Board votes 3-2 to correct a scrivener's error in Swayne's employment agreement
Sept. 8, 2022 — Michael Sebaaly placed on paid administrative leave for unknown reasons
Sept. 23, 2022 — Sebaaly resigns
Nov. 1, 2022 — Attorney Art Macomber, not yet hired by or associated with NIC, publishes op-ed claiming NIC's accreditation is not at risk
Nov. 8, 2022 — Brad Corkill, Mike Waggoner and Tarie Zimmerman elected to NIC board of trustees, filling the vacant seats
Nov. 21, 2022 — Macomber, Banducci, McKenzie and Waggoner exchange emails where they plan to hire Macomber as NIC's legal counsel
Nov. 25, 2022 — NIC attorney Marc Lyons resigns after 23 years
Dec. 5, 2022 — Board votes 3-2 to hire Macomber as NIC's legal counsel
Dec. 8, 2022 — Board votes 3-1 to place Swayne on administrative leave for no disciplinary reason while Macomber conducts an investigation into his hiring; trustees also vote to offer Sebaaly the interim president position
Dec. 10, 2022 — Sebaaly declines the board's offer; board votes 3-1 to offer Greg South the interim president position
Dec. 16, 2022 — Swayne sues NIC, seeking reinstatement
Dec. 17, 2022 — NWCCU issues a warning to NIC
Dec. 21, 2022 — Greg South accepts the job offer; board votes 3-2 to hire him as interim president with an 18-month contract
Jan. 4, 2023 — NIC responds to NWCCU's warning
Feb. 9, 2023 — NWCCU issues show cause sanction to NIC
Feb. 16, 2023 — Moody's Investor Service downgrades NIC's issuer and bond ratings, affecting $7.9 million in rated debt
Feb. 22, 2023 — Board majority shoots down motion to reinstate Swayne
March 3, 2023 — Judge Cynthia Meyer orders NIC to immediately reinstate Swayne while his lawsuit proceeds
March 6, 2023 — NIC board complies with court order and votes unanimously to reinstate Swayne
March 17, 2023 — NIC files motion for reconsideration, asking the court to undo the decision to reinstate Swayne
March 30, 2023 — NIC submits response to show cause sanction
April 24, 2023 — Based on a report created by Macomber, trustees vote 3-2 to nullify Swayne's contract but leave him in place as president until further notice
April 25, 2023 — Macomber report made public
April 26, 2023 — Board votes 3-2 to hire Boise-based firm Holland and Hart at NIC's new legal counsel; McKenzie casts tie breaking vote; NWCCU team conducts site visit on NIC campus
May 3, 2023 — Judge Meyer reaffirms her order requiring NIC to reinstate Swayne as active president
May 18, 2023 — NIC publishes the peer evaluation report prepared by the site visit team sent by NWCCU
May 25, 2023 — Board reverses decision to hire Holland and Hart; Art Macomber withdraws as college attorney and walks out of meeting. NIC later advises he will serve as counsel in a temporary capacity until Aug. 15 and assist with transition to new legal counsel.
June 2, 2023 — Swayne wins lawsuit for permanent reinstatement
June 7, 2023 — Board considers two applicants for NIC's legal counsel (Spokane-based firm Stevens Clay and Sandpoint-based attorney D. Colton Boyles) but holds off on a final decision
June 23, 2023 — Representatives from NIC attend accreditation hearing in Seattle
Recent Headlines
---