Safety first for summer fun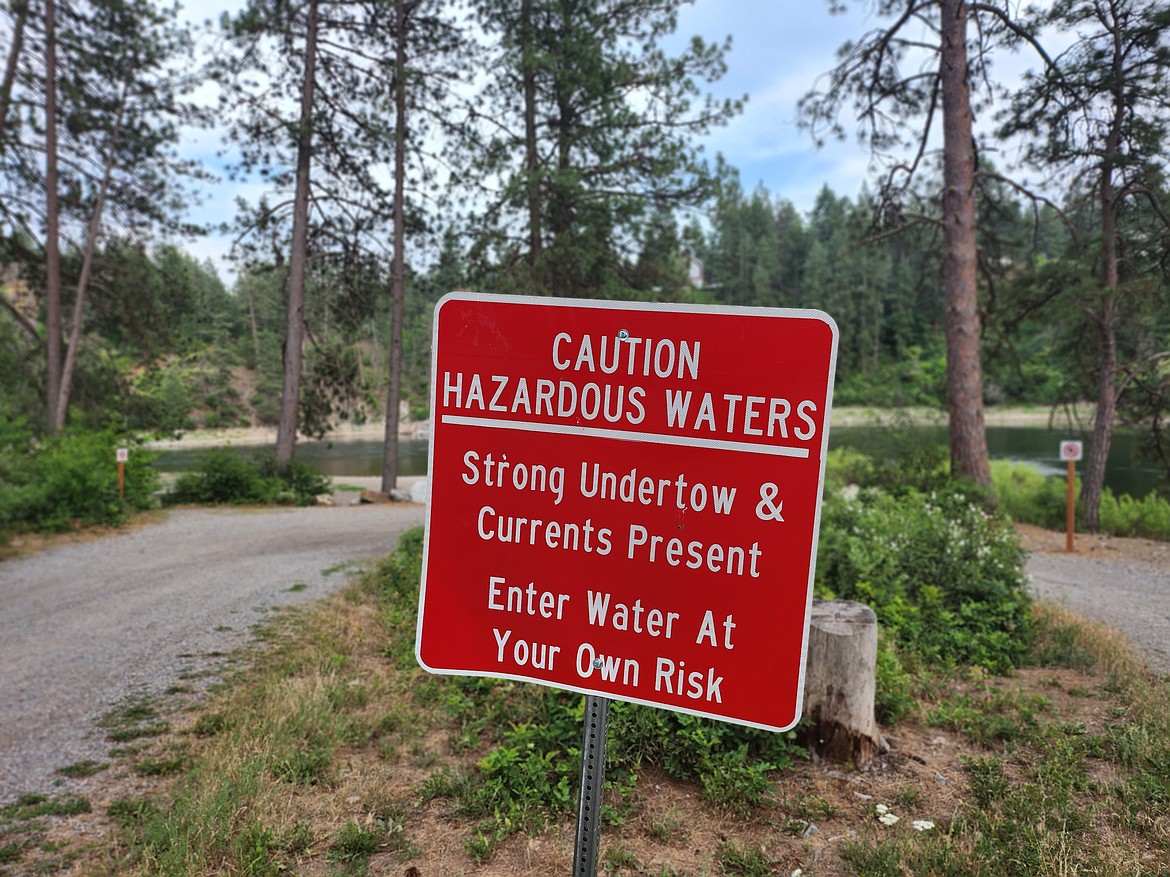 Corbin Park signage 2023.
Photo courtesy of Kerri Thoreson
Happy first day of summer, although a forecasted high temperature of 67 just doesn't cut it for me. Somewhere in the 80s is my happy place. Summer solstice today marks the longest period of daylight of the year in the Northern Hemisphere.
The spill gates on Avista's Spokane River dam in Post Falls were closed Tuesday to bring the lake to summer levels. FYI: The water temperature of Lake Coeur d'Alene is only 65 degrees, and similarly the Spokane River.
Over the weekend, I visited Corbin Park on the Spokane River below the dam. It's a beautiful 28-acre wooded park that features covered shelters, picnic areas, barbecue and horseshoe pits, a volleyball court, a softball field and a popular and challenging disc golf course.
There's access to the river for kayaking, rafting and fishing. It's definitely not intended to be a swimming beach. The river runs fast and the rip currents can be deadly, even if everything looks serene and calm on the surface. Despite highly visible signs warning of the danger, it seems there's a tragic drowning every few years. Wading on the shoreline is one thing but entering the water, even in a raft, without a life vest is risky at best.
So, enjoy all of the outdoor amenities of this Post Falls park, but take the family to swim at Q'emiln Park above the dam where there's a protected swimming beach.
Here's to a wonderful summer of recreating on our area's beautiful lakes and rivers. Respect nature, warning signs and each other.
• • •
Since 2003, when Ironman first came to Coeur d'Alene, I embraced the experience. Never as a competitor but as a volunteer and enthusiastic spectator. In the early years, the bike portion was routed through Post Falls, including around the track at the Greyhound Park and across an active railroad trestle, which was converted to a bike path and taken down in record time by the Post Falls Lions Club. The routes for all except the swim portion have changed through the years, but the inspiration of the athletes never varied. I've met athletes, their families and fans from all over the country and the world.
I've been behind the scenes with media credentials and been out on the lake at the crack of dawn to watch the swimmers. I've volunteered at runners' aid stations for local charities, as a pointer in the bike segment, sunscreen applicator, a Doping Control escort for the pro racers and a finish-line catcher, always choosing the last shift before the race cutoff where the inspiration of seeing regular people who had set a goal finally, blessedly crossing the finish line before the stroke of midnight to become Ironmen.
If you've never volunteered, believe me, it's incredibly rewarding to be in the company of people who are achieving at the highest level, people who might not consider themselves athletes in their regular life. Maybe they'll never do another Ironman again, but June 24, there will be people who will amaze themselves with what they've accomplished.
According to my friend, Dani Zibell-Wolfe, who's the director of volunteers, there are volunteer openings for this Sunday's Coeur d'Alene Ironman 70.3 in a variety of areas, including my favorite final shift at the finish line. Go to ironman.volunteerlocal.com for information.
• • •
Happy first day of summer birthday today to Wayne Newby, Jaymee Paul, Lynda Pym, David Wold, Shirley Bade, Randy Watkins, Kelly Rice, L.C. Schell and Stephen Larson. Tomorrow, Joe Butler, Nathan Walker, Lynne Hamm, Camille Lang, Ronda House, Jamie Johnson, Scott Shepperd, Mike Saunders, Bianca Olson and Caitlin Parmentier do the birthday dance. On Friday, Dawn Forest, Nancy Nick, Lynne Hammond and Carly Cline whoop it up. On Saturday, Jim Reynolds, Kathy Bush, Kimi Coles, Rhonda Ellis, Ian Sadler, John Phelps, Sara Wegner and Laura Lahr put on their party hats. Sunday celebrants are Joann Hildebrant, Bill Reagan, Mikki Stevens, Patty Vogt, Addison Johnson, Jim Guy, Jan Olsen, Angela Mort, Connie McGee (80!), Kylie Gibson, Shanda Johnson, Sally Mackin and Megan Ownbey. Sam Davis, Rick Rasmussen, Alecia Warren, Shannon Fish, Chloe Hutter, Ben Wolfinger, Karen Hanson, Cathleen O'Connor, Sheryl Snyder and Ernie Hunt blow out the birthday candles Monday. June 27 birthdays belong to Trigger Weddle, Todd Banducci, Gayle Bolton, Leslie White, Scott Hamilton, Terri Mercer, Cherry Jones, Nathan Gubbe and John Goodlander.
• • •
Kerri Rankin Thoreson is a member of the National Society of Newspaper Columnists and the former publisher of the Post Falls Tribune. Main Street appears every Wednesday in The Press and Kerri can be contacted on Facebook or via email mainstreet@cdapress.com. Follow her on Twitter @kerrithoreson.
Recent Headlines
---