Perfect gift in memory of my dad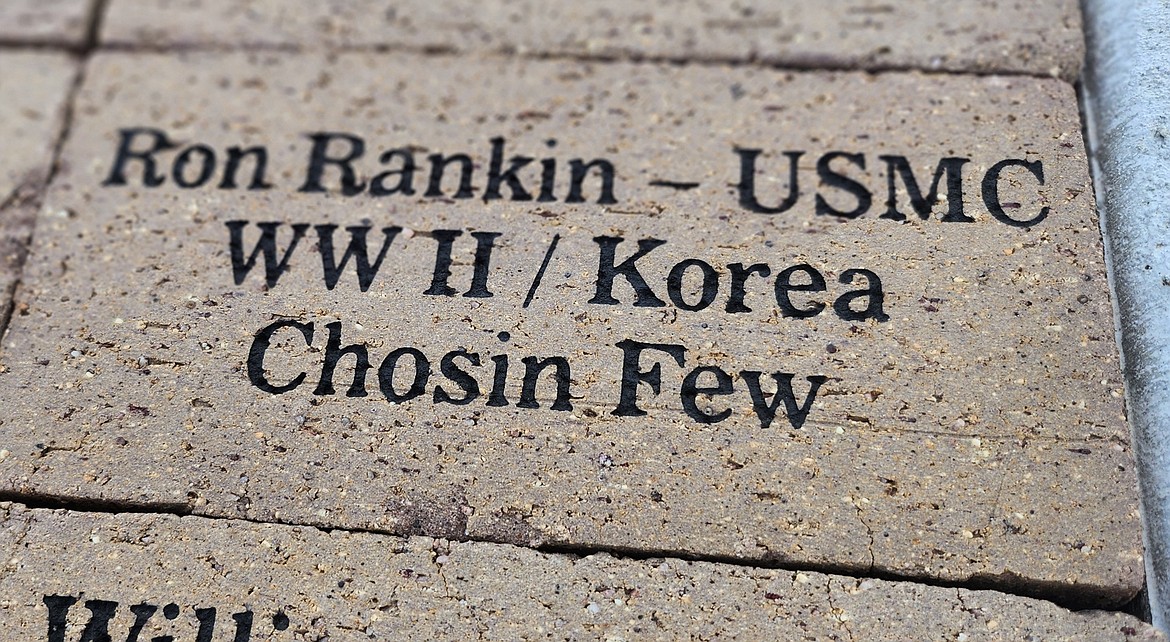 Photo courtesy of Kerri Rankin Thoreson
In 2004, I bought my dad a Father's Day card and gift and enjoyed a dad hug. We never know when simple things will happen for the last time. Such is life.
Last year, I realized it had been 18 years since I'd bought a Father's Day gift for my father, so I decided to give a special gift in his honor. The Idaho State Veterans Home was under construction and slated to open in the fall of 2022. The North Idaho Chapter of the Idaho Veterans Assistance League, Inc., was fundraising with engraved bricks for the Walk of Honor and Appreciation leading to the flag poles outside the local home's entrance. It was perfectly perfect to remember my patriotic combat veteran father in this way.
There are only four State Veterans Homes in Idaho, with Post Falls being the newest. The North Idaho Chapter of IVAL is a 501(c)(3) charitable organization. All donations to the organization, including the commemorative bricks, are tax-deductible. Donations support and assist the residents in the Post Falls Veterans Home.
If you'd like to honor someone you love, your own military service or veterans in general, here's how: Select Donations on www.idahoveteransleague.com and the order form will load. Or email Len Crosby at idahoveteransleague@gmail.com or drop a line to the IVAL, P.O. Box 187, Post Falls, ID 83877 to request an order form. Each brick can have up to three lines with 16 letters, spaces, or numbers per line. The cost is $200.
The service to this country by our veterans is priceless.
• • •
An undisputed G.O.A.T. of the Kootenai County/North Idaho State Fair is Dalton's Carolyn Sampert, with help from her husband, Ron. Last year's unseasonably cool and wet weather wreaked havoc on Carolyn's corn crop, which was barely ankle-high on the Fourth of July.
Carolyn posted a photo over the weekend of her 2023 corn crop reaching knee-high three weeks before the Fourth of July!
• • •
"I pledge allegiance to the Flag of the United States of America, and to the Republic for which it stands, one Nation under God, indivisible, with liberty and justice for all."
The "Stars and Stripes" was adopted by the Continental Congress as the official American flag June 14, 1777, in the midst of the Revolutionary War.
• • •
Happy star-spangled Flag Day birthdays today to Oskar Owens, Lincoln Allred, Christina Hatfield, Tiffany Morrett, Shawna Virgil, Don Morgan, Chris Doyle, Lisa Odenberg, Carmen Myklebust, Brandon Bedwell, Susan Noble and Steve Bruno. Tomorrow Sharon Bruno, Jody Piper, Jeffrey Benjamin, John McMurray, Richard Wegner, Taylor Brockhoff, Bob Friske, John Hopper and Joe Hutchinson blow out the candles. On Friday, Tim Shepperd, Steve Smalley, Taylor Brockhoff , Bill Dick, Desiree Barclift, Darick Pope, Brenda Gabriel, Frank Bybee, Stephen Parmentier, Shelly Cunnington, Richard Wegner and Rebecca Morelli mark another year. On Saturday, Raydeane Owens, Jim Foote, Susan Reilly, Vicky Houle, Jesse Bishop, Leigh Cossette, Jennifer Smith and Dana Scholwinski take another trip around the sun. Father's Day birthdays for Jim Hammond, Wanda McLean, Katy Meeks and Sean Watson will celebrate. Jim Morrison, Jake Capaul, Peggy Beebe, Jennifer Smock, Tess Schoultz, Kelly Gwinn, Doug Harwood, Mel Swatzenberg, Paul Ivie, Genia Wortman, Lauren Hoffman, Sue Shibley, Bill Cope, Twyla Cope and Joey Flood make Monday a party. Happy first day of summer birthdays June 20 to Kristen Enders, Lynda Nutt, Daniel Davis, Sherin Diehl, Mark Appleby and Eva Jones.
• • •
Kerri Rankin Thoreson is a member of the National Society of Newspaper Columnists and the former publisher of the Post Falls Tribune. Main Street appears every Wednesday in The Press and Kerri can be contacted on Facebook or via email mainstreet@cdapress.com. Follow her on Twitter @kerrithoreson.
Recent Headlines
---