Commercial construction projects in Stateline, Post Falls
Many commercial construction projects are happening between Stateline and Post Falls. Here's a list of the places. To see more precise locations, check the www.inlandnwbusiness.com website by Matt Behringer. The new places don't include a Trader Joe's or a Costco although many people wish they did.
The businesses listed include a Circle K gas station and convenience store, a Napa Auto Parts, Wendy's, The Joint Chiropractic and The Man Shop, Gesa Credit Union, Nutex Post Falls Emergency Hospital, Popeye's Louisiana Kitchen, Dutch Bros. Coffee, Taco Bell and Thai Bamboo.
Other new buildings will include apartments, condos, warehouses and storage spaces.
Inland Northwest Land Conservancy opens
To boost efforts to acquire natural lands for management and preservation, the Inland Northwest Land Conservancy has opened an office in the Innovation Collective location at 418 E. Lakeside Ave. in downtown Coeur d'Alene.
The Conservancy has been actively protecting land ranging from forested mountainsides to vital waterways in North Idaho since 1997.
Learn how INLC is working "to keep Idaho Idaho" at an informal event 6-8 p.m. Tuesday. Light refreshments and beverages will be provided. RSVP at InlandNWLand.org/Events.
Conservation director Michael Crabtree is usually in the office Monday, Wednesday and Friday or by appointment unless he's in the field. Phone 208-925-2040. Check info@InlandNWLand.org.
R&R Northwest and Make It Messy opening
The children's activity center Make It Messy and the marine construction company R&R Northwest will open about July 1 in a new building at 1857 W. Hayden Ave.
Make It Messy is a blend between an arts and crafts space, sensory play and activities such as at a children's museum. People of all ages can express themselves creatively, expand their imaginations and stimulate their senses. It can host birthday parties or private family events through owner Heather Gillis.
Hours will be 10 a.m. to 6:30 p.m. weekdays, 10 a.m. to 7:30 p.m. Saturdays and noon to 5 p.m. Sundays. Check www.makeitmessycda.com.
Extraordinary creativity and quality for building lake docks is through R&R Northwest and founder Brandon Richardson with about 20 employees. They're booking projects for summer 2024. Check www.rrnorthwest.com.
Now the Tidbits
• A new ambulatory surgery center is under construction by Northwest Specialty Hospital at 1624 E. Mullan Ave. directly east of its main campus at 1593 E. Polston Ave. in Post Falls. The 9,600-square-foot place will be used for surgeries that don't require overnight stays and will have two outpatient surgery rooms with options for future expansion. It should open in early 2024. Phone 208-262-2300. Check www.nwsh.com.
• With buildings of 168,000 and 238,000 square feet, The Pointe at Post Falls should be complete in October on North Beck Road and Pointe Parkway. Zoned industrial, the buildings have deck-high loading doors and eight ground-level drive-in doors. Check Darren Slackman for lease rates at dslackman@naiblack.com. Phone 509-622-3593.
• The fence outside the long-empty Golden Corral building off U.S. 95 has a sign (Coming Soon — Yummy Crab Seafood). Anyone know anything?
• New buildings for Tractor Supply, Idaho Guns & Outdoors and Hayden Sharp DDS are being built in the Athol Crossings complex east of U.S. 95 in Athol. They are joining several other new places with the key business of Super 1 Foods.
• Momentum Sports & Play is constructing a new building at 3877 N. Schreiber Way in Coeur d'Alene. Phone 208-966-4535. Check www.momentumsportsandplay.com.
• Marketplace@Miles will be a vendor mall in the southeast corner of Government Way and Miles Avenue. It will include small booths and retail kiosk space when it opens before the holiday shopping season. For available space, contact Commercial Real Estate Consultants at 208-691-5328 and check www.marketplaceatmiles.com.
• North Idaho Eye Institute has acquired the former Teton Restaurant building at 1901 Seltice in Post Falls and will move there in August from 1110 Polston.
• With 16 luxury apartments on floors 2 and 3 and an Akamai Coffee Co. on the ground floor, the Midtown Centre Apartments building should be complete in mid-June at 821 N. Fourth St. The contact is John Beutler of Century 21 Realty at 208-765-5554 and closed during lunch hour. Phone 208-664-0278.
• Construction is busy for Cornerstone, a four-story complex at 1579 W. Riverstone Drive (across from Red Robin) in the Riverstone complex. The ground floor has three commercial spaces and two lobbies. It should be complete soon.
• Beacon Cancer Care and Ironwood Family Practice will be in the large building under renovation at 3815 N. Schreiber Way. For spaces in the building, contact Helo Hancock at hhancock@beaconcancercare.com or Shayna Wood at swood@beaconcancercare.com.
• A two-story building is under construction at 8552 Government Way for Hayden Surgery Center.
• A branch of Orthopedic Surgery and Sports Medicine (OSSM), Orthopedic Physical Therapy Institute (OPTI) is building a new structure at 8468 N. Wayne Drive in Hayden. Check www.ossmidaho.com.
• Two 1,550-square-foot suites with 2,500-square-foot shop areas will be available for lease in Anderl Plaza under construction at 8512 N. Wayne Drive in Hayden. For information, contact Hayden Anderl at 208-964-0234.
• U-Haul Self-Storage will be at Seltice Way and Herborn in Post Falls.
• Building permits have been issued for several businesses planning to be in The Mill building under construction at 1705 Government Way. Included are an apparel shop, a barber shop, a beauty-and-wellness place, a bone-and-dye place, a coffee shop and the Ten/6 restaurant. When complete, The Mill will be four stories of 43,000 square feet with retail on the ground floor and 43 apartments on the upper floors. The building owner is Widmyer Corp. real estate. Watch for a spring opening.
• Lake Forest Interior Design is under construction in Hayden at 9245 Government Way.
• A commercial building with three suites is being constructed at 9041 N. Hess St. (just north of Walmart) in Hayden. The suites of 1,100 square feet each can contain retail or office places with easy access and visibility to U.S. 95. Contact Josh Beebe at Coldwell Banker Schneidmiller Realty at 208-699-7980.
• A new building for Anthem Pacific Homes is being constructed at Highway 41 and 16th Avenue in Post Falls. Anthem Pacific will occupy one suite, and three suites of 1,800 to 2,000 square feet are available through owner Jeremy Voeller at www.anthempacific.com. Phone 208-981-0448.
• The neighboring Anthem Corners project has one of the three suites leased with two units available. They can be combined for a 3,920-square-foot unit. Contact Joel Johnson of Coldwell Banker Schneidmiller at 208-771-6068.
• A Nothing Bundt Cakes bakery will be built at 201 W. Neider Ave.
• The Lighthouse Motel is being renovated at 2018 Sherman.
• A large building planned to open in late summer or fall for 851 Fourth Ave. (at Idaho Street) in Post Falls will be called Kindred & Co. with books, home goods and a bistro.
• What has been Asian Twist in Ironwood Square (behind Albertson's) will be Our Thai House with major changes. Details here soon.
• Spoon Junkie or Rogue Carnivore evidently will be a new place at 400 N. Fourth St.
• Phase I of the new Kinder Prep Learning Center is under construction at 1847 W. Prairie Ave. The curriculum promotes hands-on, sensory and play-based learning experiences for ages 18 months to 5 years old in an environment that is nature themed and community driven. For information on pre-enrollment, check www.kinderpreplearningcenter.com. Phone 208-916-0265.
• A medical office will be at 909 W. Canfield.
• A 20,000-square-foot structure called Prairie Professional is under construction on the north side of the intersection of Prairie Avenue and Ramsey Road. The office building to be complete in December will have suite sizes from 2,200 to 10,000 square feet available. A main tenant will be Riverstone Dental Care. For information on the space available, contact Rob Kannapien of Coldwell Banker Commercial Schneidmiller Realty at 208-704-3832 or E-Fax 208-515-2385.
• Golden Rule Brake is coming to 3826 E. Seltice Way (near the intersection of Highway 41 and Interstate 90) in Post Falls.
• Coeur Climbing Gym is leasing a large warehouse space at 764 S. Clearwater in Riverbend Commerce Park in Post Falls to open soon.
• The fourth Kootenai County location of Dutch Bros Coffee will be built soon at 6299 W. Pointe Parkway (next to Panda Express near Cabela's and Walmart) west of Post Falls.
• Sweeto Burrito near Winco has "temporarily closed" signs.
• Watch for Prime IV Hydration & Wellness to be in Ironwood Square.
• Burke's Restoration is building a new place at 3801 W. Riverbend Ave. in Post Falls. Details soon.
• The Thomas George building planned for the corner of Third Street and Front Avenue will be 18 stories mixed with commercial places on the first floor and 60 condominiums above.
• Watch for details on a new building under construction for corporate offices for Roger's Burgers on Government Way.
• Ariat and Wrangler are two western-wear stores that will be coming to the Silver Lake Mall.
• Many of 16 commercial spaces are available in the planned Prairie Crossing Shopping Center in the northeast corner of Highway 41 and Prairie Avenue.
• A new building for Etco Services is under construction off Huetter north of Seltice and I-90.
• The PACR office building is under construction at 1857 W. Hayden Ave. It has four units for lease through Ashton Underdahl at 208-691-0691.
• Orthopedic Physical Therapy Institute (OPTI) is constructing a new building in Hayden.
• An automotive service center will be built at 185 W. Clayton Ave.
• "Coming Soon" signs in Hayden are for a Metro Express car wash, Dirty Bird Self Car Wash and a Consign Furniture.
• Gentlemen Sausages will be in the former Abi's Ice Cream location at 112 Fourth St.
• TownePlace Suites by Marriott Hotel is being built where the Outback Steakhouse was in the southeast corner of I-90 and Northwest Boulevard.
• Watch for an Indigo Urgent Care building opening soon next to Starbucks in the Crossroads Center off Ramsey Road.
• A spy says a restaurant will be built where Atlas Road meets the Spokane River.
• Inspired Nail Spa is expanding in Neider Retail Center (across from Costco).
• Sebastian's Coffee & Pastry will be at 1114 W. Ironwood.
• Pilgrims Market will expand to a building across the street.
• A new pizza place will be in the former Syringa building on Fourth Street.
• Notice the spelling or punctuation: It happened in the '80s. The "… ward" words don't have an "s." Study this further because the weather is farther to the west. It's. "Instead of." TV's "Jeopardy" always has this wrong.
• • •
Contact Nils Rosdahl at nrosdahl@cdapress.com.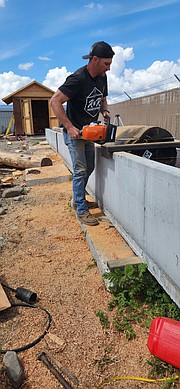 Recent Headlines
---