Swayne wins reinstatement lawsuit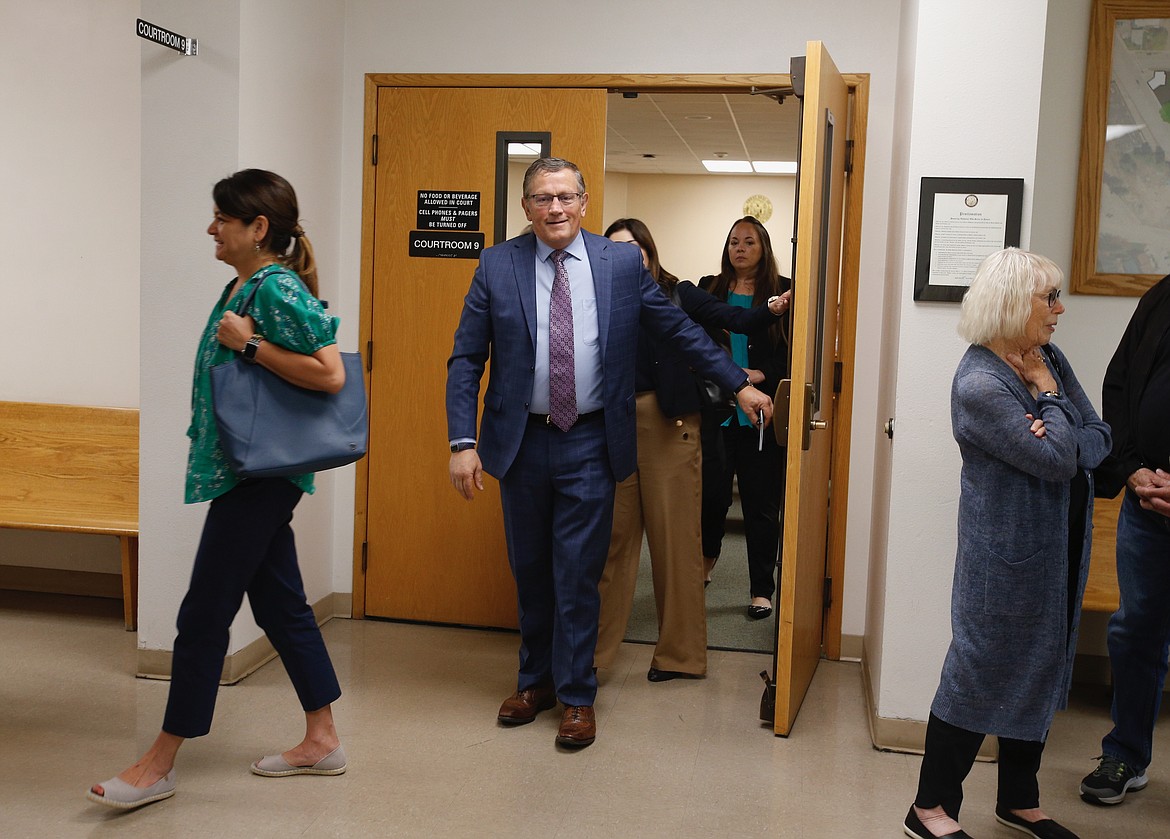 North Idaho College President Nick Swayne leaves the courtroom Friday after a judge granted his lawyers' motion for summary judgment, permanently reinstating him as president.
KAYE THORNBRUGH/Press
COEUR d'ALENE — North Idaho College President Nick Swayne won permanent reinstatement Friday.
Judge Cynthia Meyer granted a motion for summary judgment, which affirms that NIC cannot place Swayne on administrative leave under the terms of his employment agreement, which is valid and remains in effect.
This could be the final turn in a legal battle that began in December, when the NIC board majority of Todd Banducci, Greg McKenzie and Mike Waggoner placed Swayne on leave for no disciplinary reason, prompting Swayne to sue for reinstatement.
In March, Meyer ordered NIC to reinstate Swayne until his lawsuit was resolved. The board complied but asked the court to reconsider; Meyer reaffirmed her original decision.
The board majority voted in late April to nullify Swayne's contract but leave him in place as active president "until the board decides otherwise."
Swayne's legal counsel subsequently asked the court to grant him permanent reinstatement without going to trial. Trustees voted unanimously last month not to fight Swayne's request, which Meyer granted Friday.
Meyer noted that NIC's legal counsel has made no objection to the facts of the case put forth by Swayne's legal team.
"Because there was no opposition to the motion for summary judgment and to the supported, undisputed facts, I am going to grant summary judgment and I'm going to grant it as requested," Meyer said.
She instructed Swayne's attorney, Tara Malek, to draft a proposed order. Counsel representing NIC will have to sign off on the order. Swayne will also receive attorney fees and costs.
Kelly Drew, the attorney representing NIC in the lawsuit, said trustees "waved the white flag" and agreed not to fight Swayne's motion for summary judgment in an effort to maintain the college's accreditation.
Drew said she was "stunned" by requests from Swayne's legal counsel for additional forms of relief, including a stipulation that his employment agreement is not void or voidable and that any attempts to void the agreement are invalid.
"It's like winning a race where the award is a medal, getting the medal and then asking for $10,000, a pair of shoes and a declaration from the race officials that you'll never be beat in a race again," she said. "It's absurd."
Even though the board majority voted to nullify Swayne's contract, Drew said, the board has not treated Swayne differently than it did under the terms of his employment agreement.
Malek expressed concerns about the language of NIC's memorandum of non-opposition, which referred to Swayne's employment agreement in the past tense.
"We're concerned here that, if the court's judgment does not include a very specific judgment acknowledging the validity and the existence right now of the employment contract, that NIC will just move forward as soon as the judgment is entered and terminate Dr. Swayne," Malek said.
Meyer ultimately granted Swayne's request in full.
The next regular meeting of the NIC trustees is Wednesday, June 7.
Recent Headlines
---