Kenneth Huitt, 40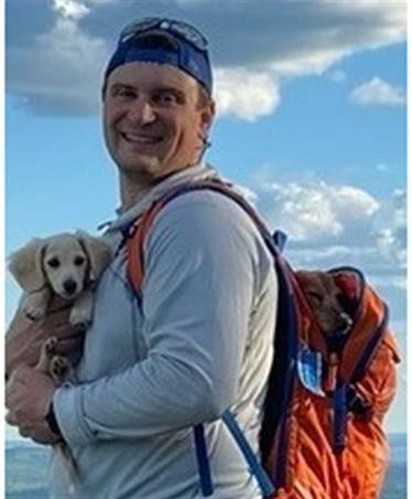 Kenneth Lee Huitt, 40, died at home on May 22, 2023, surrounded by loved ones after a short, intense battle with cancer. He was born March 26, 1983, in Greensboro, N.C., the son of Kevin and Susan Huitt.
Kenneth earned his bachelor's from Appalachian State University with a degree in business administration and continued on to earn his MBA and law degrees from Gonzaga University. He worked in the banking industry for many years, serving in finance, estate planning and trust officer roles. While living in Idaho, he met the love of his life, Lydia, and on Aug. 20, 2022, they wed in Maine. They lived happily with their beloved dogs in Dedham for the last several years.
Ken was a dedicated community member and served in multiple chambers of commerce and on nonprofit boards throughout the Inland Northwest and Maine. He gave back to the communities in which he lived in countless ways, such as volunteering for leadership roles, and events, or patrolling as a volunteer at the Camden Snow Bowl. It is rare to say an individual is loved by all, but Kenneth was truly exceptional.
Kenneth is survived by his wife, Lydia Madrid; his two beloved miniature dachshunds, Izzy and Moxie; his parents, Kevin and Susan Huitt; his sister, Perri Huitt; his uncle, Mitchell Tiger and his wife, Monica Ungaro, and their children, Abraham and Jacomo Tiger; his aunt, Kyla Huitt; his grandmother, Marcia Tiger; his grandmother, Norine Huitt; and numerous family members and friends.
"So, you will understand when I say, 'Death is that state in which one exists only in the memory of others … which is why it is not an end.' No goodbyes. Just good memories. Hailing frequencies closed, sir." (Star Trek, 1988).
A celebration of life will be held at Kenneth & Lydia's home on Green Lake on Aug. 20, 2023. Gifts in Kenneth's memory can be made to the Ragged Mountain Ski Patrol, c/o Jeff Nathan, 239 Cobb Road, Camden, ME 04843. Condolences may be expressed at www.jordanfernald.com.
Recent Headlines
---