Musical dreams becoming a reality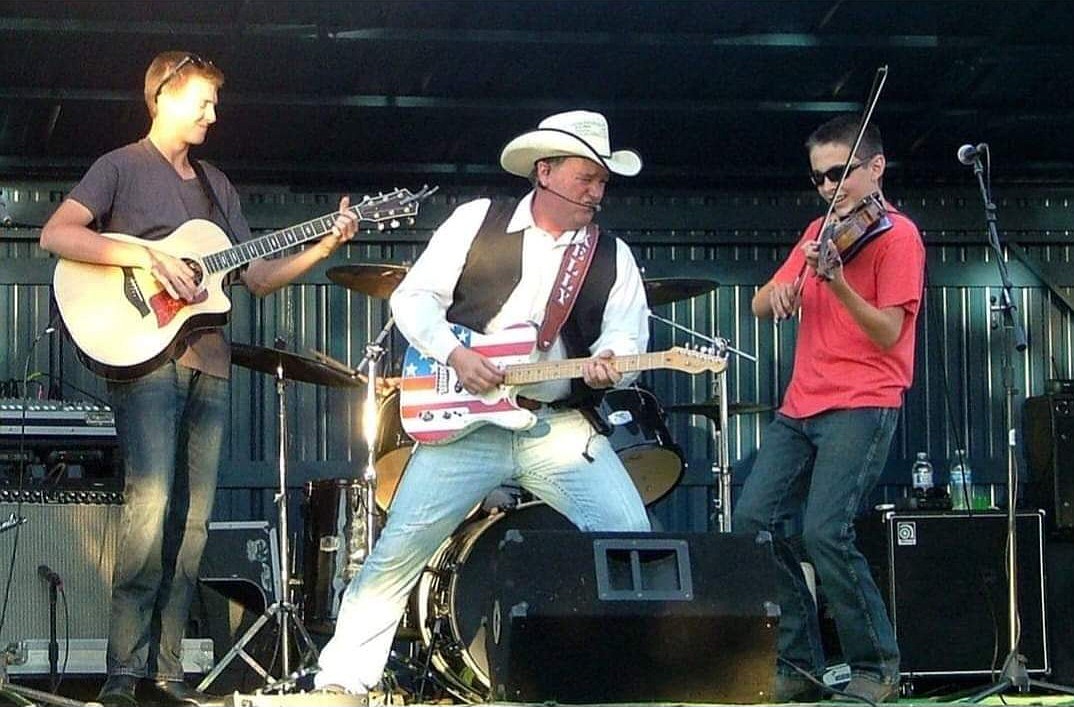 Kelly Hughes, center, joined by Colby Acuff, left, and Justin Sherfey at the Steak Fry in 2013.
Photo courtesy of Kerri Thoreson
I recently came across a photograph I'd taken for the Coeur d'Alene Press' Fabulous Faces page in 2013. It was of my friend, Kelly Hughes, sharing his stage with two teens, Colby Acuff and Justin Sherfey. One of the many things I adore about Kelly is his commitment to putting on a good show whether the crowd is small or huge. He's also an incredibly generous mentor. It's rare for a musician to make a good living playing music as Kelly has done for many decades, which was no doubt inspiring for Colby and Justin.
Colby was probably 15 or 16 in the photo, still in high school but has been playing, singing and writing songs throughout his childhood. I met him at the Fernan Village home of his parents, Heidi and Pat Acuff, when he was likely a freshman in high school. He happily sang and played that day for a group of his mother's friends. He was polite, soft-spoken and sang Johnny Cash and Waylon Jennings songs so convincingly I invited him to join me on the morning radio show I was co-hosting, which I believe was his AM radio debut.
Since that time, Colby continued to play his music whenever and wherever he could, while graduating high school and earning a bachelor's degree from the University of Idaho. Nose to the grindstone, approaching the music business as the business it is, while not sacrificing his passion for the creative side. Having supportive and savvy parents is a plus but my guess is Colby would be as driven no matter the circumstance.
This year, Colby signed with Sony Music and released his debut major label album June 9, Western White Pines. On Aug. 1 this hometown boy will make his performance debut at the mecca of country music, Nashville's Grand Ole Opry. At age 26, with hundreds of performances in venues large and small, near and far, Colby is poised to realize a dream that most musicians spend a lifetime only dreaming of. Overnight success in reality is years of hard work, sacrifice and talent to spare. Nice guys can, and do, finish first.
Congratulations, Colby!
• • •
Another big opportunity on the music front for a local musician, Bill Bozly, aka Andy Stidham. On Friday, he'll open for Eddie Vedder, of Pearl Jam fame. The concert is part of The Showcase celebrity golf exhibition event that benefits the Community Cancer Fund and is taking place at The Coeur d'Alene Resort Golf Course this weekend.
Coeur d'Alene High School alum, Army veteran, professional singer and guitarist, Bill is absolutely thrilled to have been tapped for the honors. He shared that his mother, Beatriz, is battling cancer so the organization's mission is close to his heart.
"She was my first fan and always encouraged me to pursue music. Not because she wanted me to be famous, but because she saw the joy it brought to my life as a troubled teenager," he wrote. "This show is dedicated to her."
And then there's the Pearl Jam/Eddie Vedder connection … "When I started playing music, all I wanted to do was play guitar and maybe sing a little harmony here and there. I was the low bass in jazz and concert choir and folks in that range don't usually go on to be lead singers. Fast forward a few years, I'm in the Army and my buddy drags me out to sing karaoke. I was thinking no way am I gonna sing anything. A few beers later, I sign up to sing an Elton John song and the only other song that interested me, which was 'Black' by Pearl Jam. Long story short, it went pretty well and here I am 30 years later singing for a living and loving every step along the way!"
I love it when good things happen for good people, rewarding their hard work and passion.
• • •
The Eddie Vedder concert is sold out but if beautiful lake views, NHL, NFL, MLB sports celebs and golf are your thing, for just $20 you can get gallery tickets for Saturday and benefit a great cause. showcasegolf.com
• • •
With the number of sports luminaries who will be arriving the next few days, heads up that we can expect to see more private jets than usual flying into Coeur d'Alene Airport (COE).
• • •
Happy birthday today to Doreen Mack, Marla Giese, Deb Miller, Marlo Gerber, Nick Epstein, Kelsey Wood and Lois Johnson. Tomorrow, my brother-in-law Rick Scharf, Ann Beutler, Larry Trosper, Gail Everson, Brady Campbell, Shelly Zollman, Rich May, Brian Thormahlen and Janet Pulis put on their party hats. Taking another trip around the sun Friday are Jan Nelson, Bekah Manderscheid, Cathy Werner, Zack White, Hank Wayman, John Hensley, Debra Wunderlich, Norm Loftin, Darrell Rickard and Karen Englestad. Saturday, Tanya Peugh, Mark Anthony and Alisa Loftin-Ward do the birthday dance. Sunny Sunday birthdays for Sharmon Schmitt, Dianne Ansbaugh, William Disney, Jacob Hester, Nicole Coquette, Terra Karl, Kalie Bell, Brenna Meehan and Peggy Coleman. On the last day of July, Patricia Richardson, Annabelle Disney, Bill Hamilton, Adam Durflinger and Tab Bray blow out their candles. On the first day of August, Tatiana Harrison, Bev Moss, David Noordam, Duane Oliver, Patricia Kaufman, Dennis Harlan and Dodge Gonzales will be celebrating.
• • •
Kerri Rankin Thoreson is a member of the National Society of Newspaper Columnists and the former publisher of the Post Falls Tribune. Main Street appears every Wednesday in The Press and Kerri can be contacted on Facebook or via email mainstreet@cdapress.com. Follow her on Twitter @kerrithoreson.
Recent Headlines
---