A dog's purpose: Come to work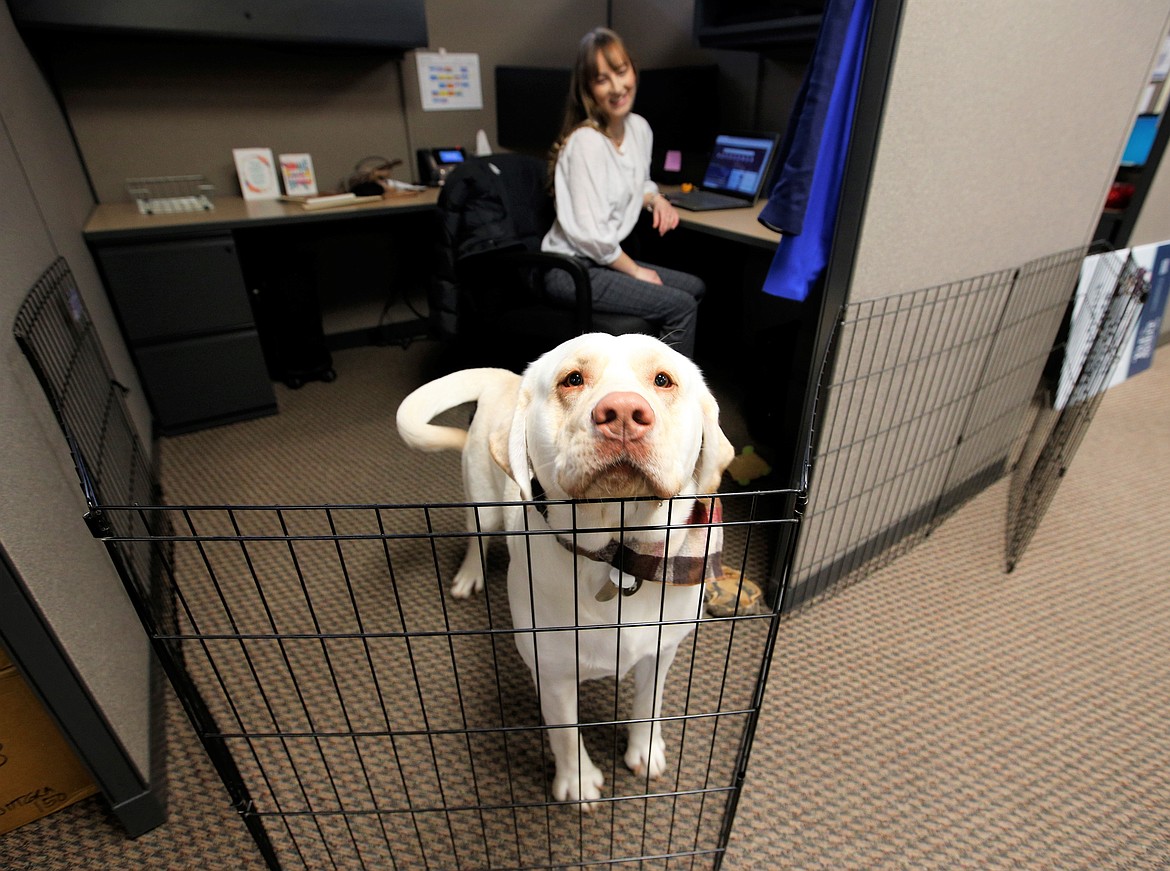 Briana Francis is joined by Waylon, an English Labrador, during work at the Coeur d'Alene Regional Chamber on Thursday.
BILL BULEY/Press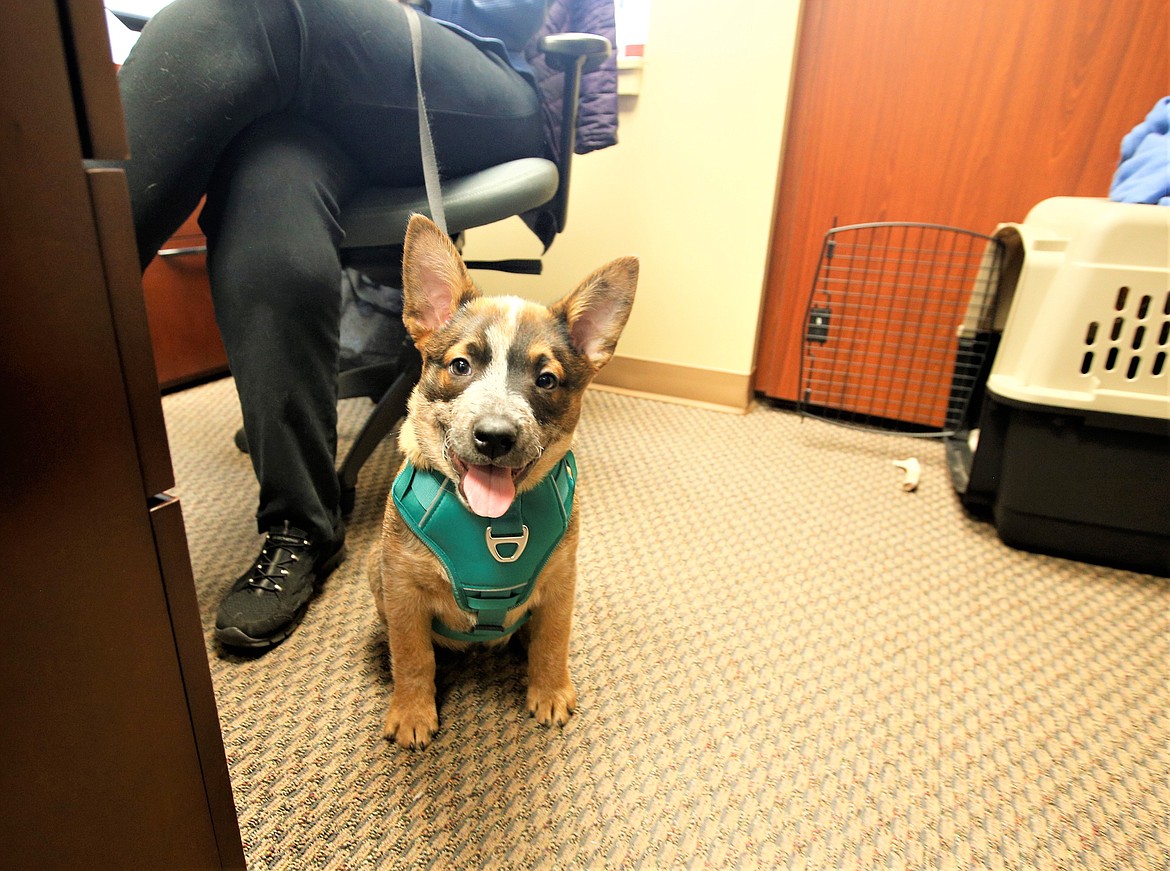 Floyd, a Red Heeler, sits in an office with his owner, May Thompson-Lehto, at the Coeur d'Alene Regional Chamber.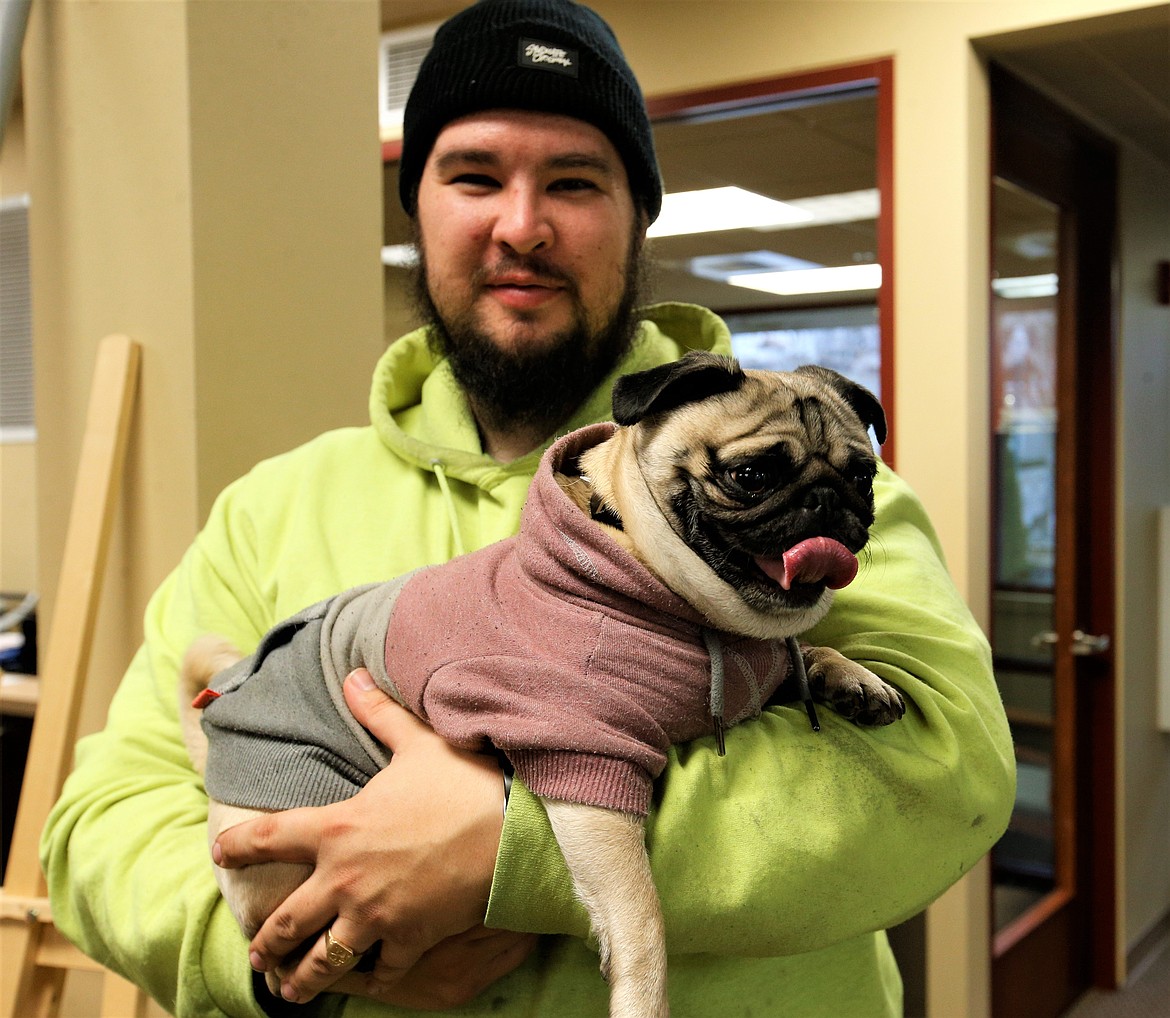 Duncan Andersen with the Coeur d'Alene Downtown Association holds Eggsy, a Pug, on Thursday.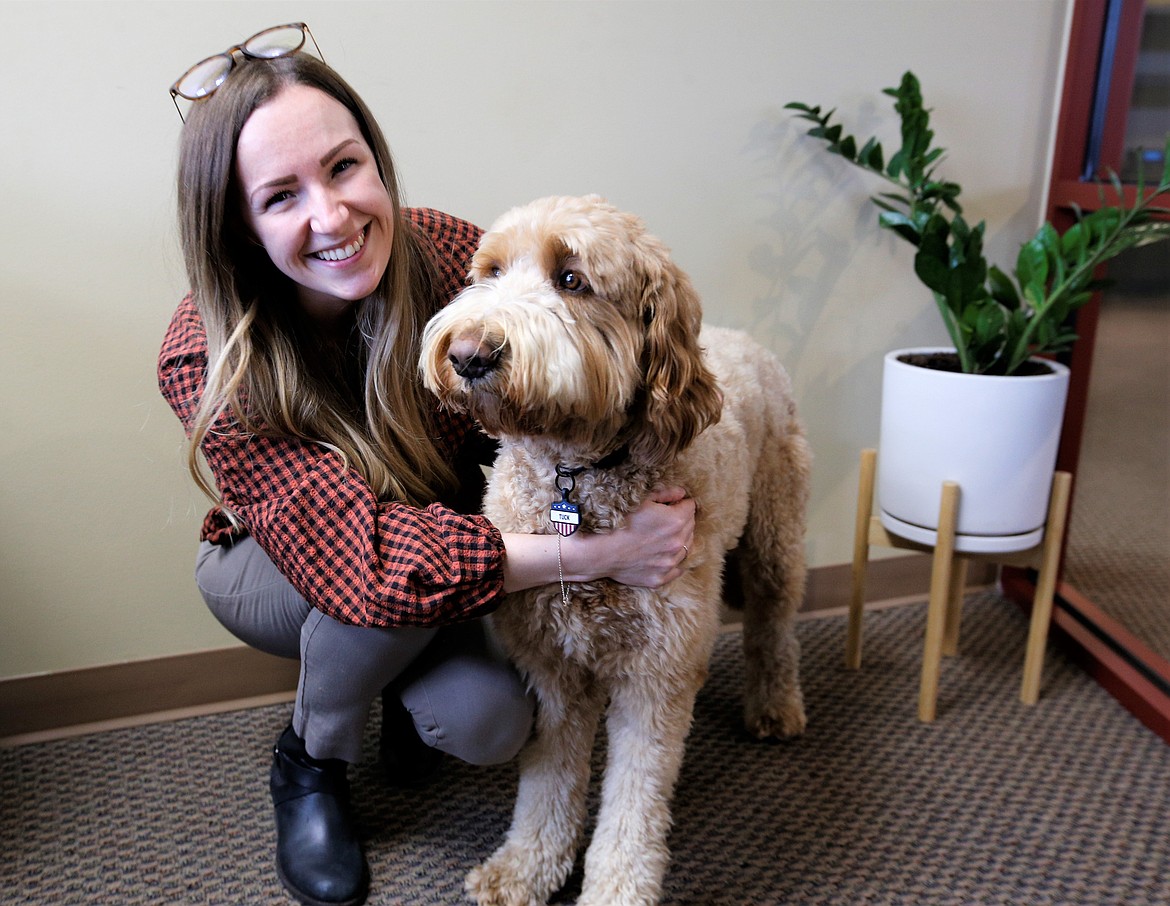 Chloe Linton, with the Coeur d'Alene Downtown Association, poses with Tuck, a Goldendoodle, at work on Thursday.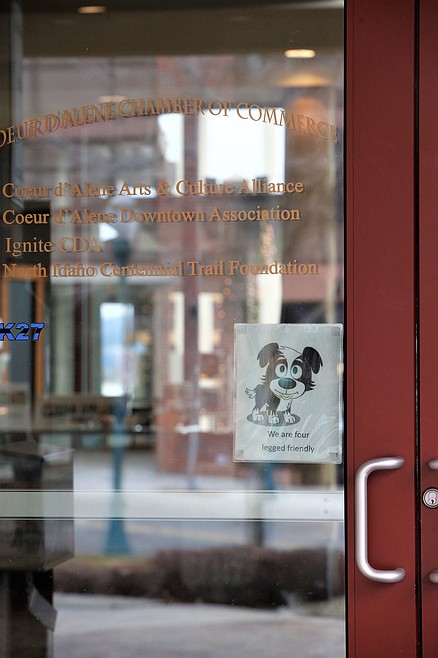 A sign on the door of the Coeur d'Alene Regional Chamber makes it clear dogs are welcome.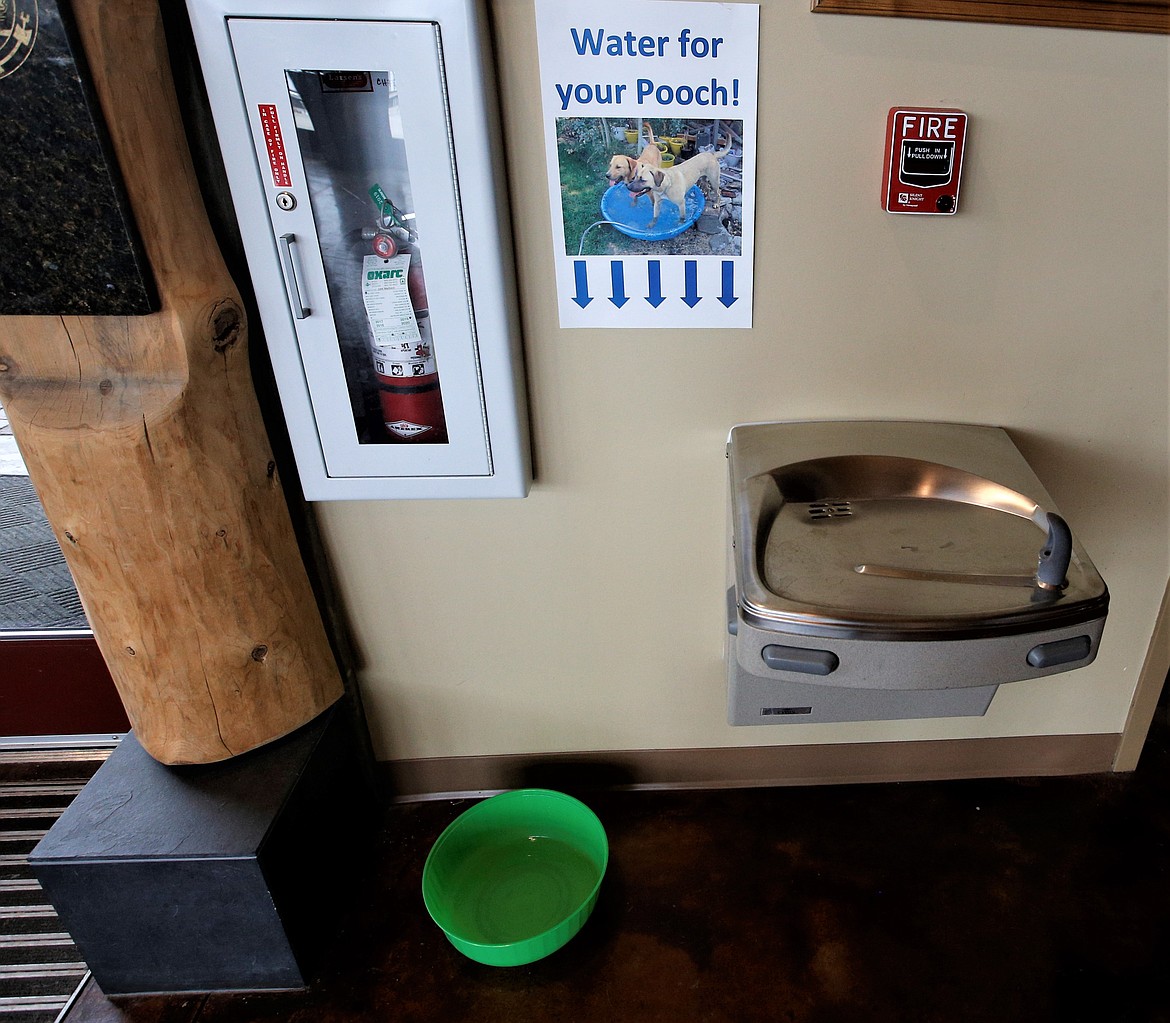 Water is ready for dogs at the Coeur d'Alene Regional Chamber.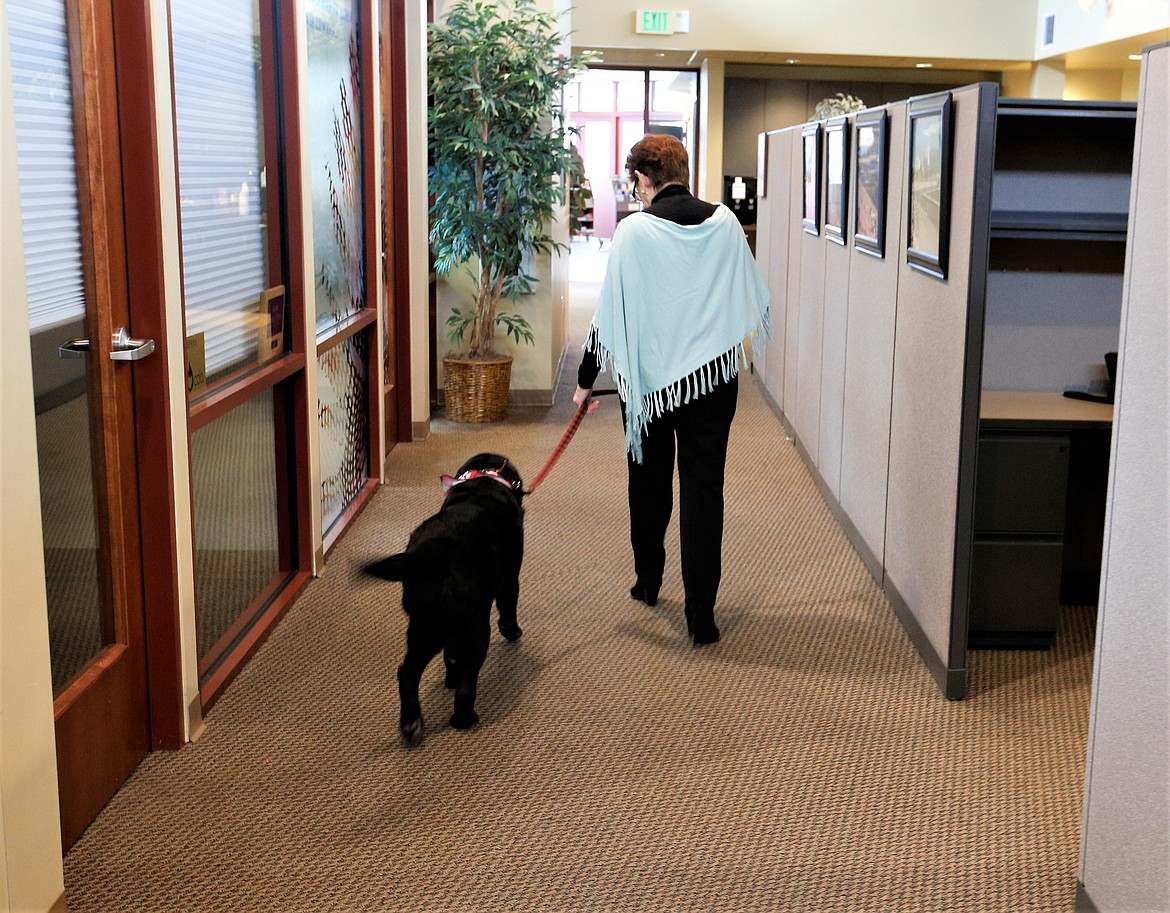 Joan Ford, Coeur d'Alene Regional Chamber visitor's center coordinator, takes Charlie for a walk to the front desk on Thursday.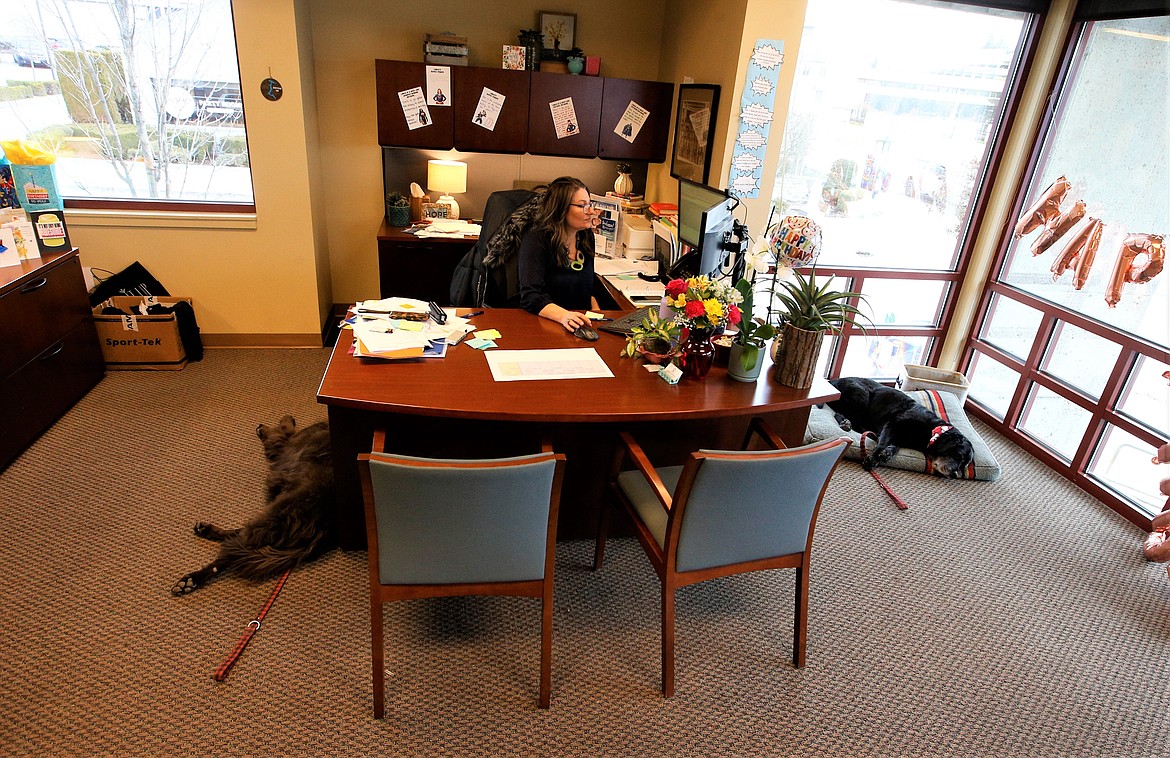 Linda Coppess, Coeur d'Alene Regional Chamber president and CEO, works in her office flanked by Thor, left, and Charlie.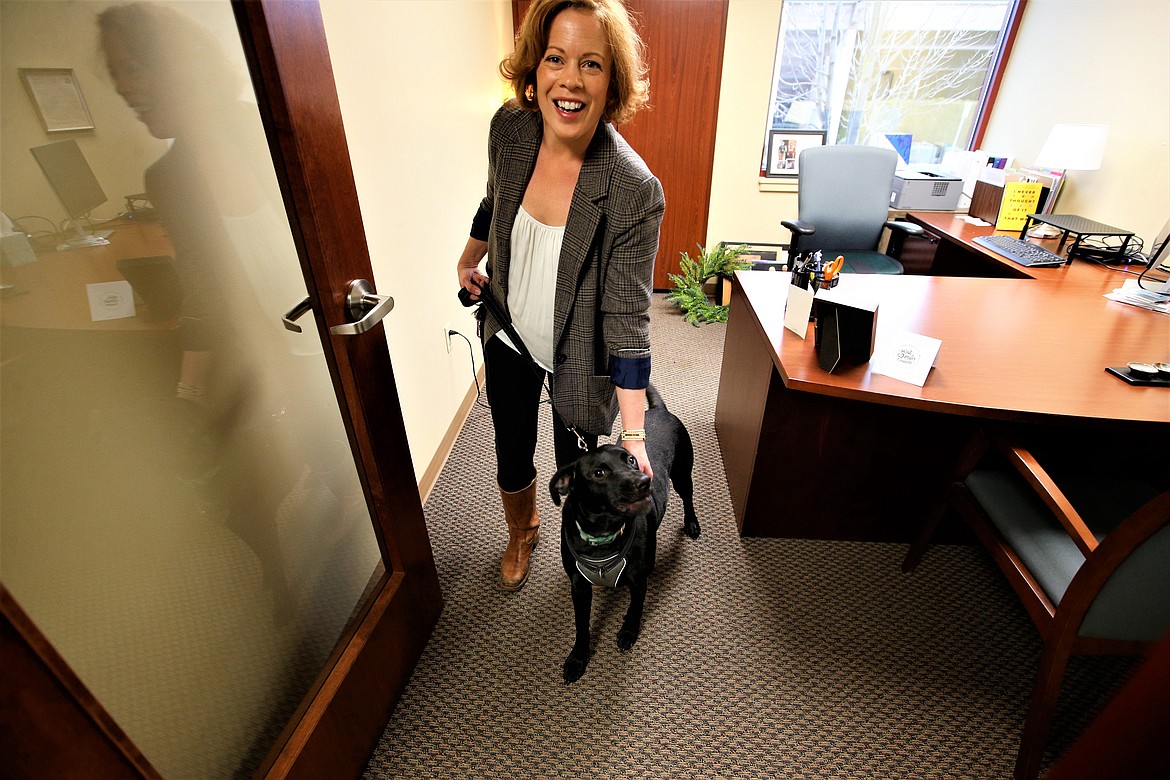 Ellen Crabtree with the Innovia Foundation and Jackson, a Labrador, walk from her office in the Coeur d'Alene Regionall Chamber building.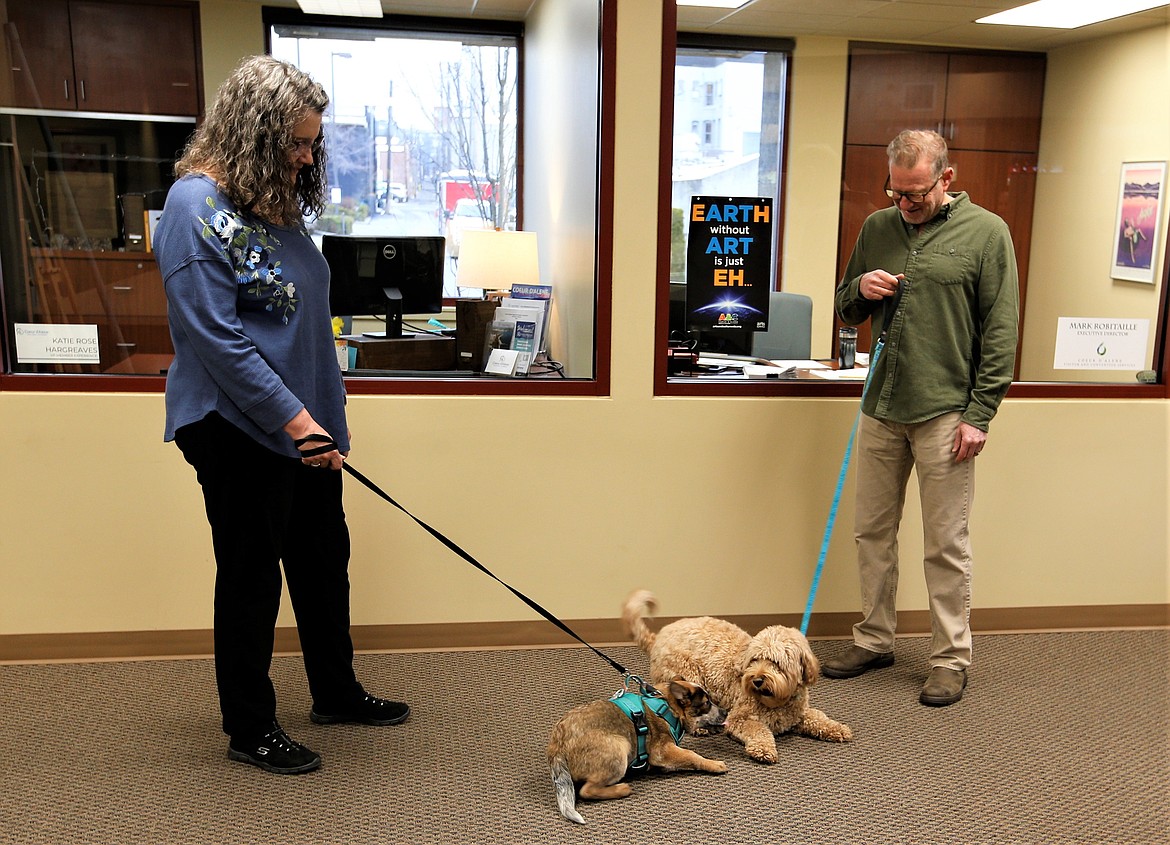 Mark Robitaille with the Coeur d'Alene Convention & Visitor Bureau and his dog Molly share greetings with May Thompson-Lehto and Floyd at the Coeur d'Alene Regional Chamber.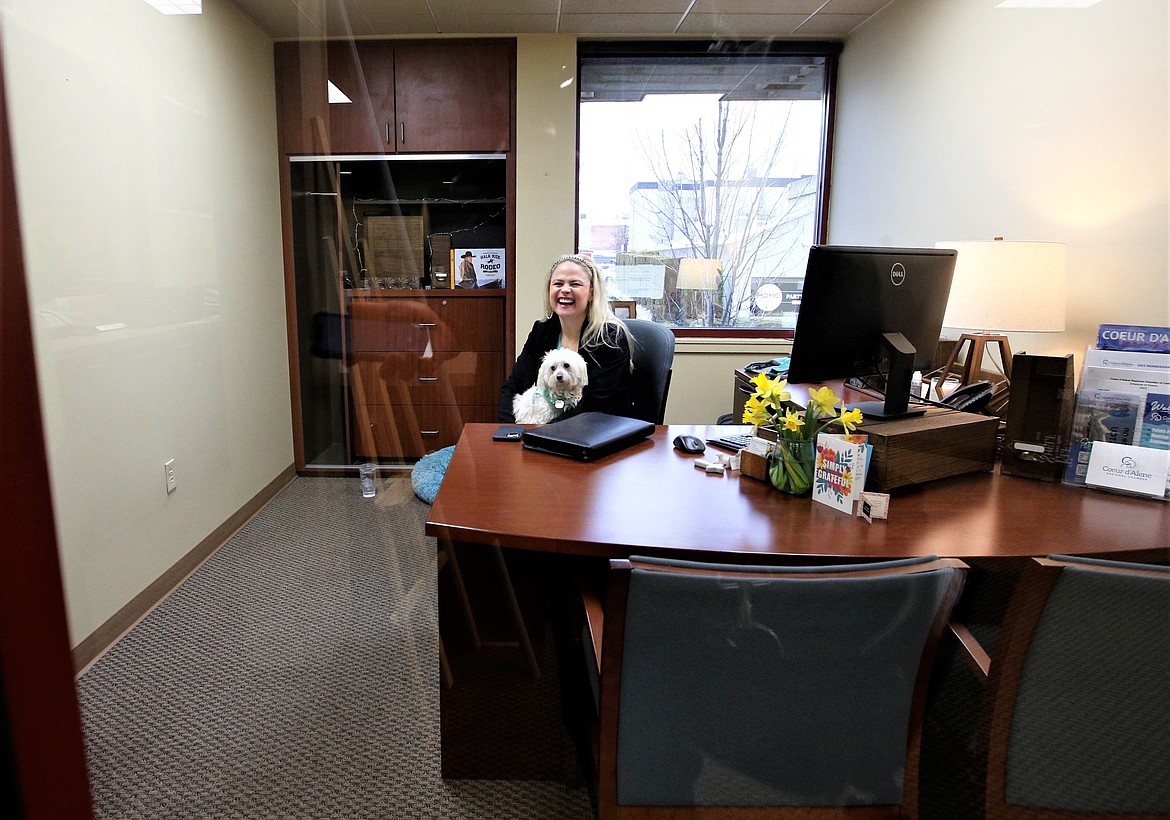 Katie Rose Hargreaves laughs as she holds Pearl, a 14-yer-old Maltese, in her office at the Coeur d'Alene Regional Chamber on Thursday.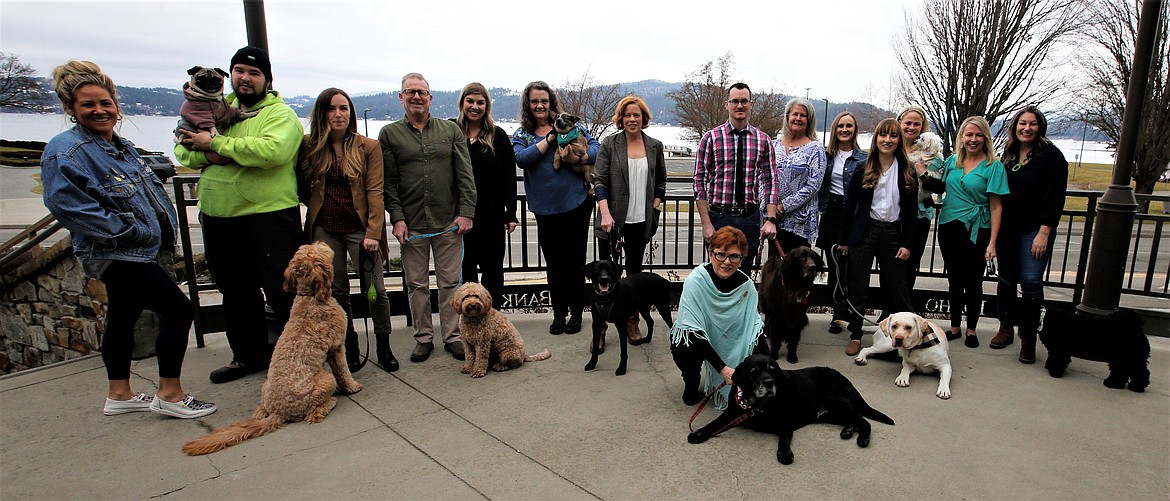 People and dogs gather outside the Coeur d'Alene Regional Chamber on Thursday. From left: Tabitha Kraack-Bonner, Duncan Andersen, Chloe Linton, Mark Robitaille, Emily Boyd, May Lehto, Ellen Crabtree, Skyler Clifton, Ali Shute, Abby Light, Briana Francis, Katie Rose Hargreaves (with the white little dog), Kerri Jensen, Linda Coppess, CEO of the Coeur d'Alene Regional Chamber, and Joan Ford kneeling with Charlie.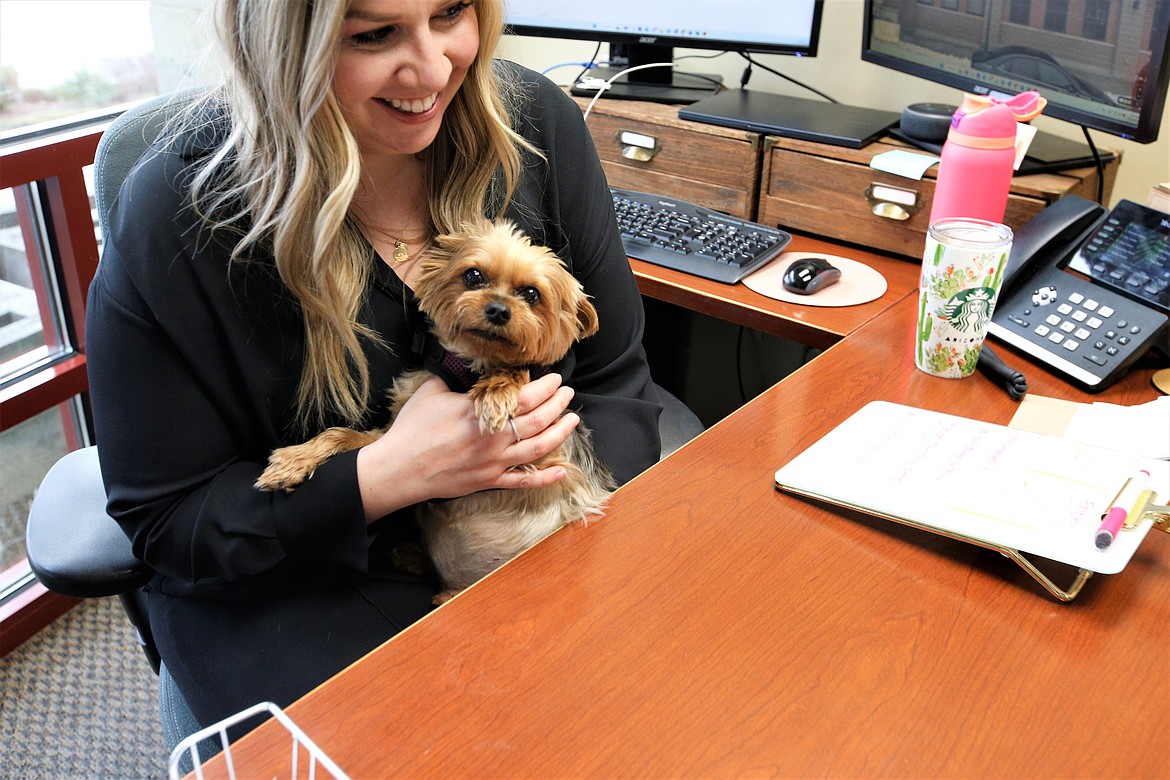 Emily Boyd, executive director of the Coeur d'Alene Downtown Association, holds Finley in her office at the Coeur d'Alene Regional Chamber on Thursday.
Previous
Next
by
BILL BULEY
Staff Writer
|
January 29, 2023 1:08 AM
COEUR d'ALENE — When Briana Francis landed a job as a program coordinator with the Coeur d'Alene Regional Chamber, she didn't know one of the perks: She could bring her dog to work.
Thursday, Francis was smiling as Waylon, a stocky and strong English Labrador, sat in her desk area, marked by a small fence, at the chamber building.
It made for a great day at work and having Waylon around makes Francis feel good.
"He's like my best friend," she said.
She described the 18-month-old, 85-pound dog as friendly and energetic.
To prove her point, Waylon puts both paws on the small fence and stands, tail wagging. He wants to play.
"I have to kind of manage him a little bit," Francis said, smiling.
Ellen Crabtree, with the Innovia Foundation, has her office at the chamber building. Her Labrador, Jackson, joins her at work, too.
She loves having him there.
"It makes the whole energy better in the office," Crabtree said.
On any given weekday, around five to eight dogs join their owners at work at the Coeur d'Alene Regional Chamber. The building is also home to ignitecda, Coeur d'Alene Arts and Culture Alliance, Coeur d'Alene Downtown Association and the North Idaho Centennial Trail Foundation.
Canines most often sit, sleep and walk around in their owners' office spaces. Some wander out into the hallways for a few minutes, checking out what's happening. Throughout the day, owners take brief breaks and walk their pets around the block.
All say having dogs at work makes for a relaxing, peaceful atmosphere. It helps reduce stress, encourages friendly banter and seems to create a light spirit.
May Thompson-Lehto brings her 3-month-old red heeler, Floyd, to work at the chamber two days a week.
It's good for her and for Floyd, she said.
"It's a lot more relaxed," said May Thompson-Lehto. "It kind of releases tension, even when things get a little hectic."
Floyd and Molly, a mini-Labradoodle owned by Mark Robitaille of the Coeur d'Alene Visitors and Convention Bureau, have become friends. Thursday, they were playing together as their owners looked on.
"It's really a cool atmosphere, having all the dogs here," Robitaille said. "It's almost like a comfort for people."
Molly has a small bowl and a toy in Robitaille's office. She follows him wherever he goes.
"When I get coffee, she's just by my side," he said.
Perhaps best of all, the dogs, big and small, get along well.
"It's good for the people; it's good for the dogs," Robitaille said.
The dog-friendly workplace took hold when Linda Coppess came on board in late 2021 as the chamber's president and CEO.
She had already served as vice president of member relations and usually brought one of her dogs, Charlie, an English Labrador, or Thor, a chocolate Labrador, to work.
When she took the president's post, she began bringing both dogs in and encouraged others to feel free to do the same.
Coppess noted a small sign on the chamber door reads, "We are four legged friendly."
"It's all about energy. Everyone here absolutely loves animals," she said. "They see them and it has a calming effect and a fun presence."
Both Charlie and Thor are 12 years old. They can usually be found resting quietly in her office as she goes about her duties.
Coppess likes having her senior companions close.
"Every possible moment that I have with them matters," she said.
Simply put, dogs make work, and life, better, Coppess said.
"They're just like one of us. It just makes it so much more a happy place to be," she said.
According to www.four-paws.org, there are multiple benefits of letting employees bring dogs to work.
"Several studies and research have shown that dogs offer social support, are able to reduce stress, increase cognitive abilities and social interaction and counteract depression and anxiety in people," its website states. "Not only do the owners benefit from this, but also non-dog owners who share their work environment with the dogs of their colleagues and ultimately also the companies themselves."
According to a 2022 survey from Barkbus, a luxury mobile dog grooming service, as businesses reopened following COVID-19, people were reluctant to leave their pets at home and return to work.
"The worldwide shutdowns of 2020 caused by the COVID-19 pandemic sent us humans home to work remotely with no end in sight — but our dogs started living their best lives," Barkbus reported.
The survey found:
86% of employees would look forward to working more if they could bring their pup to work daily
If employees could bring their dogs to work daily, they would save $138 weekly — or over $7,000 annually — from no longer needing to use doggy daycare or dog walkers
50% made new friends at work from bringing their pets to the office
Searches for workplace pet policy templates were up 400% in the last year
Employees' most desired perks are bringing their dog to work at least on certain days and having dog-friendly spaces, both indoors and outdoors
Emily Boyd agrees.
The executive director of the Coeur d'Alene Downtown Association is often joined in her lake view office by 9-year-old Finley.
He enjoys sitting in Boyd's lap.
"He loves it here," Boyd said. "He gets so excited when he comes in.'
At that, Finley raises his upper lip, as if to smile.
Turns out, he is.
"He just does it when he's happy," Boyd said, laughing.
Joan Ford, visitors center coordinator, is considered the matriarch of the canines and looks after them as needed. She keeps treats and vitamins for them at the front desk.
Dogs add to the camaraderie, Ford said.
"We're a team. We work really well together. And the dogs now know each other," she said.
She laughed as she recounted stories of how the dogs take each other's toys and run away.
Such fun antics are to be appreciated, she said.
"It's the best, when you think about it," Ford said.
Katie Rose Hargreaves shares her chamber office with Pearl, a 14-year-old Maltese, for which she is thankful.
Pearl needs to take medication three times daily, so Hargreaves needs her nearby.
"She's a joy-giver, a life-giver," Hargreaves said.
The small dog has a bed in the office and enjoys an occasional venti ice water.
Having Pearl around makes Hargreaves' workday more meaningful, she said, and boosts visitors, too.
"They just brighten up, being able to see the dogs," she said.
Recent Headlines
---