Big win, big first season for Lakeland Jr. Tackle Cheer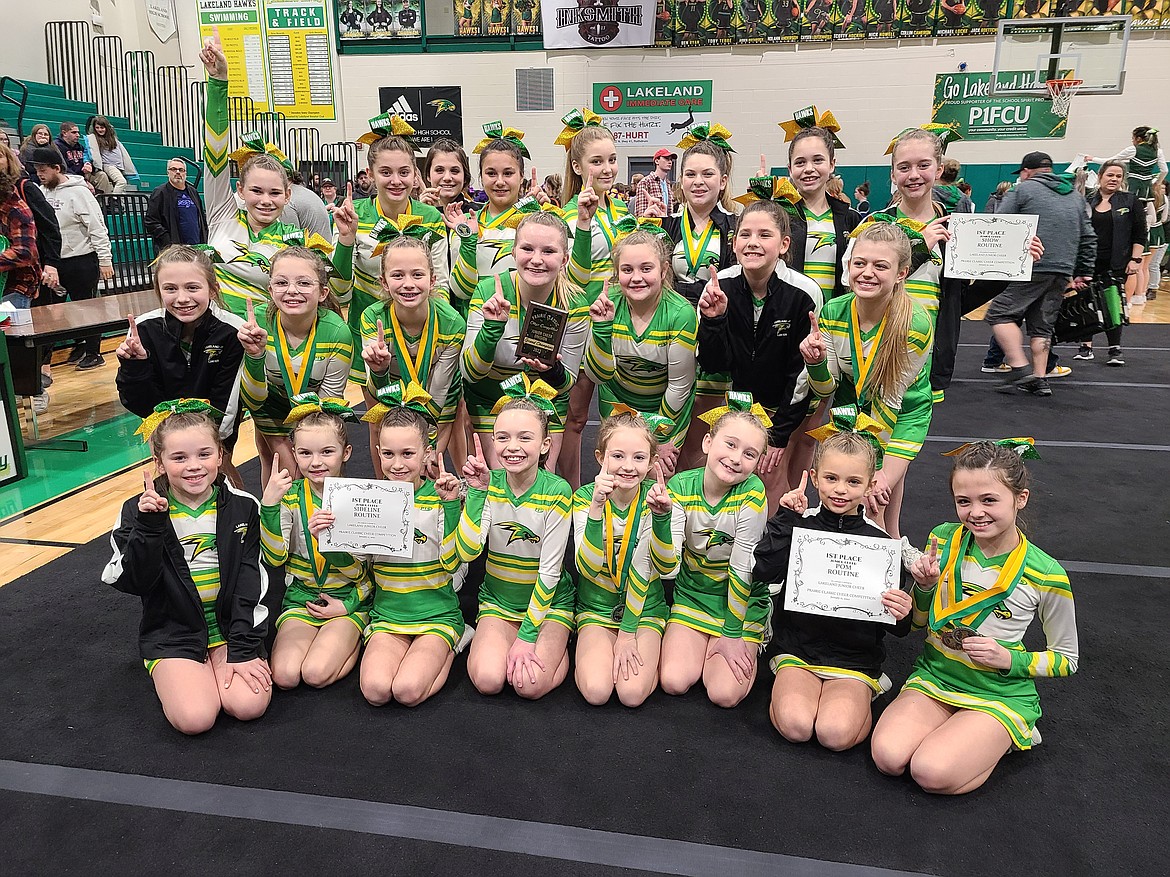 Lakeland Jr. Tackle Cheer finished its first season with a big win Jan. 21 at the Lakeland High School Prairie Classic Cheer Competition. The squad took first place in show, sideline and pom routines as well as the overall grand champion for junior cheer division. Individual awards also went to: Ashlyn K. - First place middle school tumbler Libby K. - Third place middle school jumps Brinlyn H. - Second place elementary jumps Youth Stunt Group - second place (Marissa, Delaney, Sky, Kayuh, Izzy) Junior Stunt Group - third place (Cheyenne, Haileigh, Avah, Ashlyn, Brinlyn) Front row, ...
Courtesy photo
|
January 28, 2023 1:00 AM
Lakeland Jr. Tackle Cheer finished its first season with a big win Jan. 21 at the Lakeland High School Prairie Classic Cheer Competition.
The squad took first place in show, sideline and pom routines as well as the overall grand champion for junior cheer division.
Individual awards also went to:
Ashlyn K. — First place middle school tumbler
Libby K. — Third place middle school jumps
Brinlyn H. — Second place elementary jumps
Youth Stunt Group - second place (Marissa, Delaney, Sky, Kayuh, Izzy)
Junior Stunt Group - third place (Cheyenne, Haileigh, Avah, Ashlyn, Brinlyn)
Front row, from left: Clara R., Kayuh M., Ensley L.P., Kapree S., Isabelle W., Sierra W., Hailey H. and Brinlyn H.
Middle row, from left: Aspen C., Skylin D., Ashlyn K., Libby K., Addyson W., Lexi H. and Delaney B.
Top: Zanessa S., Haileigh S., Keeley H., Marissa K., Cheyenne S., Avah C., Leah B.B. and Allison W.
Recent Headlines
---