Coyote makes way into 219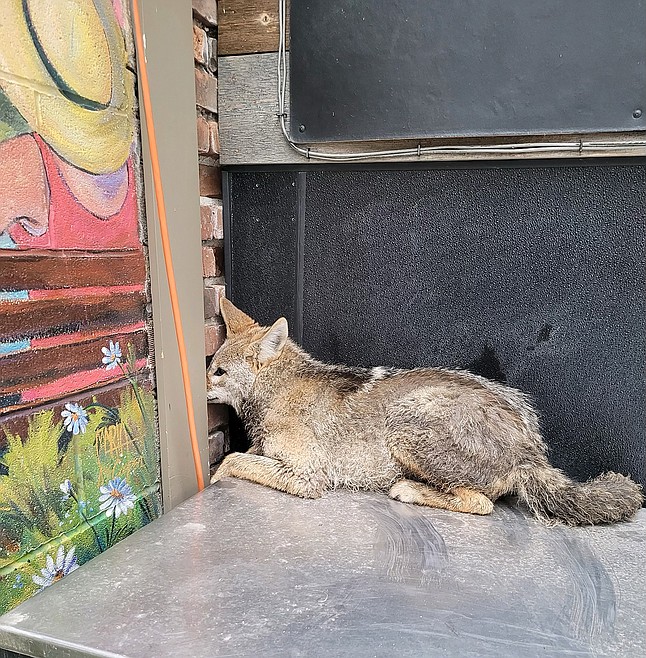 A young coyote huddles into a back corner of the 219 patio area after becoming trapped in the bar on Wednesday afternoon.
(Photo courtesy JUSTIN DICK)
by
CAROLINE LOBSINGER
Hagadone News Network
|
January 27, 2023 1:00 AM
Did you hear the one about the coyote that ran into a Sandpoint bar?
No, it's not the opening bit to the latest joke. Instead, it is actually what happened at the 219 Lounge shortly after 3 p.m. on Wednesday.
"At first I thought it was a dog who'd seen its owner in the back of the 219 and was running over that way," Justin Dick, who owns both the 219 and the nearby 113 Main, said. "But I did think it was the weirdest looking dog I've ever seen in my life."
Dick had been at his new restaurant when he realized he needed something from the back of the 219 and headed in that direction. As he walked the short distance, he saw what he initially thought was a dog racing through the US Bank parking lot and into the back patio area of the longtime Sandpoint bar.
As he walked in the back door, he peeked into the patio area and saw the animal huddled in a back corner. Having given it no more than a cursory look, he asked the regulars and the staff if anyone's dog was out back.
Dick and a few others took a quick, but slightly longer look from the door and realized it was a young and frightened coyote. They quickly left the animal alone and kept others coming to the bar out of the back to avoid spooking the animal until officers and Idaho Fish and Game could arrive.
"[It] was just huddled in the corner and it was shaking," Dick said. "I don't know if it had its wits about it too well, or if it was just really scared."
The area was closed, and customers and any dogs were kept out of the area, Dick said.
"We realized we didn't need a bunch of human interaction because it was already backed into the corner," he added. "It had its little muzzle tucked between the wall and the bricks. And it was just kind of looking out of its side eyes."
Sandpoint Police Chief Corey Coon said officers were dispatched to the 219 at 3:12 p.m. Wednesday, and had been alerted that a coyote was trapped in the bar. When officers got on scene, they found the animal with its head tucked into its body and hiding in a corner.
At first, they tried to encourage it to leave, but the animal didn't move. After getting in touch with Idaho Fish and Game officials, it became readily apparent that the coyote was young and not in good health.
"It wasn't healthy," Coon said. "They were able to catch it by hand, which is abnormal. It didn't fight, it didn't bite, it didn't really do anything that one would think would happen with a wild animal."
While officers patrolling at night will often see everything from deer, moose and raccoons as well as the occasional coyote and bear, Coon said Wednesday's incident is the first time he can recall a coyote making its way into the downtown in the middle of the afternoon.
"Because we live on the skirts of the forest, we see a variety of wildlife that comes through our town," Coon said. "But it's when they don't act like wildlife, is when it gets concerning."
Coon recommended that anyone seeing wildlife acting out of the ordinary contact Bonner Dispatch at 208-265-5525 for an officer or Idaho Fish and Game to come to investigate.
"The safety tip of the day is wild animals are still wild," Coon said. "Don't pet the moose, don't pet the coyote; that wild animals are still wild and need to be treated as such."
That is even more true if the animal is acting out of character for a wild animal.
"And if they're acting abnormally, then there's usually something wrong with them," he added. "Unfortunately, they can be sick, they can be diseased and that's a time to even use more caution when around them because they can carry diseases."
Recent Headlines
---