THE VETERANS' PRESS: The face of a veteran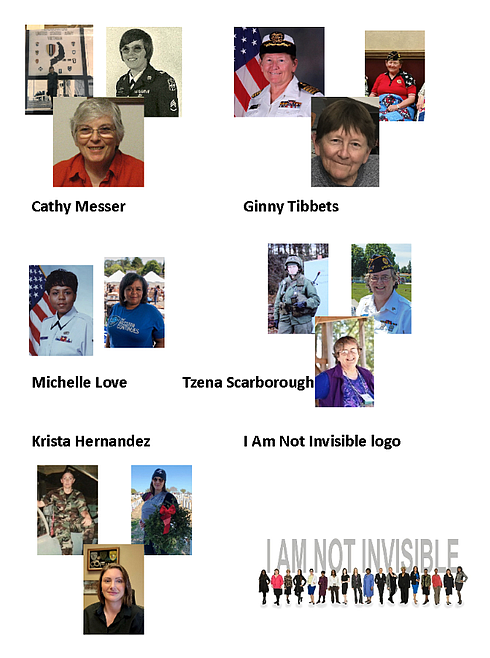 Pictures of women veterans in the area.
Courtesy photos
by
TZENA M. SCARBOROUGH/U.S. Army Veteran
|
January 24, 2023 1:00 AM
There are roughly two million women veterans that have served our country in the military. We are mothers, sisters, friends, partners and wives. We are advocates, bosses, students and survivors. We are all eras and branches of service. We are women. We are veterans.
Women veterans make up ten percent of the Veteran population and that number is growing. Yet they continue to face significant barriers and challenges in accessing necessary health care and other services, while experiencing a lack of recognition. Women veterans are not only overlooked by those around them, but frequently struggle to consider themselves veterans.
The I Am Not Invisible (IANI) campaign began in February 2017 to increase visibility of women Veterans, who are often invisible both as service members and veterans. The campaign aims to increase awareness and dialogue about women Veterans and open viewers' eyes to the myriad contributions, needs, and experiences of women who have served in the military. The campaign started taking pictures of women veterans and displaying them at VA hospitals and facilities.
When you serve in the armed forces as a woman, you are HIGHLY visible, in many cases, being one of the few women in your unit. When you get out of the military, you are HIGHLY invisible as a veteran to those in your community.
Many women veterans do not "identify as a veteran" when they get out of the service. Because of that, three quarters of the 2 million women veterans, (1.5 million) are not getting the benefits they have earned.
There are many challenges to finding those women veterans: name changes because of marriage or divorce, relocating after the service, and because they don't identify as a veteran.
If you know a woman veteran, please encourage them to seek out assistance to get their benefits. Help them reach out to a service officer in any one of the Veteran Service Organizations, the VA hospital or Vet Center in your area, or contact me and I will assist them in getting the benefits they have earned.
• • •
These descriptions of each picture tells what each veteran did in service or after service:
Catherine Messer, U.S. Army 1968-1978
• 1969-1970, Long Bien Vietnam, Administration
• 10 years in the Women's Army Corps, discharged as Staff Sergeant E6.
• Retired from the Post Office
Ginny Tibbetts, United States Public Health Service 1973-2003
• USPHS, Captain, O-6, Pharmacist Director
• Life member of the American Legion and Disabled American Veterans
• Now happily retired (after volunteering at an Air Force Hospital as a pharmacist)
Krista Hernandez, USAF 2003-2006
• USAF weapons loader in tech school in 2003. Airman First Class E-3
• Laying wreaths at Ft. Sam National Cemetery Wreaths Across America in San Antonio
• A Veteran Service Officer for Spokane County, for 2 years
Michelle Love, USAF, 1998-
• 1998 in Osan AB, South Korea where I served in the Air Force as a Personnel Specialist.
• May 2022 during a military family food drive for JBLM as part of The Mission Continues.
Tzena Scarborough, U.S. Army, 1976-83
• Ft Eustis, VA Transportation School, Helicopter Armament specialist, technical writer. SGT E5
• American Legion Post 241, Spokane Valley, 2nd Vice Commander, Service Officer
• Veteran
• • •
Tzena M. Scarborough, U.S. Army veteran, Women's Army Corps WAC, Cold War Veteran, 1976-1983. She serves as an American Legion Post 241, 2nd Vice Commander, and Service Officer assisting veterans and families to connect to their benefits in the Spokane Area. Contact is 509-891-8588 or ladyveterans@comcast.net.
Recent Headlines
---