Committee OKs architect for police remodel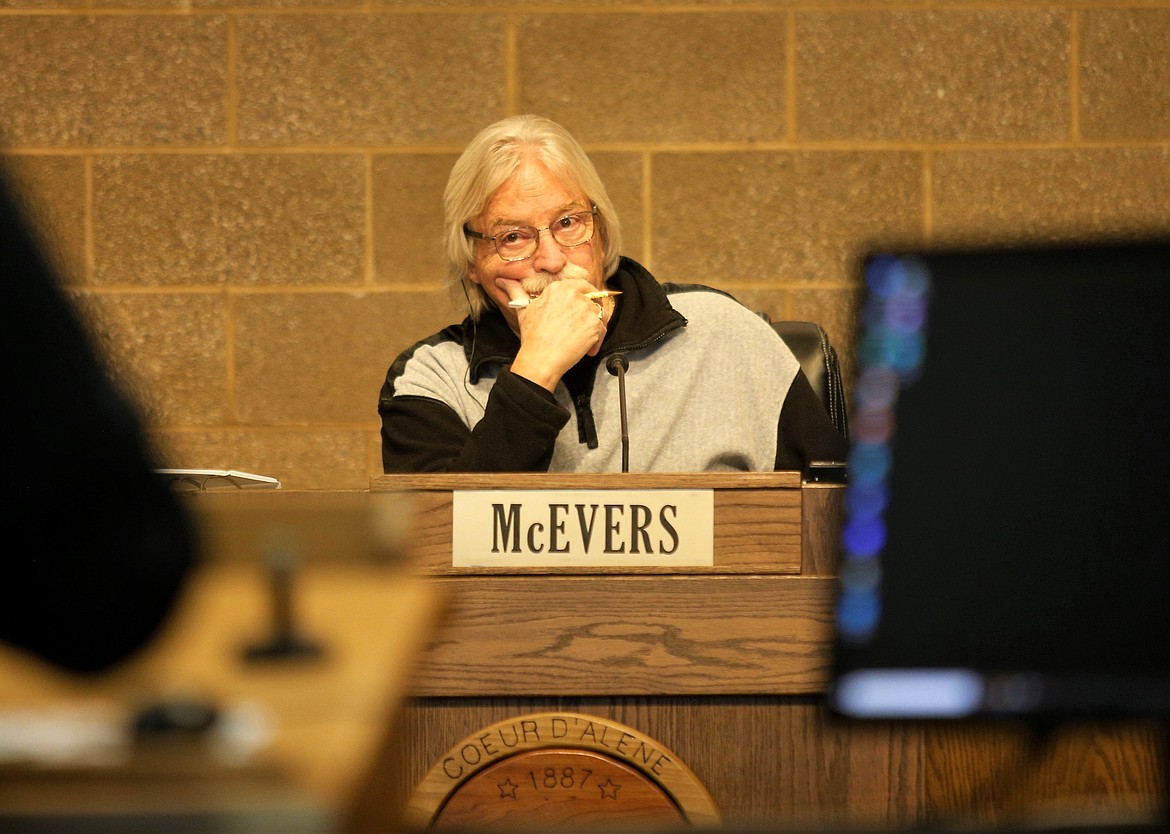 Coeur d'Alene City Councilman Woody McEvers listens on Monday to Police Capt. Dave Hagar outline a proposal for a contract with TreanorHL to provide a masterplan and design services for the first phase of the police department expansion and remodel.
BILL BULEY/Press
by
BILL BULEY
Staff Writer
|
January 24, 2023 1:07 AM
COEUR d'ALENE — The city of Coeur d'Alene's General Services/Public Works Committee approved an architect Monday for the remodel and expansion of the Coeur d'Alene Police Department.
"This isn't just an architecture for a building," said Police Capt. Dave Hagar. "We have to look at what the police needs are for the future."
TreanorHL, based in Denver, Colo., was selected to provide a masterplan and design services for the first phase of the police department expansion and remodel.
The proposal calls for it to be compensated at 9% of the budget for the cost of the work, estimated to be at least $4.5 million previously approved by the City Council coming from the American Rescue Plans Act.
According to a staff report, the city advertised nationally for an architect for the project and received six responses. It interviewed three finalists.
TreanorHL was chosen as the design firm "based on the totality of their submittal and interview." Company representatives have already visited the project site and met with city officials and the general contractor, so they know what is needed.
They "have made great progress toward the masterplan and identifying what can be accomplished in the first phase of construction," the city report said.
The council in December unanimously agreed to purchase 1.6 acres just north of the police station on Schreiber Way for nearly $1.2 million.
The vacant land will allow the police department to expand and remain as a single facility without the need for two separate sites, a city report said.
The current police department, with about 100 officers, is too small and old to meet current and future needs.
The department has already negotiated a contract with CORE West, Inc., a national firm that specializes in public safety buildings, to act as general contractor for the project.
Hagar said the city of Coeur d'Alene is projected to eventually have about 87,500 residents, so the expansion should accommodate those numbers.
He said police don't want to have to return to the City Council in 10 or 15 years and request another building or more land.
"We'd like to be able to accomplish this all in one," he said.
An initial priority is increasing locker room space.
"We have people who don't have lockers, so that's our first priority," Hagar said.
He said the total project will likely cost more than $4.5 million, so future funding sources will need to be identified.
Councilwoman Kiki Miller said she would like the council to stay involved and receive construction updates.
"I'm just checking to see if there are any other balances the council bring forward to make sure we've got a good, quality project," Miller said.
Recent Headlines
---