Fireboat comes home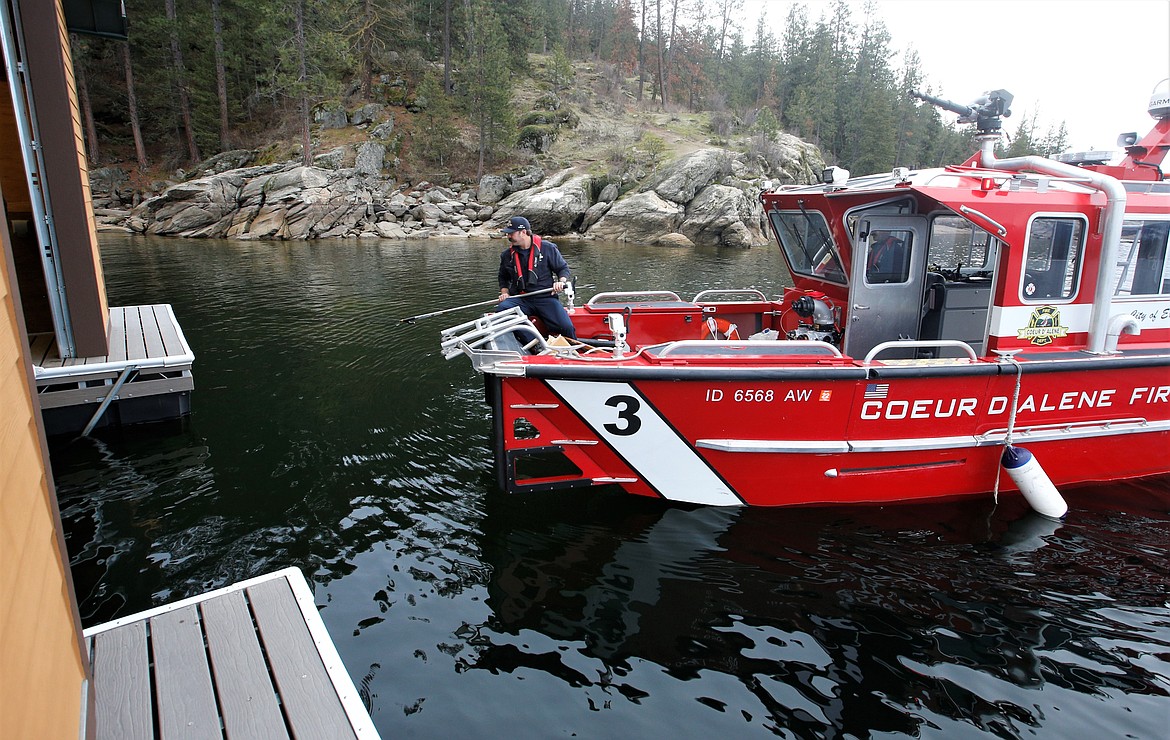 Coeur d'Alene Firefighter Ryan Whitelaw sits on fireboat 3 of the Coeur d'Alene Fire Department guided by Capt. Josh Sutherland as it arrives at its new home at the Third Street Marina on Wednesday.
BILL BULEY/Press
by
BILL BULEY
Staff Writer
|
January 19, 2023 1:09 AM
COEUR d'ALENE — As Fireboat 3 of the Coeur d'Alene Fire Department floated into its new home next to Tubbs Hill Wednesday, Craig Etherton was all smiles.
"It's awesome," the deputy fire marshal said. "It's a long time coming."
The fireboat garage was put into place at the Third Street Marina in October. The final certificate of occupancy was signed off by all departments Tuesday.
Fire Chief Tom Greif said in a city known for its vibrant downtown waterfront, the fireboat's new central location will be beneficial for response times in the busy summer months. Most fireboat callouts are to Tubbs Hill.
The fireboat is also used as a standby apparatus during events on the north end of the lake, such as Ironman Coeur d'Alene, the Coeur d'Alene Crossing and fireworks shows.
"It's a huge part of our operation," Greif said.
The fireboat for years had been in a Kootenai County slip at Blackwell Island.
The new fireboat house was built by Verdis construction in Wolf Lodge Bay and was floated to the Third Street marina in September. North Idaho Maritime built the docks.
A system of blocks, cables and ropes secure the boathouse in place.
Funding for the project was approved by the City Council more than two years ago and the boathouse was expected to be in place in 2020. But due to supply chain issues and rising construction costs, it was delayed.
The boathouse ended up costing about $585,000, with about $325,000 funded by impact fees and the rest coming from ignite cda, the city's urban renewal agency.
Kenny Gabriel, who retired in 2022 as Coeur d'Alene's fire chief, was credited with working on the project for several years.
"It was quite the endeavor to get it done," Etherton said.
A grand opening and station dedication will be held this spring.
Recent Headlines
---