Interim president added to NIC lawsuit
by
KAYE THORNBRUGH
Staff Writer
|
January 12, 2023 1:07 AM
COEUR d'ALENE — A previously filed lawsuit now alleges that North Idaho College trustees lacked authority to hire interim president Greg South and that South has received "unjust enrichment" as a result.
Mike Gridley, the former city attorney for Coeur d'Alene, filed an amended civil complaint Tuesday in his lawsuit against NIC, which also accuses three trustees and the college attorney of fraud and violating Idaho's open meeting laws.
The complaint now names South as a defendant, as well as trustees Greg McKenzie, Mike Waggoner and Todd Banducci and college attorney Art Macomber.
"There is no statutory authority for NIC to have more than one president," Gridley said Wednesday.
He pointed to Idaho Code 33-2109, which provides that trustees "shall elect a president of the college."
"They can only have one president and there is one," Gridley said. "That's Dr. Swayne."
After a split vote last month to place NIC President Nick Swayne on administrative leave for no disciplinary reason, trustees voted 3-2 to hire South as interim president, giving him a contract that runs through at least June 30, 2024.
The college has committed to paying a minimum of $465,000 per year to its two presidents — $230,000 to Swayne and $235,000 to South. Those figures do not include additional financial perks, such as the $35,000 signing bonus South will receive by the end of the month.
South's hiring, the lawsuit alleges, constitutes one of several breaches of fiduciary duties committed by McKenzie, Banducci and Waggoner.
Gridley said he aims to hold the three trustees personally liable for what he believes are illegal actions.
"If you violate the law with your actions, then you're no longer acting on behalf of the institution," he said. "They have no authority to hire a second president. They should not have hired Art Macomber, a lawyer who is not even qualified to practice law in Coeur d'Alene, Idaho."
In April 2021, the lawsuit contends, Macomber sold his law firm and promised not to practice in the areas of real estate and contracts within 500 miles of Coeur d'Alene, in accordance with Idaho Rule of Professional Conduct 1.17.
After trustees hired him, one of Macomber's first acts was to announce an investigation into Swayne's contract.
While trustees took steps during a Dec. 21 meeting to cure violations of Idaho's open meeting laws that occurred during previous meetings, Gridley alleges that the board's actions are insufficient.
"Did they get close to curing many of the violations?" Gridley said. "Yes, I'll concede that. Did they actually cure them? That's an open question. Some they didn't even address."
He pointed to NIC's Jan. 4 letter to the Northwest Commission on Colleges and Universities, which referred to a "special board meeting" Dec. 17 where the college attorney was tasked with contacting South about the interim president position.
However, there is no record of an NIC board meeting on that date.
"That meeting was never noticed," Gridley said. "What's up with that?"
The lawsuit asks the court to declare that some of the actions committed by the defendants constitute "fraud, malfeasance and/or a breach of fiduciary duties" and to nullify any actions that violate Idaho law or were beyond the authority of NIC's trustees.
Gridley said he wants to see any money paid to the pair returned to the college.
"They should have to pay it back," he said. "Whether it's Macomber or those three trustees, it should come back to NIC and the taxpayers."
Read the full complaint below.
---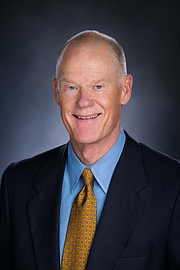 Recent Headlines
---