Earl Roy Glaspie Sr., 73
|
January 12, 2023 1:00 AM
Earl Roy Glaspie Sr., 73, Post Falls, Idaho, celebrated New Year's Day 2023 by waking up in Heaven. Earl was born in Medford, Ore., on Aug. 18, 1949, to parents Roy and Edith Glaspie. Earl was the fourth of nine children. Growing up, Earl and his siblings ranched on their family farms, where they rode horses, raised livestock, gardened and learned to drive and fix just about anything needed to get the job done.
In 1970, Earl married his wife of 48 years, Ruth (Butterfield). Earl and Ruth were all about family and together they raised four amazing children, Angie, Cindie, Tiger and Wendy. They loved traveling and took their kids on many vacations, to every family reunion and tons of camping and fishing trips throughout the years. Earl and Ruth were very close to their siblings and their children, and they loved having large family get-togethers.
Earl loved classic cars and during a trip to California for his youngest daughter's wedding, Earl purchased his dream car, a 1956 Ford Fairlane, and he drove it home to Idaho with no problems at all. Earl was a member of the local Cinderella Classic Car Club and enjoyed taking his car around to all the car shows and events that North Idaho has to offer.
Earl had a strong work ethic and his fifty-plus years in the work force is a testament to just that. In the '60s, Earl joined the Army and spent three years in Germany. During the '70s, he began a decade-long career for Boise Cascade; afterward, he accepted a job at the Idaho Forest Industries sawmill, where he worked running the green-chain for the next several years. The '90s brought an amazing opportunity when Earl's youngest brother, Jack, taught him how to drive semi-trucks, and together they drove long haul across the USA for Jafco and later for local short-haul companies Baker and GDL Logging so he would be able to be home with his family each day.
In 2020, Earl retired, sold his house and purchased a motorhome and began his new life as a snowbird in Quartzsite, Ariz. Earl enjoyed his adventures traveling to many places, meeting new friends, visiting his family and enjoyed riding around in the desert in his side-by-side RZR.
Earl is preceded in death by his parents: Roy and Edith Glaspie, his wife, Ruth Glaspie, his brothers: Ken and Benton Glaspie and sister Irene Watkins, brothers-in-law: Richard Butterfield Sr., Donald Ray Davis Jr., Pat Clark, Larry Hernvall, James Watkins and sister-in-law Tammy Glaspie.
He is survived by daughters Angie (Mike) Hohman, Cindie (Leyman) Tedford, Wendy (Pat) Bowman and son Earl "Tiger" Roy Glaspie Jr. Grandchildren Matthew (Beth) Myers, Amy (Chad) Moss, Emily Tedford, Anna Tedford, Kurtis Hohman, Scott Hohman, Sara Hohman, Colton (Roxie) Glaspie, Cheyanne (Dillon) Turner, Cassidy Glaspie, Carson Glaspie, Bella Goodwin, Meagan Glaspie, Kayla (Quinn) Stanley, Johnna Reems and great-grandchildren Marvin and Harvey Hohman, Luke, Bo and Aaron Moss, Zacharias, Linkin, and Annabeth Glaspie, Axton Glaspie, Zeke, Emilia and Elliana Turner, Juniper and Atticus Stanley. Earl's siblings Merriam Clark, Mary (Ken) Maddox, Geralda "Geri" Hernvall, Nancy (George) Broesch, and Jack Glaspie. Brother/sister-in-law Tom (Kellie) Butterfield, Johna Butterfield, Rusty Butterfield, Debbie Wheeler, Diana Thompson, Suzie Davis, Shirley (Paul) Schmidt. Forever-in-laws: Lorinda Wichman, Raydene Hay, Kimm Butterfield, Billie Jo Goodwin and Victoria Spry. As well as many much-loved nieces and nephews. In addition, Earl's children would like to recognize our dad's lifelong best friend and hunting partner, Ralph Misita, along with his wife, Carol, and their family.
Please join us for THE CELEBRATION OF HIS LIFE this Sunday, Jan. 15 at 3 p.m. at The Trailhead Event Center 12361 W. Parkway Drive, Post Falls, ID 83854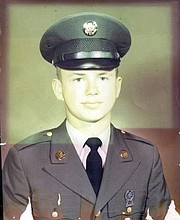 Recent Headlines
---