Californians cope with more rain, snow, flooding and outages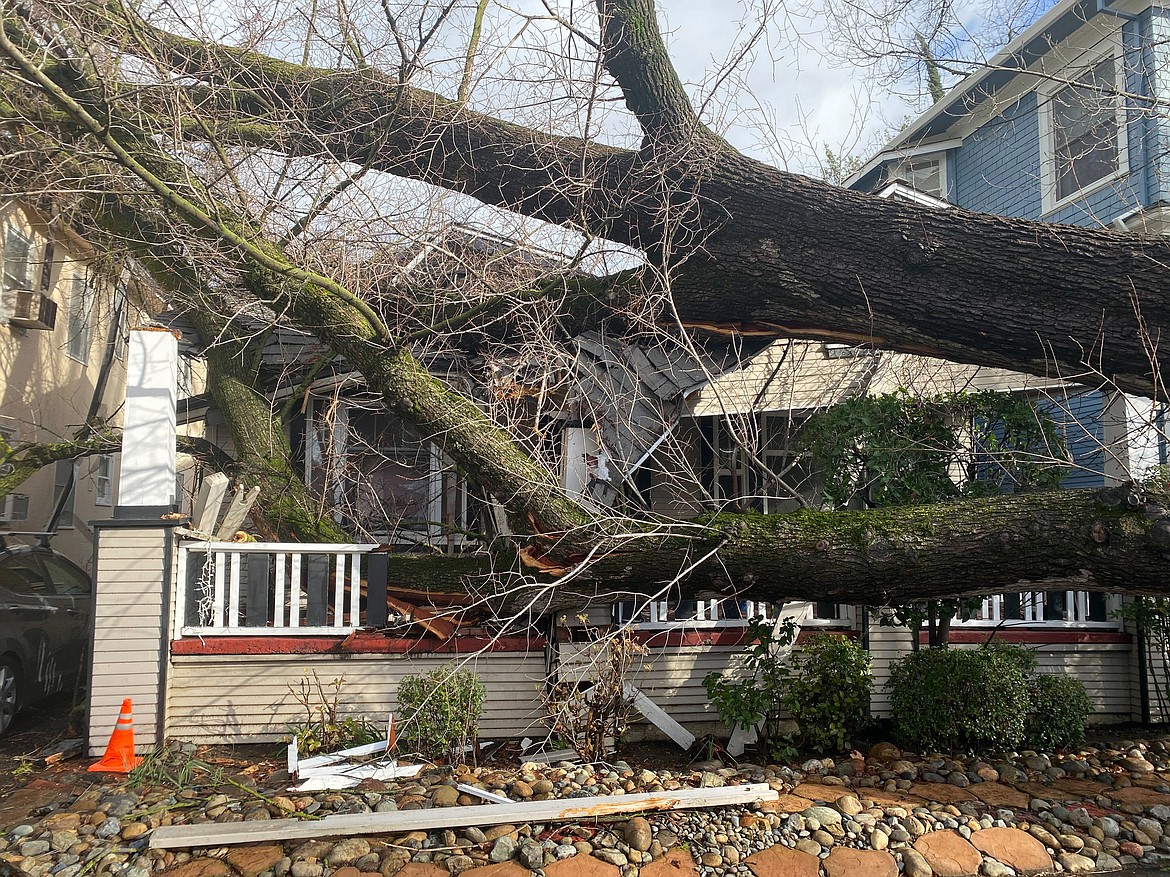 A tree collapsed and ripped up the sidewalk damaging a home in Sacramento, Calif., Sunday, Jan. 8, 2023. The National Weather Service warned of a "relentless parade of atmospheric rivers" — storms that are long plumes of moisture stretching out into the Pacific capable of dropping staggering amounts of rain and snow. (AP Photo/Kathleen Ronayne)
|
January 9, 2023 12:15 PM
SANTA CRUZ, Calif. — Californians grappled with flooding and mudslides Monday as the latest in a series of powerful storms walloped the state, shuttering schools, toppling trees and leaving tens of thousands without power.
Evacuation orders were issued in Santa Cruz County for about 32,000 residents living near rapidly rising rivers and creeks, said Melodye Serino, the deputy county administrative officer. The San Lorenzo River was declared at flood stage, and video on social media showed a neighborhood flooded with muddy water surging up to a stop sign. Mudslides in mountainous areas blocked roads, and officials urged residents to stay home.
In Northern California, several districts closed schools because of the storms. More than 35,000 customers remained without power in Sacramento, down from more than 350,000 a day earlier after gusts of 60 mph (97 kph) knocked trees into power lines, according to the Sacramento Municipal Utility District.
The National Weather Service warned of a "relentless parade of atmospheric rivers" — storms that are long plumes of moisture stretching out into the Pacific and are capable of dropping staggering amounts of rain and snow. The rain and snow expected over the next couple of days come after California has already been walloped by storms that last week knocked out power to thousands, flooded streets, and battered the coastline with high surf.
President Joe Biden issued an emergency declaration Monday for California to support storm response and relief efforts in more than a dozen counties including Sacramento, Santa Cruz and Los Angeles. Gov. Gavin Newsom said 12 people died as a result of violent weather during the past 10 days, and he warned that this week's storms could be even more dangerous and urged people to stay home.
The warning came on the fifth anniversary of a mudslide that killed 23 people and destroyed more than 100 homes in the coastal community of Montecito following a powerful storm.
The first of the newest, heavier storms prompted the weather service to issue a flood watch for a large portion of Northern and Central California, with 6 to 12 inches (15 to 30 centimeters) of rain expected through Wednesday in the already saturated Sacramento-area foothills.
About 70 miles (110 kilometers) south of San Francisco in the coastal community of Aptos, crews put down sandbags ahead of high tide. The area flooded last week, leaving sand piles and debris in the streets,
In the Los Angeles area, stormy conditions were expected late Monday and Tuesday, with the potential for as much as 8 inches (20 centimeters) of rain in foothill areas. High surf was also expected, with large waves on west-facing beaches.
Since Dec. 26, San Francisco received more than 10 inches (25 centimeters) of rain, while Mammoth Mountain, a popular ski area in the Eastern Sierra, got nearly 10 feet (3 meters) of snow, the National Weather Service said.
The storms won't be enough to officially end California's ongoing drought, but they have helped. State Climatologist Michael Anderson said at a weekend news briefing that officials were closely monitoring Monday's storm and another behind it and were keeping an eye on three other systems farther out in the Pacific.
Daniel Swain, a climate scientist at the University of California, Los Angeles, said Californians can expect to see a break in the rain after Jan. 18.
"That is my best guess right now, which is good because it will give the rivers in Northern California, and now in Central California, a chance to come down," he said.
Recent Headlines
---