KHS: 1,412 animals adopted in 2022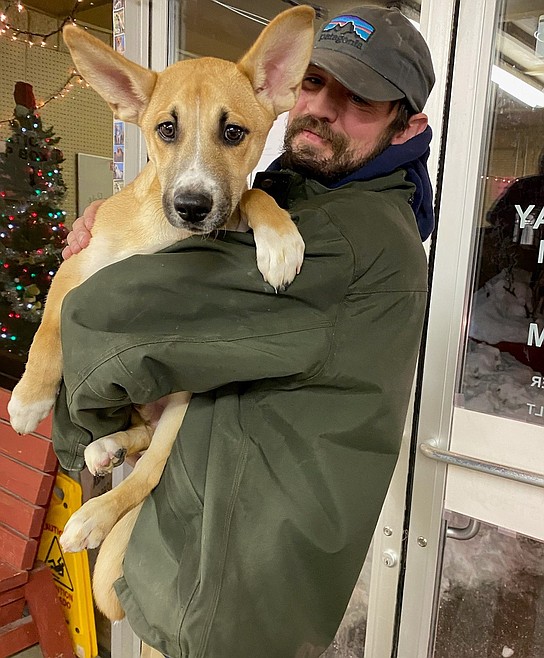 Photo courtesy Kootenai Humane Society Taylor Curtis holds Crispin, a six-month-old Australian shepherd he adopted at the Kootenai Humane Society.
by
BILL BULEY
Staff Writer
|
January 6, 2023 1:06 AM
Kootenai Humane Society connected more than 1,000 animals with homes last year.
All told, 1,412 animals were adopted from KHS in 2022, development director Vicky Nelson said. That included 703 cats, 663 dogs, 20 rabbits, 12 guinea pigs, 10 rodents, three birds and a pot-bellied pig.
KHS also performed 3,722 spay and neuter surgeries and vaccinated 5,326 animals.
While it was a busy year, 2023 may be even busier for KHS with its move to a new home on Atlas Road and changing its name to Companions Animal Center.
"The new facility is coming along," Nelson said.
No move-in date is set, but "we are hopeful it is soon," she said.
The 22,000-square-foot building at 12575 N. Atlas Road in Hayden, designed by Longwell + Trapp Architects, will offer more space for animals, staff, services, storage and supplies.
It will allow the shelter to leave its aging, crowded and longtime home at the north end of Ramsey Road and move into a modern facility on 10 acres. The new building will be bright with natural light from many windows.
"It's going to be very, very functional and that's what we were after," said Debbie Jeffrey, KHS executive director.
Most importantly, she said the new building will annually be able to accommodate thousands of animals that need medical care, that need to be rescued from life-threatening conditions and that need help as they continue their journeys to find loving homes.
The capital campaign to fund the $8 million project has reached $6 million.
KHS currently has six adult dogs and five puppies available for adoption, as well as 42 cats and kittens.
Recent Headlines
---