Huckleberries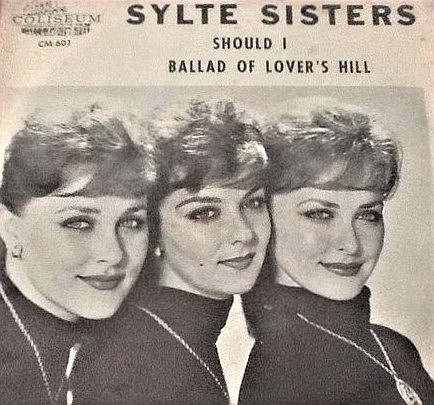 The Sylte Sisters with their first record, "Ballad of Lover's Hill."
Discogs collection
|
January 1, 2023 1:00 AM
The Rathdrum Methodist Church had no problem packing the pew as New Year's Day 1963 approached.
The Sylte Sisters – Joan, 24, and the twins, Deanda and Deanna, 20 – were home to ride horses on their father's sprawling ranch. And they had agreed to sing Gospel songs for the Methodists.
The Sylte trio was going places 60 years ago, according to the Coeur d'Alene Press.
In the two weeks before Christmas, they had cut their first .45 record – "Ballad of Lover's Hill" – for the Coliseum label, a Disneyland subsidiary. And they had appeared on the Roy Rogers show. And in the three months before that? They'd toured New York, Boston, Philadelphia, Baltimore, and Dallas, where they'd performed on shows featuring Arthur Godfrey, Liberace, and Jim Backus.
Show hosts often brought up their rural North Idaho roots. On his radio program, Joey Adams introduced them as "The Alluring Sylte Sisters … who are TV and Night Club sensations" and who "started life on the farm, milking cows, herding cattle, and driving tractors."
In 1961, they'd traveled abroad, singing for Indonesian President Sukarno and for royalty in Vietnam and Afghanistan. They'd also performed for the king and queen of Thailand, the king of Nepal, the Shah and queen of Iran, and the king and queen of Cambodia.
On Christmas Day 1962, according to the Press, the Prince of Iran had called Deanda from New York.
All of that prompted a Coeur d'Alene Press reporter to ask about their love lives, a question that would be improper today. But the three smiled and said they had no plans for marriage.
The sisters began singing in schools and choir when Joan was 13 and the twins were 9. They started at the Rathdrum Grange and their popularity grew. At Coeur d'Alene, they entertained regularly over a radio breakfast hour program.
45cat, a vinyl database, offers this discography of the Syltes: "They first appeared on American television in 1953, and they got their first break in a Spokane live talent show "Starlit Stairway." Thereafter, they guested on several television variety shows and also performed live at venues in the Pacific Northwest and Nevada. In addition, they had minor roles in the 1962 film 'Madison Avenue.' However, chart success eluded them, and they eventually disappeared off the radar."
The sisters, now in their 80s, live in the Inland Northwest – Joan Sylte Schween and Deanna Sylte-Lucas Starr in Rathdrum, and Deanda Sylte Roberts in Spokane.
Nephew John Sylte says of them: "My aunts are still as spry as ever."
Peace Time Hero
Many of you know Don Pischner of Carlin Bay, historian, entrepreneur, and even-handed 1990s legislator. But did you know the 1956 Coeur d'Alene High grad saved a fellow soldier from drowning during his Army Reserve days? On March 29, 1962, Don was part of a sea exercise at Westport, Wash., when two amphibious vehicles overturned in treacherous surf. One soldier cried for help as the undertow pulled him out to sea. The certificate that came with Don's Army Commendation medal explained his heroism: "(Sp4) Pischner, with complete disregard for his own personal safety, dived into the icy ocean, fought the swift and rapidly changing current, and brought the soldier safely to shore." The medal, the Army's second highest in peace time, was given to Don during the 1962 holidays.
Break A Leg, Wrist
In a recent column (Dec. 18), we learned what Darcy Wright, the 1990s child star of local theater, is doing now. The item included a rave review from the Coeur d'Alene Press about her performance as "The Little Drummer Boy" in a 1992 Christmas songfest at the Lake City Playhouse. But there was more to the story from 30 years ago. During one scene in "The Sights and Sounds of Christmas," Coeur d'Alene High choir director Julie Powell was supposed to fall backward into the arms of another entertainer. Only a prankster arranged for little Darcy to catch her instead. An old Huckleberry from Dec. 14, 1992, explains what happened next: "Julie wasn't laughing after she knocked Darcy over and landed in the Kootenai Medical Center emergency room with a fractured wrist and broken knuckle. An immovable piano stopped the two actresses. Darcy escaped with a bump on the head." And the show limped on.
Huckleberries
· Poet's Corner: Raise higher your glass/and be of good cheer/a New Year has come/and we are still here – The Bard of Sherman Avenue ("New Year's Toast").
· The story of Jim Hammond proposing to wife Cyndie at the North Shore's ritzy Cloud 9 in 1982 has more to it. Here's the order of that evening – drinks, proposal, and perusal of the menu. Then, "because we couldn't afford the prices," says Cyndie, "dinner at Flying J Truck Stop!"
· Bumpersnicker (on white Toyota pulling out of CdA Albertson's parking lot): "IMAYAYA." Which begs the question: What kind of a Yaya? In ancient Greek, Yaya meant "woman." Or it's a popular nickname for a grandmother. Or it's a sisterhood of close female friends. Or, possibly, all of the above. And the motorist deserves props for a thought-provoking vanity plate.
· Factoid: Did You Know … that the first Coeur d'Alene Press office was at 113 N. Fourth St., the site of what is now the Canton restaurant? And Editor Joseph T. Scott said in the first issue on Feb. 20, 1892: "The Coeur d'Alene Press cannot be bought, frightened or used as a hack; but will give all patrons and measures their just due." That still is a good motto.
· Saints & Sinners: The historic Greenbriar Inn, 315 Wallace Ave., has served as a B&B since 1985, when it was restored and opened by Bob and Kris McIlvenna. If its walls could talk, they'd have a lot to say. The Colonial Revival-style, brick building, constructed by Harvey Davey in 1908, has served as a bordello, a nunnery, psychiatrist offices, and a rooming house.
· The need for donated blood is so dire, that Mary Wolfinger faced her fears and rolled up her sleeve last Monday. She's scheduled to go again in February. And offers this PSA: "You can go to Vitalant.org to make an appointment." And that's how you can give back to the community.
Parting Shot
Gordon Crow (state senator 1994-2000) caught heck Dec. 26, 1997, when he urged that North Idaho College be put under the control of the University of Idaho. A Coeur d'Alene letter writer called Gordon's idea a "scheme" and said: "I can't believe he would think this is a good idea for the students or our community. Is this the kind of thinking he's doing when he's in Boise?" Fast forward 25 years, and Gordon's idea doesn't seem odd at all, given the defective "leadership" of the trustee majority now.
D.F. (Dave) Oliveria can be contacted at dfo@cdapress.com.
Recent Headlines
---