'Rise for NIC'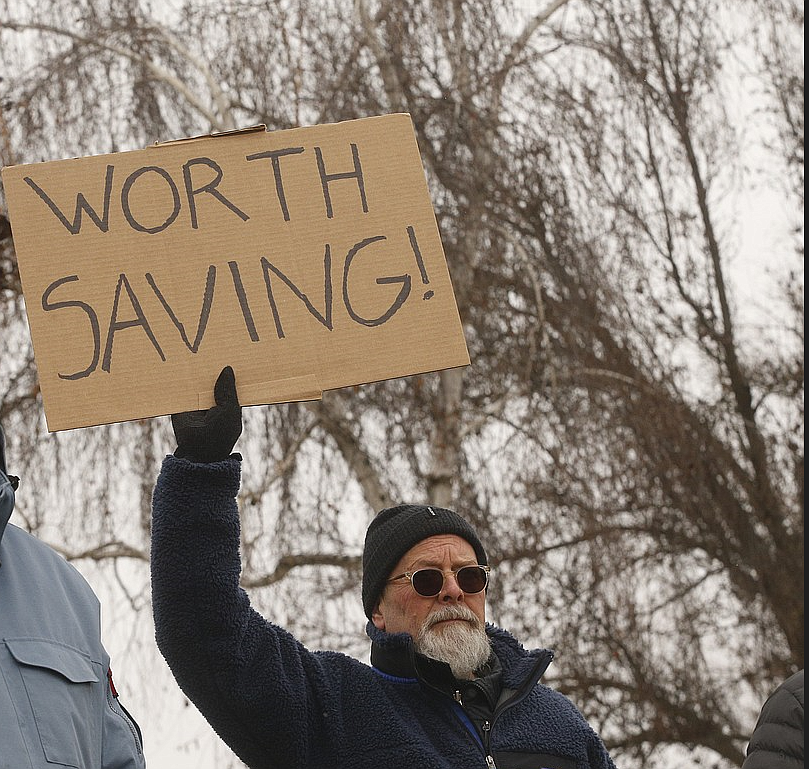 Longtime North Idaho College instructor Bob Bennett was among those who gathered on campus Tuesday in support of students, staff and faculty.
KAYE THORNBRUGH/Press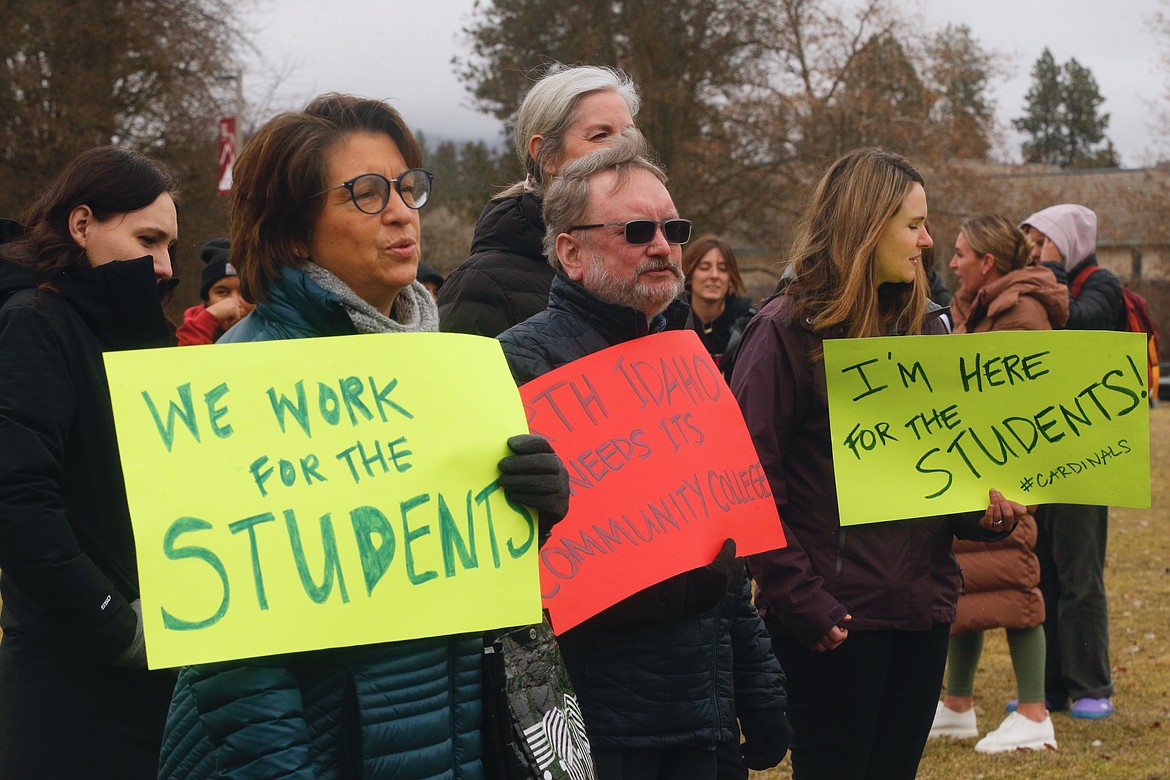 Staff and faculty joined other community members as they called for North Idaho College trustees to take action to protect accreditation. KAYE THORNBRUGH/Press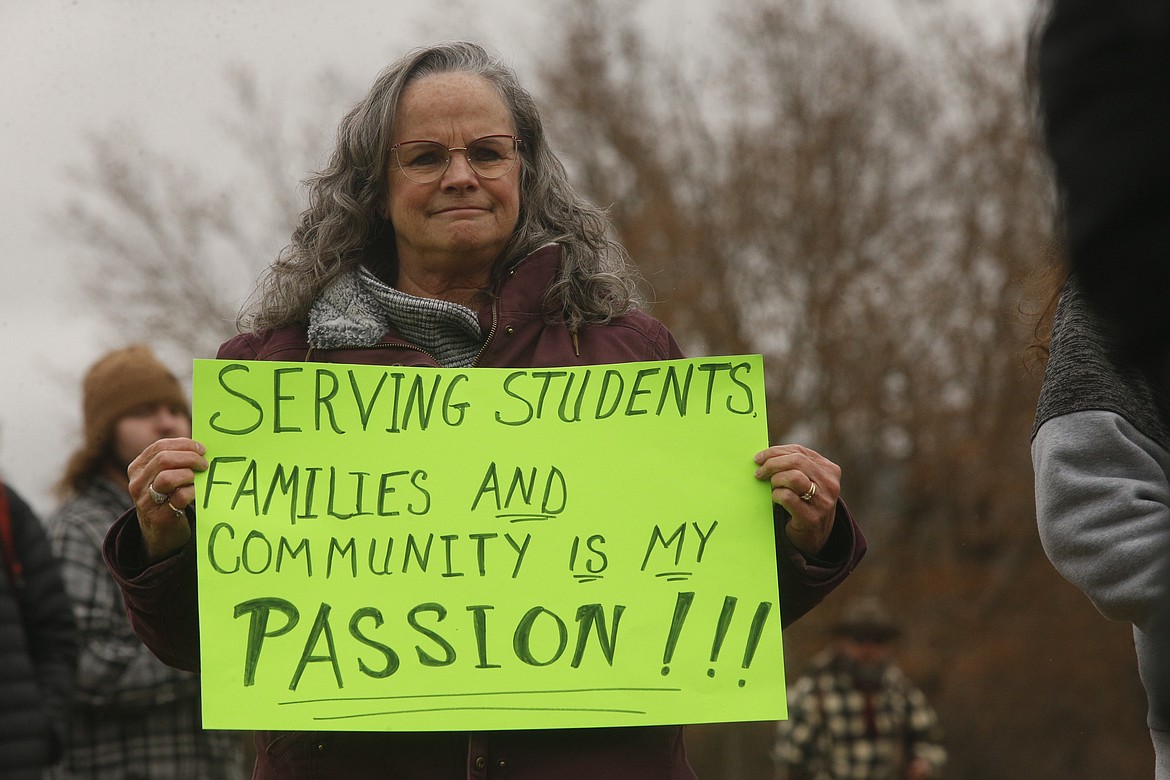 Jamie Berube urged taxpayers and voters to "wake up" to the enormous costs incurred by dysfunction on NIC's board of trustees. KAYE THORNBRUGH/Press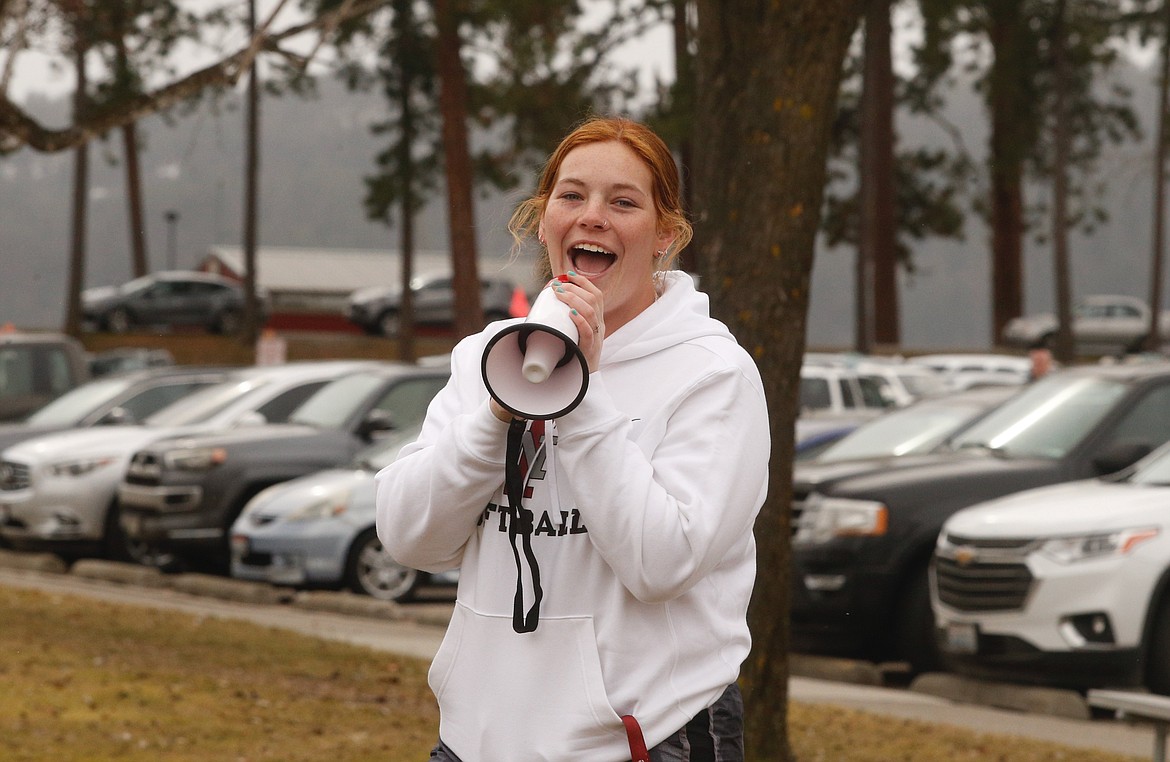 Student and softball player Kaitlin Banks said threats to accreditation have taken a toll on students at NIC. KAYE THORNBRUGH/Press
ASNIC Vice President Angel Beier is studying nursing at North Idaho College and said she wants future students to have the same opportunities. KAYE THORNBRUGH/Press
Previous
Next
COEUR d'ALENE — Snow began falling as hundreds of voices carried Tuesday afternoon across the soccer field at the heart of North Idaho College's campus.
"We are rising up today," the crowd sang, led by choir director Max Mendez. "Rise for NIC."
In the wake of a show cause sanction from NIC's accreditor — the last step before loss of accreditation — around 200 people gathered in support of students, staff and faculty. Most had stories to share about how NIC has impacted their lives.
Many community members called for trustees Greg McKenzie, Todd Banducci and Mike Waggoner to resign.
"I found out nursing was my path, and this is the best nursing program in the area," said Angel Beier, ASNIC vice president. "And it's not just nursing. We have so many bridges to take us somewhere else."
Beier intends to stay in North Idaho and practice nursing in the community she loves. She wants future students to have access to the same affordable education she's receiving.
"That's why NIC needs to stand and that's why Banducci, McKenzie and Waggoner need to step down," she said.
Bob Bennett, who has taught English and humanities at NIC for more than 20 years, held aloft a sign with a simple message: "WORTH SAVING!"
"It's a sad day to think about a community college losing accreditation and going away," he said. "It's unfathomable to me that this place can go away because of the political agenda of a few people."
Student athletes joined the demonstration, including Kaitlin Banks, who plays softball for NIC. She said the threats to NIC's accreditation have taken a toll on students and called on trustees to take action to protect accreditation.
"This is our home," she said. "We want to see our home flourish."
Naomi Fisher, an international student from Honduras, said the dysfunction on the board of trustees has affected more than just students.
"We're not only worrying about ourselves," she said. "We're worrying about our faculty."
Fisher came to Coeur d'Alene specifically to attend NIC. She said she's enjoyed the warm, close-knit community she found here. She urged McKenzie, Banducci and Waggoner to stop "putting politics first" and said their actions do not embody Christian values.
"It's time to be adults and do your job," she said.
Some community members pointed out the enormous financial expense incurred by the actions of the board majority.
That includes the cost of paying two presidents at once, a payout to a previous president who sued after being fired without cause and a new college attorney who has billed close to $50,000 in the two months since his hiring.
"This is a shame," said Jamie Berube, an administrative assistant in Advising Services at NIC. "The taxpayers and voters need to wake up. The money is not going to last."
Jason Droesch is a third-generation NIC graduate and a math instructor at the college. He pushed back on claims that NIC instructors "indoctrinate" students into certain political ideologies, a narrative that McKenzie, Banducci and McKenzie have all promoted.
"We're not in the business of indoctrination," he said, to applause from the crowd. "We try to give people the opportunity to think for themselves."
Droesch said NIC was where he realized his potential.
"I knew who I was," he said. "I didn't know who I could become."
When he returned to NIC as an instructor, things came full circle. The sign in his hands further illustrated his message. It read: "NIC students make the world better!"
"There's nowhere else I want to teach," he said.
Recent Headlines
---