Climbing to the top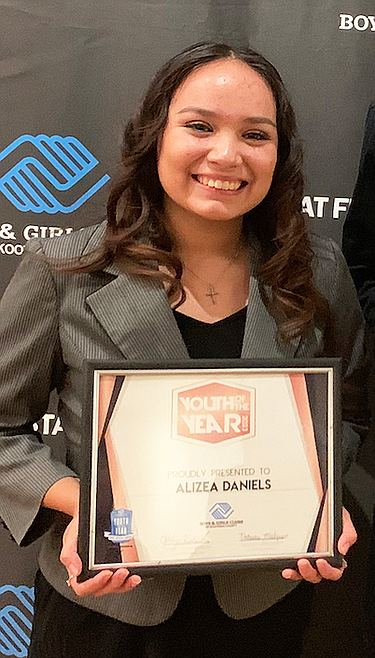 Ali Daniels, a Post Falls High School senior, is the 2023 Boys and Girls Club Youth of the Year for Kootenai County. She is heading to Boise to compete in the state contest Wednesday.
Courtesy photo
by
DEVIN WEEKS
Staff Writer
|
February 20, 2023 1:08 AM
From challenging and humble beginnings to the top of the world, Alizea "Ali" Daniels is the 2023 Boys and Girls Club Youth of the Year for Kootenai County.
"I'm still a little astonished to be honest," Ali, 17, said Friday. "It's super awesome and I'm so happy."
The Youth of the Year title is a prestigious honor earned by exemplary teens in recognition of their leadership, service, academic excellence and dedication to living healthy lifestyles.
Ali, a Post Falls High School senior, has overcome many obstacles in her young life. She was born extremely premature, with drugs and alcohol in her system.
"They weren't really sure if I was going to make it because of all the effects," she said. "I ended up surviving."
Ali's biological parents immediately placed her in foster care, where she spent the first three years of her life. She would have been adopted by a foster mother, but her paternal aunt stepped in and fought for her to remain with her blood family. Her aunt ultimately adopted her and is Mom.
"She didn't want to see me go through the hardships of not knowing where I came from and not being able to speak with my biological parents," Ali said. "She really put in a lot of work. She was in college at the time. There was a lot of legal things that went into it."
Things have been great, Ali said, despite those early hardships.
"It was a really rocky start, her being so young and not having life figured out and going to school to get her degree," Ali said. "We went through some things in the beginning."
When she was 9, her mom met who would be her future adoptive dad. Now on her way to adulthood, Ali is loved, supported and whole.
"All I can say is it's really awesome and we have a wonderful family," she said. "I have three younger brothers. It's really awesome."
Her story brought tears to people's eyes when she delivered her winning Youth of the Year speech in early January.
"Good speaking skills really helped out a lot, and speaking from the heart was a big thing," Ali said. "I was actually pretty nervous. I didn't want to read off the paper. I knew my story well enough. It's just difficult sometimes when you have something emotional to say."
Having experienced a unique and not always easy upbringing, Ali has a sense of compassion and empathy that shines through in her involvement in the Boys and Girls Club. She has been a member for five years and is looked up to by her younger club mates. A natural caregiver, Ali plans to go to the University of Washington after she graduates, where she will study sports medicine on her path to a career in physical therapy — a dream she's had since seventh grade.
"She is just simply amazing. She is one of the first ones to jump in and rally teams to participate," said Natasha Malgren, Post Falls Boys and Girls Club director and Ali's mentor. "Ali takes time out of her day for others. If there are kids sitting by themselves and feeling lost, she sits down with them and talks to them and lets them know they belong at the club."
Malgren said she is incredibly proud of Ali. This was Ali's second time competing for the Youth of the Year honor.
"She's just one of the most dedicated, motivated people I know," Malgren said. "When she has her sights set on something, she'll get there. If she hits a wall, she'll find a way to climb."
Ali will go to Boise to compete Wednesday in the statewide Youth of the Year program. The winner will represent Idaho at the regional Youth of the Year competition this summer.
Nominees will be recognized for their achievement at a legislative luncheon. Prior to the luncheon, the youths will interview in front of a panel of judges. At the luncheon, each nominee will give their speech, and at the conclusion of the event the 2023 state Youth of the Year will be announced.
Each nominee will receive $1,500.
The state winner will receive an additional $1,500 from the Micron Foundation and a $3,500 scholarship from the Lincoln Family Education Foundation.
Ali said the Boys and Girls Club has always been a home to her, "a very close home with many close connections."
"It's always been really just a comforting place to be," she said. "When I started going, I was in middle school. When I first moved to Post Falls and I was looking for ways to be involved and have friends and good things for me to do, the club was that place."
Recent Headlines
---