'We are so sorry'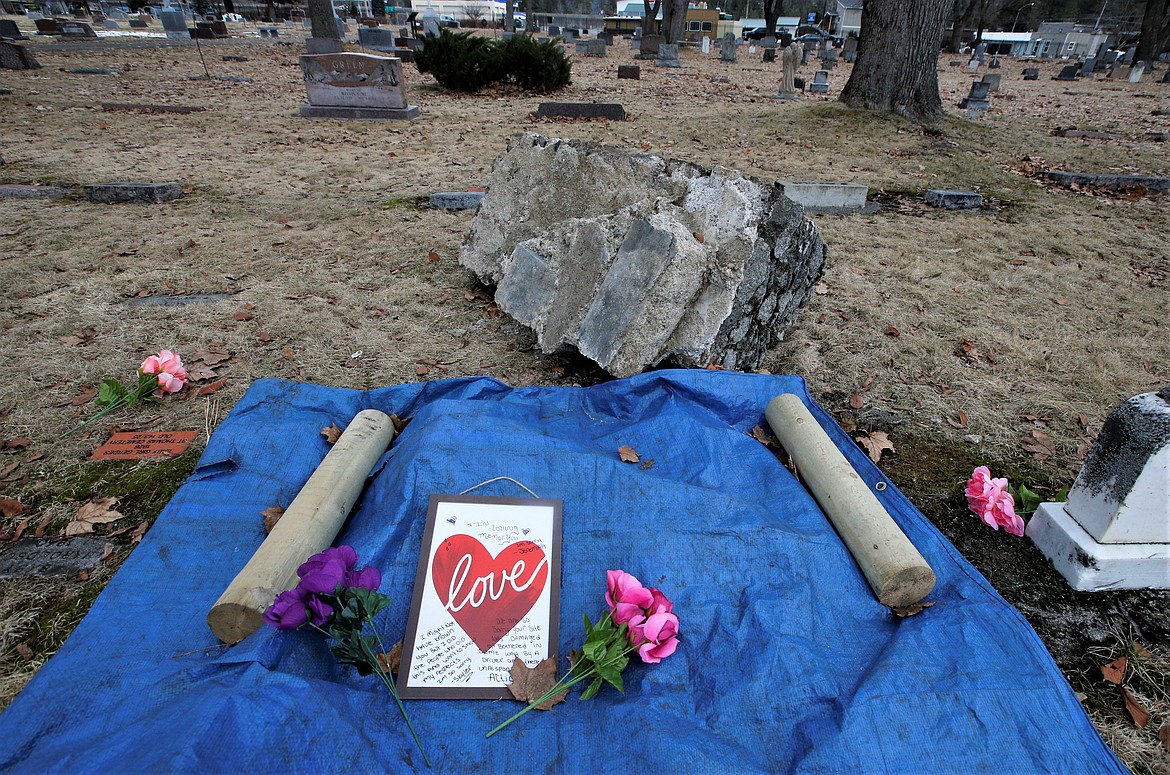 Flowers and a picture of a heart rest at gravesite at St. Thomas Catholic Cemetery. The site was damaged by a driver who crashed through the fence and struck some headstones last week.
BILL BULEY/Press
by
BILL BULEY
Staff Writer
|
February 14, 2023 1:09 AM
COEUR d'ALENE — A little "love" and an apology were left at a gravesite damaged by a driver who crashed through a fence last week at St. Thomas Cemetery.
A picture of a heart, along with purple and pink roses and several handwritten apologies rested Monday on top of a blue tarp covering the gravesite.
"We are so sorry your site was damaged or bothered in some way by a driver and these unresponsible [sic] actions!" read one note.
"I might not have known you but I did the people who did this and want to show my respects. I'm so sorry," wrote Skyler.
"In Loving Memory(s). I'm sorry," read another signed by Jeremiah.
A driver crashed through a fence at St. Thomas Catholic Cemetery late Thursday and toppled two headstones before coming to a stop.
Hunter B. Holden, 20, Post Falls, was arrested shortly after the incident, allegedly with a half-full bottle of vodka in the car. He remains in jail on $10,000 bail.
Holden is charged with driving under the influence, malicious injury to property, desecration of graves, leaving the scene of an accident, possessing an open container and resisting or obstructing an officer, according to court documents.
A rock headstone standing about 2 1/2 feet tall in the children's section of the cemetery was knocked down, and a rock cross snapped off.
Cemetery officials said they hope to have it repaired.
A smaller, white headstone with a statue of a lamb was also knocked over.
When a section of the fence was hit, it broke loose from the bottom and flipped up. It will have to be replaced.
The headstones were in the old section of the cemetery where children are buried. The larger headstone, standing since 1943, was one of four handmade headstones at the graveyard.
Car parts and a bumper were found in the cemetery, left behind as the driver fled the scene.
Holden and a passenger were stopped by police on Appleway Avenue not long after the incident was reported about 11:20 p.m. They stopped and fled on foot, but were caught.
Holden was arrested and a passenger was cited for resisting arrest and released.
Recent Headlines
---