Huckleberries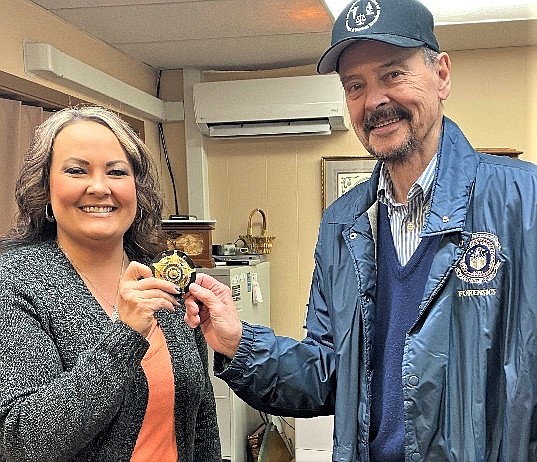 Coroner Ron Hodge and successor, daughter Carrie Hodge Nordin.
Courtesy photo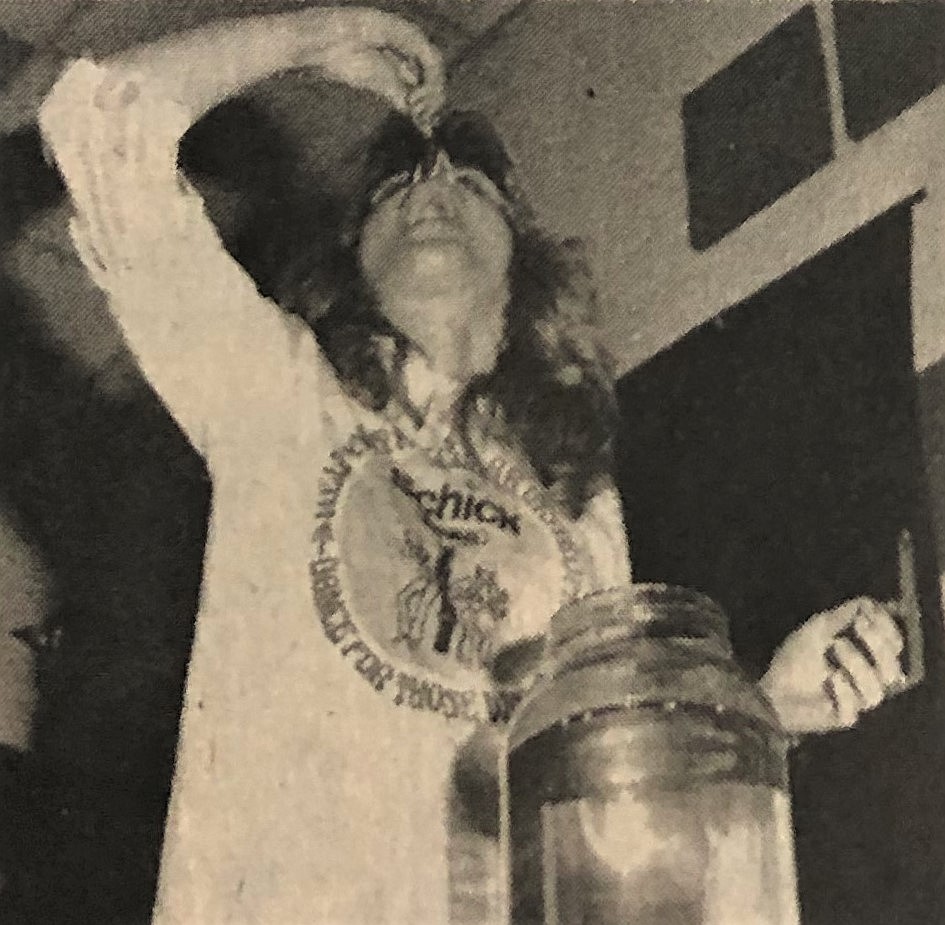 Among the activities at the 1978 fundraising dance marathon, CHS student Linda Burdett swallowed a live goldfish.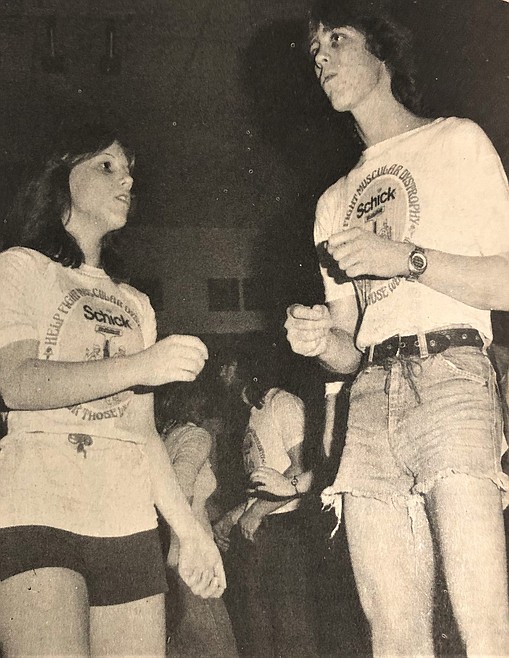 CHS students Gary Webb and Vicki Yount won the February 1978 dance marathon at the old North Shore.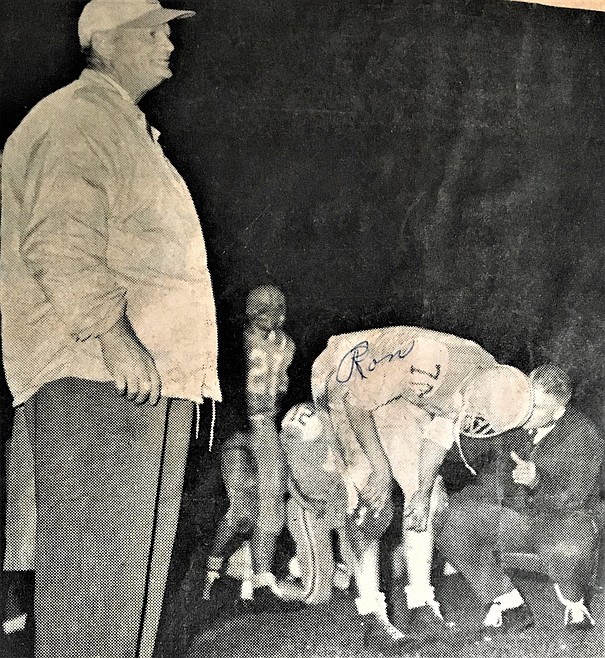 On Oct. 30, 1964, CHS senior lineman Ron Hodge gets instruction from assistant coach Tom Robb, while famed Vik coach Cotton Barlow looks on. Robb, who died Jan. 24, later opened and ran the iconic Iron Horse restaurant.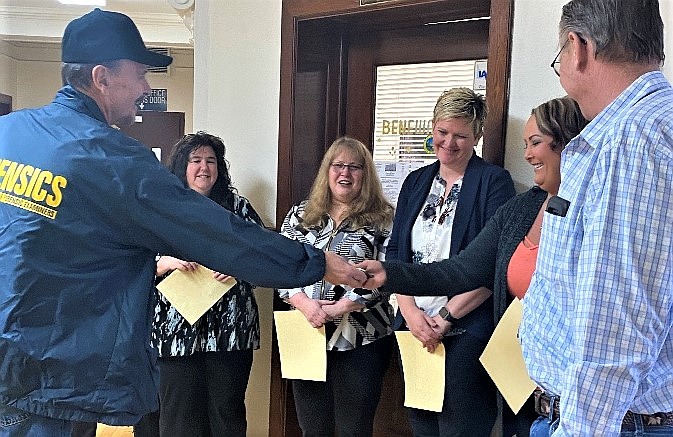 Coroner Ron Hodge presents his badge to daughter Carrie at the Benewah County swearing-in ceremonies Jan. 9.
Previous
Next
|
February 5, 2023 1:05 AM
Ron Hodge wishes, half in jest, that he had received a quarter each time he heard the bromide: "You're lucky. Your customers don't complain."
He might have retired rich decades ago.
"People don't understand that 10% of my job involves the dead, 90% involves the living," said Ron, 75, a 1965 Coeur d'Alene High graduate who retired this month after 40 years as Benewah County coroner.
On Jan. 9, his last official duty as coroner was to swear in six Benewah County officials, including two commissioners and the new coroner, his daughter, Carrie Hodge Nordin, 46. Carrie has also assumed Ron's role as director of Hodge Funeral Home in St. Maries.
Carrie brings the same empathy to the coroner's office as her father. When Ron asked why she wanted to run for the job, Carrie replied, "I can't stand the thought of a stranger caring for people we love."
Ron, who once considered careers in dentistry and the ministry, never hardened to his difficult task in dealing with unexpected death: "Our job is to care for them because they can't care for themselves. We're to protect their dignity. Foremost, when people die, we keep in our minds that 20 minutes ago, an hour ago, a day ago, they were living and breathing and loving others."
In 1981, as a young mortician working for Gil Yates in St. Maries, Ron solved a case of suspected murder without examining the scene. Police thought a man had been shot in the back by his estranged wife or her possible lover. But Ron discovered that the victim had been shot in the front. A spent bullet was found in the ceiling. The man had killed himself by leaning over his rifle and pulling the trigger.
Dr. Rapp, the coroner at the time, said to Ron: "You need to run for coroner because you know more about death investigation than I do."
Ron became lifelong friends with Dexter Yates after his family moved near Yates Funeral Home. As a young teen, he saw the valuable role a funeral director plays when his grandfather died.
"It was the first time I'd seen death," Ron said. "And it was the first time I'd seen my father cry. My rock was crumbling before me. Mr. (Gil) Yates hugged him and comforted him."
Ron attended the old high school on 15th Street (now Lakes Middle School). And, at 6 feet 4 inches and 195 pounds, he played lineman (70) for famed coach Cotton Barlow's Vikings football teams.
On Oct. 30, 1964, in his final game, Ron played so well in a 43-26 win over powerful West Valley that Press sports editor Bob Maker reported: "Hodge was most impressive as he played his finest game of the year and time after time stopped the talented Eagles quarterback, Ed Winn, with jarring tackles."
Now, he's a super-sub for his daughter, filling in as coroner and funeral director when she's away.
Carrie knows the drill after growing up in Ron's household. Unforeseen death can interrupt special events at any time — Christmas, Thanksgiving, anniversaries, graduations, birthdays. Ron recalls Carrie asking as a child: "Why does everyone die on my birthday?"
For coroners, their life is not their own. Their work is God's work. Ron Hodge set the gold standard.
Dance till you drop
If you think marathon dancing disappeared with the 1930s, think again. In the 1970s, the "bunion derbies" were a fun way to raise money in Coeur d'Alene.
Forty-five years ago (Feb. 3-4, 1978), 39 couples raised $11,830 for the local Muscular Dystrophy drive by attempting to dance 24 hours nonstop at the North Shore Convention Center.
Reporter Ed O'Donnel described the scene for the Coeur d'Alene Press: "There were no young men hanging back in the shadowy corners desperately trying to affect the misunderstood rebel posture. The cloud of smoke potent enough to get a mastodon high was not there. The outrageous garb of the '60s was long gone." And: "Young ladies slaved to look as 'foxy' as possible. They sweated over many copies of 'Cosmo' to get just the right arch in the eyebrow."
Some dancers dropped out. Others transformed into shuffling zombies. Spectators swallowed live goldfish. And a 30-something mother complained that the music was too loud. In the end, Gary Webb and Vicki Yount of Coeur d'Alene High won the competition, raising $1,237 for the MD charity.
The marathoners were, reporter O'Donnel said, "just a bunch of kids having a good time on glad power (Coke and candy)." And there wasn't a cellphone to be seen.
Mayor Matchmaker
You wouldn't think Mayor Jim Hammond has fielded a request like the one that found its way to the mayor's office in 1948. Seventy-five years ago, a British teen sought Mayor J.G. Adams's help in finding a pen-pal, "preferably among the teen-age girls in Coeur d'Alene."
On Feb. 3, 1948, the Press published this short note from Gordon Veal of Rotherham, Yorkshire, England, which began, "Dear Sir." And continued: "I am a boy. My age is 13 years; blue eyes, brown hair." And ended, "Please reply."
The article didn't say whether Mayor Adams responded. But the note from the young Brit got sufficient attention, landing in a box on the front page of the Press. Who knows? Maybe love found a way.
Huckleberries
• Poet's Corner: To save myself from/being stricken/I never ever/kiss a chicken —The Bard of Sherman Avenue ("Bird Flu").
• True or False? "A Coeur d'Alene police officer must either honk or flash his lights and wait for three minutes before approaching a vehicle that he thinks people are having sex in." The answer? False. But the urban legend will be around a lot longer than many of us.
• Bumpersnicker: I lived in the fast lane, until I married a speed bump.
• And the Answer Is — "Switzerland of America." The question? In 1890, three years after incorporation, downtown Coeur d'Alene businesses used what title in a pamphlet to promote tourism on Idaho Day at the 1890 Spokane Exposition?
• Fan Mail (from Diane Brumley, whose husband, John, is a former principal at both Coeur d'Alene AND Lake City high schools): "Got a huge chuckle out of the bit on John! (Huckleberries, Jan. 29). Thanks for the fun! He still bleeds blue — it's just a mix of Viking blue and T-wolf blue, with a little teal thrown in!!"
Parting Shot
One of the first rhymes by The Bard of Sherman Avenue for Huckleberries (spring 2002) remains relevant. Originally, it was written to criticize the controversial decision by North Idaho College trustees in 2002 to cut five sports programs as a cost-saving measure. Today, it could address board Chairman Todd Banducci's goofy push to launch a minor sport, women's wrestling, as he and the board majority burn down the college around them. The rhyme reads: "To reign is pleasant as can be/In our fair realm at NIC,/Where we proclaim from regal throne/Which sports shall prosper as our own,/If nothing else, we know one thing,/It's very good to be the king" — The Bard of Sherman Avenue. ("Divine Right").
• • •
Dave Oliveria can be contacted at dfo@cdapress.com.
Recent Headlines
---