JazzNIC Festival concert Feb.7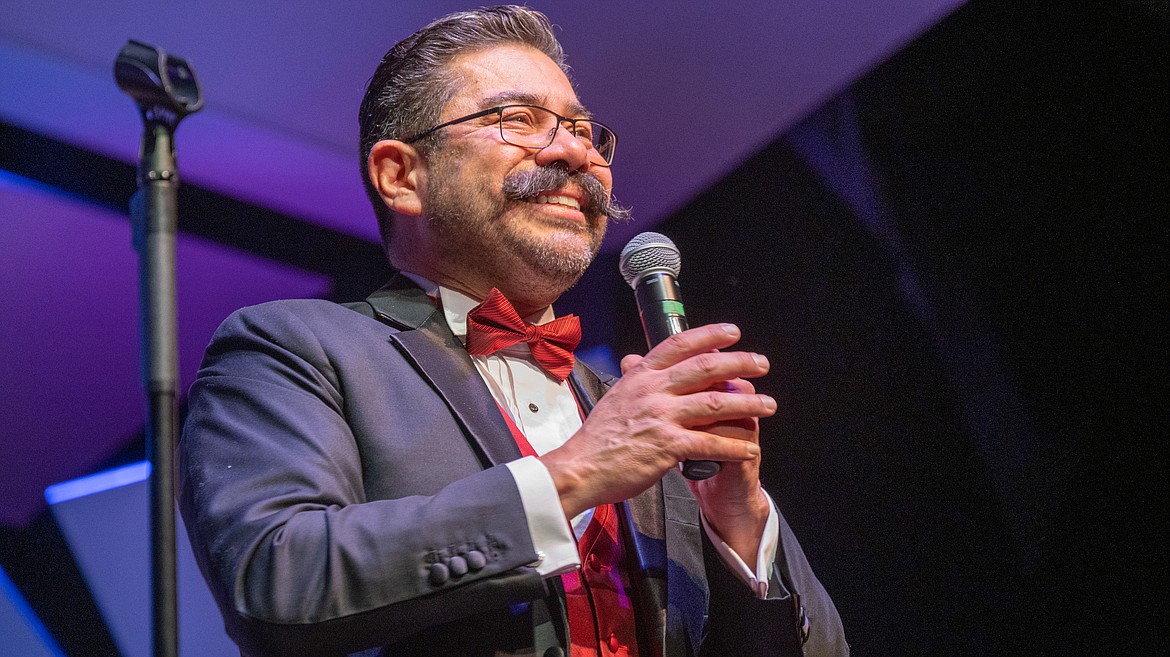 Cardinal Voices Director Max Mendez speaks onstage during NIC's Sounds of Christmas concert on Dec. 11 at Boswell Hall Schuler Performing Arts Center on NIC's main campus in Coeur d'Alene.
Photo Courtesy of North Idaho College
|
February 3, 2023 1:00 AM
The annual JazzNIC Festival is back at North Idaho College. More than 200 middle school and high school students will participate in jazz clinics Tuesday and Wednesday, Feb. 7 and 8, at NIC's main campus in Coeur d'Alene.
The festival includes a concert at 7:30 p.m. Tuesday, Feb. 7 at Boswell Hall Schuler Performing Arts Center. The event is free and open to the public.
This educational festival features hourly clinics for vocal jazz and instrumental jazz groups. The clinics allow students to receive instant, specific feedback on how to improve their performances.
Boswell Hall Schuler Performing Arts Center will be open to the public from 8 a.m. to 3:30 p.m. Tuesday and Wednesday as guest clinicians work with educators and students.
Four local and regional musical experts will lead local band and choir students in the two-day festival.
Eastern Washington University's Director of Jazz Jenny Kellogg's musical career has taken her around the world to China, England, Italy and Peru. Kellogg plays in the Spokane area with the Spokane Jazz Orchestra, Brassworks Northwest and Son Dulce Live Salsa among others.
James Schmehl has taught drumming at Sorensen Magnet School of the Arts and Humanities since 2016 and has played drums and percussion professionally for 15 years, including two years onboard Celebrity Cruise Lines. Schmehl has played a variety of musical genres in many groups, and some of his favorites include jazz, Afrobeat and funk.
NIC Director of Choirs and Professor of Music Max Mendez is an active part of the Inland Northwest music community. He divides his time between conducting, teaching and performing and currently conducts the NIC Cardinal Chorale, Chamber Singers and Cardinal Voices.
Cardinal Voices, led by Mendez, will perform an eclectic mix of songs by various songwriters, including "Smooth Operator" and "How Deep is Your Love."
"I'm excited for the audience to hear this semester's lineup of students," Mendez said. "We are excited to perform the music of Adele, Al Green and Van Morrison. Our audience will be 'Rolling in the Deep' sounds of the group and doing a groovy 'MoonDance' by the end of the set."
Cardinal Voices is a new music ensemble at North Idaho College. In Cardinal Voices, students focus on performing studio-quality popular music. It provides an ensemble atmosphere emphasizing small group dynamics, ensemble singing and performance, solo performance, songwriting and arranging, all within versatile musical and singing styles.
The NIC Jazz Ensemble, directed by Bryan Hannaford, will perform with both guest clinicians. Kellogg will perform on trombone with the Jazz Ensemble on a few of her compositions and Schmehl will perform on "Sing, Sang, Sung."
For more information, contact Hannaford at 208-769-3258 or email bryan.hannaford@nic.edu or Mendez at Max.Mendez@nic.edu or 208-769-3275.
Recent Headlines
---