Art Spirit opens Figurative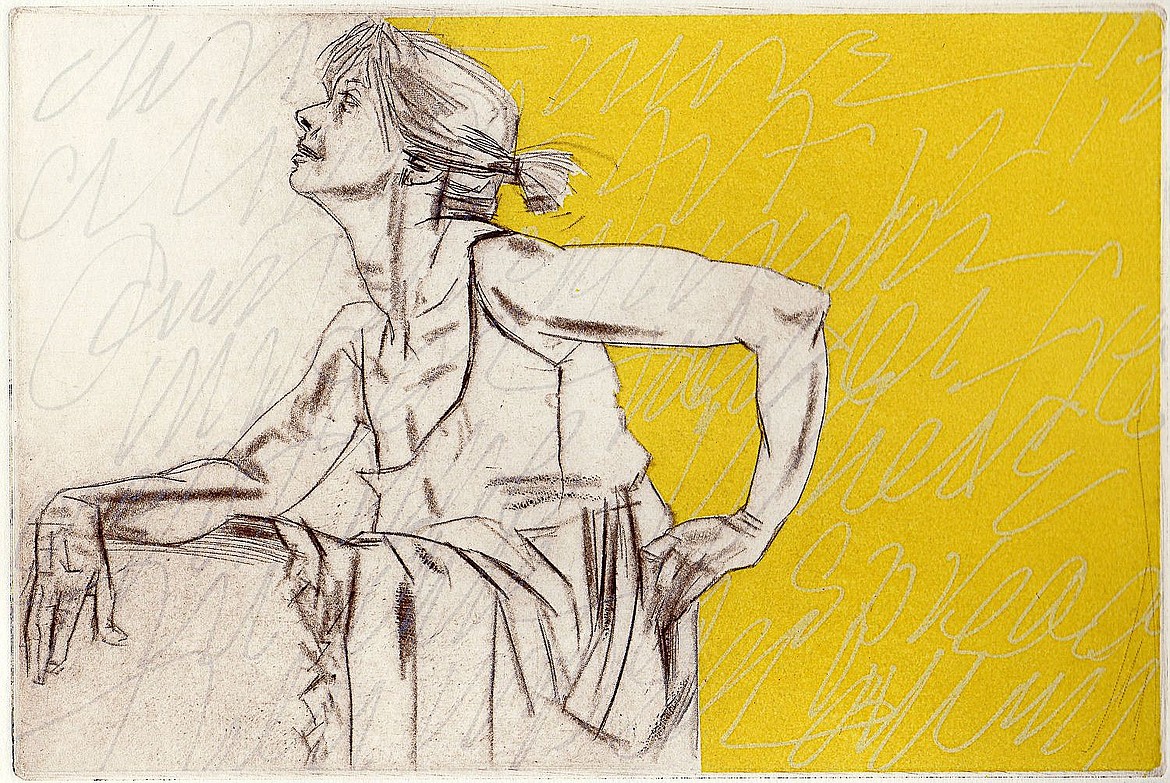 Artist Mary Farrell's "The Arrangement #4" from 2021, is a drypoint monotype lithography. Farrell's work is on display in Art Spirit Gallery with work from artists Kim Lewis, David Varneau, Heather Martindale and Peter Cox as part of the February Figurative exhibit.
Photo courtesy of Art Spirit Gallery
|
February 3, 2023 1:00 AM
The Art Spirit Gallery February 2023 show has been announced, and the exhibit will be "Figurative."
Figurative art describes any form of modern art that retains strong references to the real world and particularly to the human figure.
The term has been particularly used since the arrival of abstract art to refer to artists that retain aspects of the real world as their subject matter, though in a general sense figurative also applies retrospectively to all art before abstract art.
Modern figurative art can be seen as distinct from modern realism in that figurative art uses modern idioms, while modern realists work in styles predating post-impressionism (more or less). Modern figurative art is more or less identical with the general current of expressionism that can be traced through the 20th century and on.
Picasso, after about 1920, is the great exemplar of modern figurative painting, and Alberto Giacometti, from about 1940, is the great figurative sculptor. After World War II, figuration can be tracked through the work of Francis Bacon, Lucian Freud and the other artists of the School of London, and through pop art, neo-expressionism and new spirit painting.
The Art Spirit Gallery is representing works by five figurative artists; Mary Farrell, Kim Lewis, David Varneau, Heather Martindale and Peter Cox. Each artist captures and expresses the figurative form with grace and power.
Mary Farrell's contemplative figures draw you in to wonder of their thoughts. Kim Lewis' sculptures showcase the human form in both powerful abstract angles, while others showcase the grace of the female anatomy. David Varneau's works are abstract shapes that highlight the subtle lines in human anatomy, dramatizing the body's innate energy while, at the same time, creating eye-tugging interest. Artist Heather Martindale paints lush folds of fabric that delicately dance, move and wrap around the figure. She focuses on creating a body of work centered on texture, light and movement. Finally, this show includes the incomparable Peter Cox, "who may be the best figurative artist now working in New York," said critic Daniel Cohen of Review Magazine.
"Cox's skills in observation and his active imagination allow him to express a unique response to the reality of being human that sets him apart from his peers. The reality of his figures beyond the surface," said John O'Hern, Santa Fe editor and former executive director and curator of the Arnot Art Museum, Elmira, N.Y. (American Art Collector Magazine).
View the figurative celebration in the human form and the artists' interpretations at The Art Spirit Gallery opening reception from 11 a.m. to 6 p.m. Saturday at 415 Sherman Ave., Coeur d'Alene.
Recent Headlines
---