Feeling the love at 101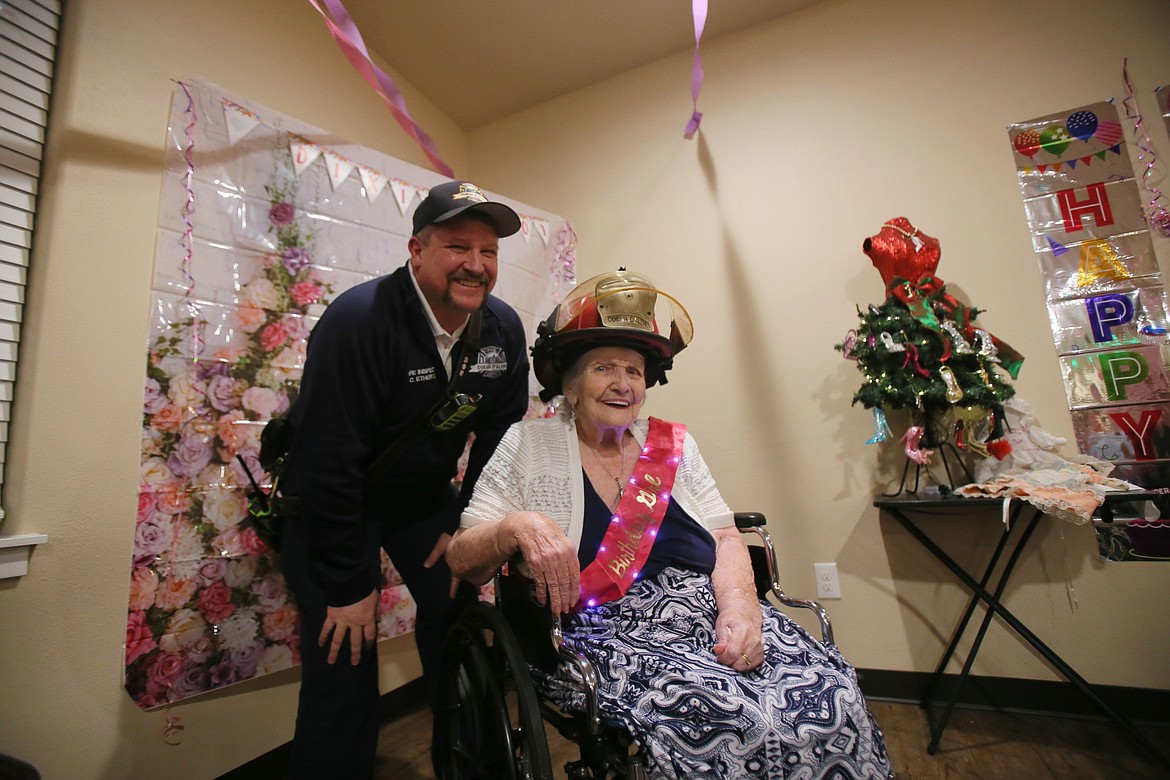 Dixie Milliken wears a big smile, and a big helmet, Tuesday evening as she receives a visit from Coeur d'Alene Deputy Fire Marshal Craig Etherton on her 101st birthday.
DEVIN WEEKS/Press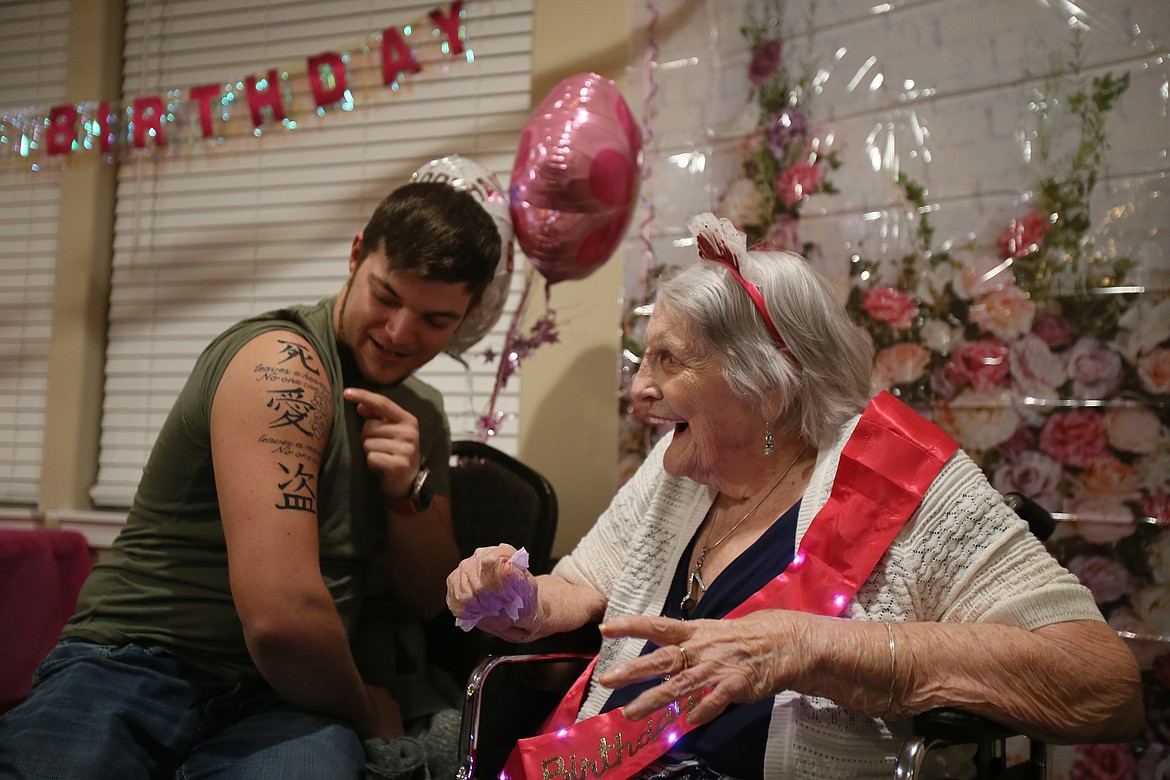 Dalton Clifton on Tuesday evening shows his great-grandmother Dixie Milliken his first tattoo, which he got in her honor and includes flowers she drew, during her 101st birthday celebration at the Lodge at Bristol Heights.
Previous
Next
by
DEVIN WEEKS
Staff Writer
|
February 1, 2023 1:08 AM
For just a sweet moment, Henrietta "Dixie" Milliken swayed to "What A Wonderful World" with Coeur d'Alene Deputy Fire Marshal Craig Etherton on her 101st birthday.
"Thank you," she said to him as he gently helped her sit down in her chair.
"I think it's wonderful," Milliken said.
He then placed his firefighter helmet on her head, creating one of many happy moments during the evening.
Five generations of Milliken's family gathered Tuesday night and did it up big for her 101st birthday, because everyone was sick with COVID-19 and pneumonia when her 100th milestone came around.
"We had to just go all out," her granddaughter, Deanne Clifton, said. "I spent the day of her 100th in the ER."
She said her grandma has quite the sense of humor.
"Every day when you ask her, 'How are you?' she'll say, 'Fat and sassy.' And we love that," she said.
True to form, a 1920s photo of a lively little girl was displayed on an exhibit board below Milliken's birth announcement.
"Her mother wrote on the back of it, 'Dixie, put this away so that one day you can show your family the sassy little girl you were,'" Clifton said.
That sassiness shined through on her birthday. When asked about the secret to a longevity, she simply replied: "Damned if I know."
Milliken married the love of her life, Marvin, in 1941. They were married for 65 years before he died of cancer. The only photo of them on their wedding day was displayed at the party.
For her 101st birthday, Dixie Milliken wanted to dance on the toes of a firefighter.
"She loves to dance," Clifton said. "We thought, 'What better way for her to dance than to have a fireman hold her up to dance?'"
Etherton said it was nice to be asked to help celebrate Milliken's birthday.
"We're glad we were able to be here," he said. "It's just great to see all these family members here, just supporting her, loving her and having this time with her."
During the party, Milliken's great-grandson, Dalton Clifton, revealed that he just got his first tattoo, in honor of his Grammi. It includes flowers she drew, next to the words, "Death leaves a heartache no one can heal, love leaves a memory no one can steal."
"I've had that phrase saved on my phone for seven years, but I never got it because I wanted it to have meaning to it," Dalton Clifton said. "I had her hand-draw the flowers. It means a lot to me. I also got it next to the word 'love' because of my love for her."
The Lodge at Bristol Heights med tech caregiver Linda Peterson was on hand to help with the celebration.
"It means the world, especially for such special people," she said. "And to be 101 and still be able to enjoy all this? Oh, my goodness. It's the world. To have the party here for her, I don't think there could be a better feeling for anybody than to do something so joyful for her."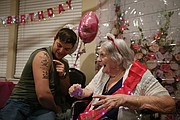 Recent Headlines
---