Alan Ralph Eborall, 81
|
February 1, 2023 1:00 AM
Alan Ralph Eborall peacefully passed Jan. 12, 2023. Alan was born Feb, 17, 1941. in Portland, Ore. He was the only child of William (Abe) and Mildred (Bic) (Bickerstaff) Eborall. Alan and his mother moved to Coeur d'Alene in 1945 to be closer to his mother's parents while his dad was serving in WWII. When Alan's dad returned home from the war, the family eventually made their home on Fifth street in Cd'A. Alan graduated from Coeur d'Alene High School in 1959. He lettered in basketball and baseball. He was very athletic and won many awards throughout his youth in track and field, basketball and baseball. After graduating from high school, Alan and his good buddies, Warren Goodson and Mike Russell, entered the Idaho National Guard where they did basic training at Fort Ord, Calif. Upon completion of basic training, Alan continued to serve with the Idaho National Guard for six years in Cd'A and was honorably discharged. Upon returning from basic training, Alan went to NIC, and that is where he met Jeannette (Cuddy) Eborall. They passed each other walking and looked back to see if the other looked back. They were married in the fall of 1963. They had four children together. The marriage ended in 1988, yet they remained on friendly terms throughout the years. Several years later, Alan met Diane Thompson at Sargents Restaurant in Hayden. They immediately hit it off, and fell in love that night through deep conversation. They were married Dec. 23, 1995. Together, they resided in their home in Hayden, Idaho, while wintering in various spots throughout Arizona and southern California until they eventually landed in Indio, Calif., for the winters.
Alan was a visionary with an incredible work ethic. He had common sense, foresight, and a get it done right attitude. During his two years at NIC, he decided that he wanted to work on his own, and wanted to work in the outdoors in the field of construction. He got a job with Roy Stark and learned the trade. He later went to work for Don Beck and continued to master his craft. He learned his trade from two of the best contractors in the area at that time. While working for Roy Stark and Don Beck, he was able to be a part of building the Cd'A Public Golf Course clubhouse and the former Topper Too restaurant on Government Way. Alan eventually ventured out on his own and began Eborall Construction, Inc. (ECI), and then eventually added Eborall Realty, Inc (ERI). Some of the projects that Alan did include: Lake Villa Apartments Phases I and II, the former Goodyear tire store on Government Way, a strip mall on Government Way just south of Neider, Friar Hill Condos, Lincoln Way Apartments, Cd'A's first psychiatric hospital Pine West, several homes in Fairway Hills, Indian Meadows, Northshire, Ridgeview, along with many custom homes throughout the area. He also designed and built the house on the rock at Arrow Point on Lake Coeur d'Alene for Elmer Jordon. Alan enjoyed the challenge of building that house on the rock. He had to consider wind shear, engineering, design, and the transferring of materials to the site. Alan was also a founder, major stockholder, and the first President of Custom Furniture and Cabinets in Post Falls, Idaho, which later became Huntwood Cabinets in Liberty Lake. But his most favorite and prideful building accomplishment was the development of Leisure Park in Hayden, Idaho where he resided. He traveled to California and Arizona to study the active retirement communities to see what works and what didn't work. It was his "vision" to develop an active 40 plus community with a clubhouse for activities, low maintenance, and a simpler lifestyle for empty nesters in North Idaho … a first of its kind for Kootenai County. Development of Leisure Park began in the mid-1980s and continued until ECI built the last home in December 2021. Alan was thrilled to see his pride and joy be completed. The last home built in Leisure Park, which he jokingly referred to as the "kick the bucket house", was for his wife Diane to reside in upon his passing. Alan wanted to be involved in that project, so at the age of 80, he sited the foundation level prior to commencement of construction.
Alan's success and entrepreneurial talents were most likely in his genes from his great-grandfather, Eborall, who owned a large architectural firm in London, England. Alan's grandfather, Bickerstaff, saw talent in Alan at a very young age while Alan assisted him in framing in the basement of his home. From early on in his childhood, Alan was always finding ways to make a dollar. At times his "businesses" as a child got him into trouble, as one day his mother came home from work and found Alan cutting hair for neighborhood kids in the kitchen. Regardless of what the business adventure was, he was consistent in implementing his formula for success, which was to work extremely hard, and to follow through on commitments he made.
Alan served the community throughout his business career by serving as President for North Idaho Builders Association, and also sponsoring several little league baseball teams that his children played for. He loved animals and always had a pet. Sports were a big part of Alan's life, as he actively participated in baseball, basketball, track, tennis, fishing, and golf over the years, and he loved to watch games on TV (especially at playoff time). As a golfer, he had a penchant for hitting the ball out of bounds, which led to his nickname OB the Golfer. He loved to follow politics, and was especially interested in the law, which fueled his interest in true crime stories, and his avid loyalty to Judge Judy! He loved a good debate, and was always curious in how others thought. He had the unique ability to see both sides. He always said that if he were to have picked a different career, he would probably have chosen to be an attorney.
Alan was able to provide a good life for his four children, and it was important to him to teach his kids the value of money, the enjoyment and exposure to sports and travel, and to have the skills to succeed in their life. He was always supportive, fair, non-judgmental, and all of his kids knew his love.
During his last five years, Alan was troubled with many physical ailments from his hard work and his enjoyment of life. He chose to endure several surgeries in an effort to fix those ailments, as he was driven to get back out on the golf course most importantly, as well as go to the Eagles to see his friends, and to enjoy his evening cocktail on his back patio. When his health started to decline after his most recent (neck) surgery, he was lovingly cared for by his wife, Diane, and when she needed a break, his daughters, Denise and Debbie, and former wife, Jackie, would come in to assist. Alan knew he was loved, and his family finds peace that he is now in heaven with his parents. He was ready to leave this earth and begin his new eternal life, where he was looking forward to once again play golf with his good friends, Roger Salisbury, Don Beck and Dahl Knowles.
Alan is survived by his loving wife, Diane; his four children: Denise Hall of Hayden, Debbie (Paul) Doyle of Dalton Gardens, Ric (Shauney) Eborall of Star, Idaho, and Rod Eborall of Cd'A. He is also survived by his seven grandchildren: Jalon (Hannah) Eborall, Jordon Eborall, Halle Eborall, Kelsey Eborall, Kade Eborall, Madison Hall, and Cooper Hall; four great grandchildren: Jaydon Eborall, Charles Pogue, Anderson Eborall and Blake Pogue. Alan still considered Wayne Hall as his son-in-law and Doneisa Eborall as his daughter-in-law. He also leaves behind his dog Twinkie, and former wife, Jackie Eborall. He is predeceased by his parents, Abe and Mildred Eborall, and a grandson, Jaiome Abraham Eborall.
A private family visitation for Alan was held at Yates Funeral Homes in Cd'A, Idaho. A celebration of life will be for all friends and family on Saturday, Feb. 4, 2023, from 2 to 5 p.m. at the Leisure Park Clubhouse, 1480 W. Leisure Drive, Hayden, Idaho.

The family would like to thank Hospice of North Idaho for providing wonderful care to Alan in his final months. In lieu of flowers, the family would prefer donations made in Alan's name to Hospice (www.hospiceofnorthidaho.org).
Please visit Alan's online memorial and sign his guestbook at www.yatesfuneralhomes.com.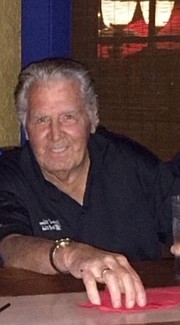 Recent Headlines
---