Fentanyl, stolen guns seized during Pinehurst raid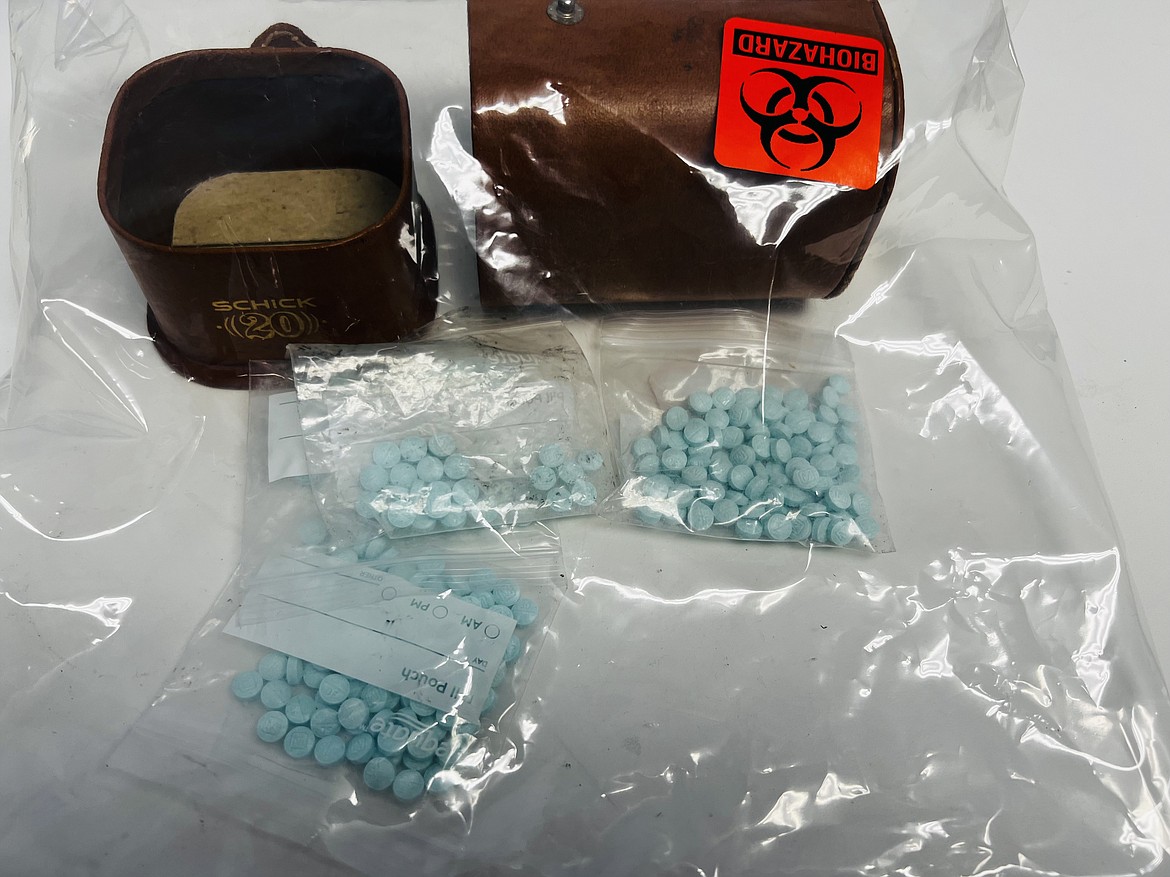 This was just a portion of what is estimated to be over 400 Mexi Blue fentanyl pills that were seized during a raid in Pinehurst earlier this week.
Joshua McDonald
by
JOSH McDONALD
Staff Writer
|
August 25, 2023 1:05 AM
PINEHURST — The Pinehurst Police Department, along with several other agencies, successfully conducted two raids this week that led to the seizure of more than 400 doses of fentanyl.
Pinehurst Police arrested Joshua Easley, 45, at his home following the execution of two search warrants, one at Easley's home and the other at a residence he had been frequenting.
The warrants came after a monthslong investigation by Pinehurst police following reports of suspicious activities later tied to Easley.
Pinehurst Police Chief John Richter estimates that between 400 and 450 "Mexi Blue" fentanyl pills were seized. Because Idaho does not have a trafficking statute for fentanyl, police recommended to the Shoshone County Prosecuting Attorney's Office that Easley be charged with possession of schedule II narcotic with intent to deliver.
During the course of the searches, police also discovered several stolen firearms, some from as far away as Florida.
Easley was booked on 13 different counts, 12 of them felony; the others include four counts of grand theft of a firearm, six counts of unlawful possession of a firearm, possession of a controlled substance and one misdemeanor charge of possession of drug paraphernalia.
Pinehurst police worked alongside the Silver Valley Drug Task Force during the course of the investigation and execution of the warrants. The Silver Valley Drug Task Force comprises the Shoshone County Sheriff's Office, the Pinehurst Police Department, the Kellogg Police Department and the Osburn Police Department.
"These types of group operations go a long way in keeping our communities safe and really show how well the law enforcement in Shoshone County work together," Richter said. "Thank you all for the support."
Fentanyl is a synthetic opioid 80 to 100 times more powerful than morphine and 30 to 50 times more potent than heroin. A 3-milligram dose of fentanyl — equal to 10-15 grains of table salt — is enough to kill an average adult male. Without laboratory testing, there is no way to know how much fentanyl is in a pill or powder.
According to the Idaho State Police, these Mexi Blues are easier to get than most drugs and can be ordered through online forums and social media. They are stamped to look like basic opioids like Oxycontin or Xanax. More often than not, the users don't realize what they're taking when they ingest these pills, believing them to be something they've taken in the past, which can be fatal.
Easley has a lengthy criminal history, including multiple drug and theft charges.
During his felony arraignment Tuesday, Easley pleaded not guilty and was released on a $50,000 bond.
His preliminary hearing is scheduled for Sept. 5 at 8:30 a.m.
Recent Headlines
---