3Cs continue caring for community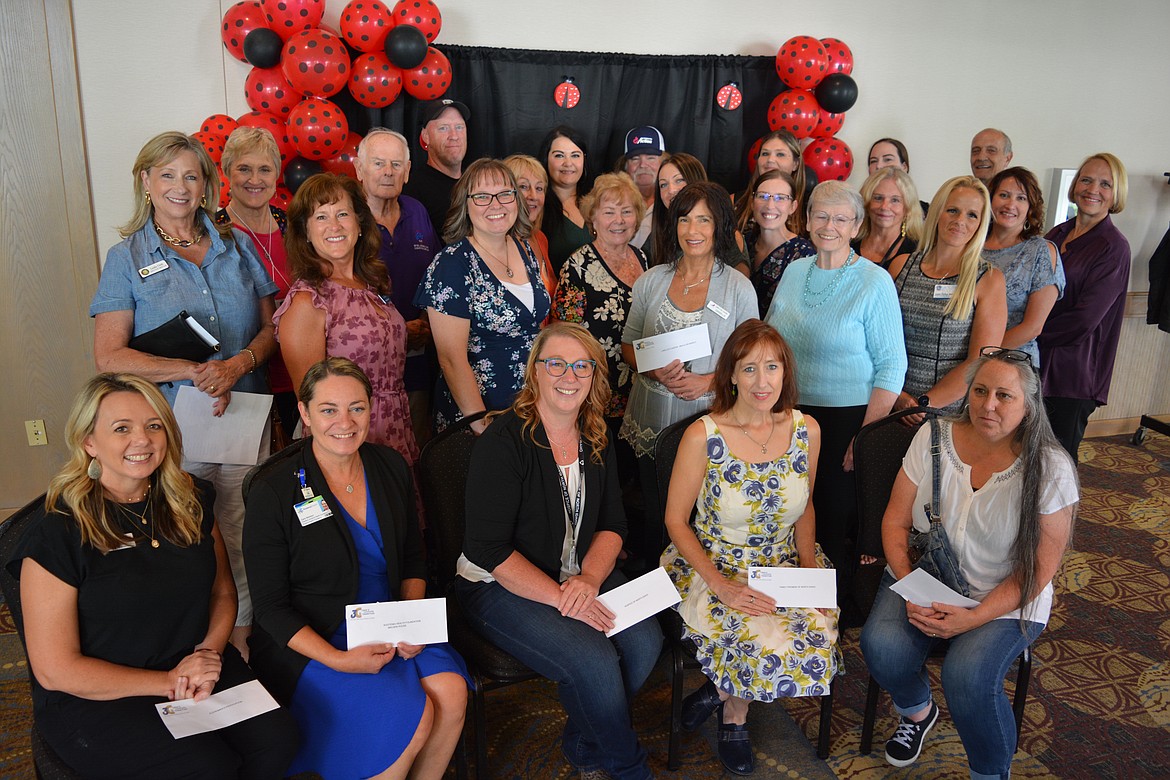 Local nonprofits received $120,000 in grants distributed by the 3Cs Friday. Back row: Tom Morgan, Lake City Bicycle Collective; Amanda Krier, Safe Passage Violence Prevention Center; Darrell Rickard, Community Action Partner Food Bank; Jennifer Struckman, NAMI; Bill Muck, On Site for Seniors. Second row: Leslie Orth, Post Falls Food Bank; Amy Bartoo, Idaho Drug Free Youth; Marcee Cavallaro, Post Falls Senior Center; Alice DeShazer, Community United Methodist — Foster Youth Assistance; Annie Parker, Trinity Group Homes. Third row: Sheila Wayma, Bag & Boob Babes; Dick Gardner, BPO Elks; Renee B…
COEUR d'ALENE — These Kootenai County women love nothing better than giving their money away.
The 3Cs — Cancer and Community Charities — gathered Friday at the Best Western Plus Coeur d'Alene Inn to celebrate the distribution of a whopping $120,000 to support 27 area causes and better the lives of countless North Idahoans.
"Through the hard work and the dedication of our members, we're proud to be able to give back to our community each year," said 3Cs President Ann Dare. "I think (3Cs founder) Ellen Walden would be extremely proud of what she started 61 years ago."
Over the past six decades, the 3Cs have granted more than $2.6 million to Kootenai County nonprofits. Members work — and play — hard all year in order to raise the funds, which are distributed at an annual appreciation lunch.
One of the many gifts distributed by the 3Cs will help North Idahoans affected by domestic and sexual violence, stalking and human trafficking.
Amanda Krier said the grant will support the Safe Passage Children's Advocacy Center, which provides a safe, welcoming environment for children who have experienced abuse.
Funds will help cover gas and hotel costs for families who must travel in order to access the advocacy center, purchase therapeutic toys children can play with during forensic interviews and more. Not many grants are available to cover those types of expenses, Krier said, but the 3Cs have helped to fill the gap.
Krier expressed gratitude to the 3Cs and to all who contributed.
"It means that our community is coming together to reduce violence," said Krier, who has been with Safe Passage since 2014 and was recently named executive director. "We couldn't do our work without the community."
The 3Cs donation will also make a big difference to residents of Trinity Group Homes.
A St. Vincent de Paul of Coeur d'Alene program, Trinity Group Homes provides housing and supportive services for adults living with severe and persistent mental illness as they learn to live independently. The donated funds will go toward replacing old, worn-out furniture in the group homes throughout Kootenai County.
"I'm going to be able to assist in giving someone dignity," said Annie Parker, social services manager for Trinity Group Homes. "It makes me feel hopeful."
Recent Headlines
---