Cd'A actors perform in 'Escape to Margaritaville' regional premiere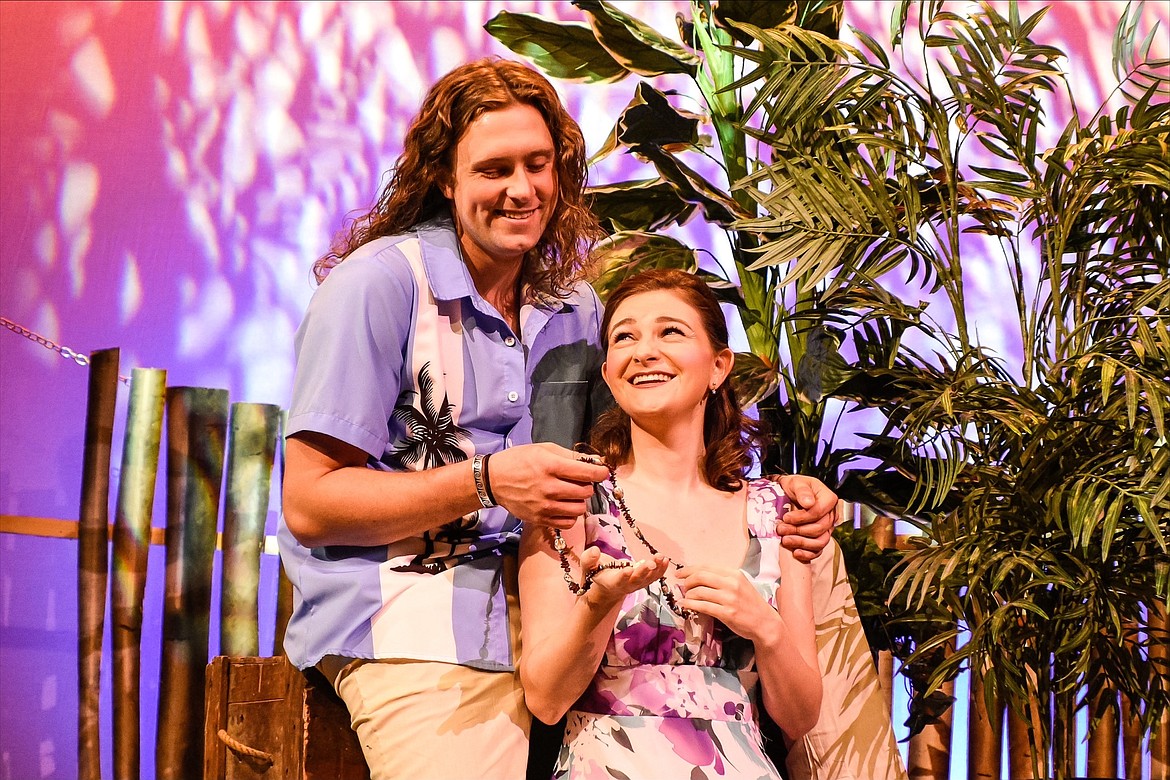 Oskar Owens (Tully) gives Jennifer Tindall (Rachel) a necklace during a scene from Jimmy Buffet's "Escape to Margaritaville." The jukebox musical runs August 4 - 20 at University High School Theatre, 12420 E. 32nd Ave., Spokane Valley.
Melody Chang Heaton
by
CAROLYN BOSTICK
Staff Writer
|
August 3, 2023 1:05 AM
SPOKANE VALLEY — A small island in the Caribbean. Cheeseburgers. A volcano. And some romance.
You might not need to rock a Tommy Bahama shirt and flip-flops to enjoy the fun that the jukebox musical Jimmy Buffet's "Escape to Margaritaville" has to offer, but it certainly will help you get into the beach mentality captured in the regional premiere of the show. Laid-back island vibes flow freely during this fanciful jukebox musical opening Friday through the Spokane Valley Summer Theatre.
In the show, Margaritaville is a run-down hotel where Tully bartends and plays guitar and tourists Rachel and Tammy are staying. Parrotheads (Jimmy Buffett fans) may recall that the character of Tully was originally introduced in a collection of short stories by Buffet called "Tales from Margaritaville" and later became the protagonist in Buffett's 2004 novel, "A Salty Piece of Land."
Margaritaville joined the ranks of other hit jukebox musicals such as "Mamma Mia!," "Jersey Boys," and "Moulin Rouge!" when it debuted in 2017. The show was created by Greg Garcia and actor Mike O'Malley.
About 20 cast members and an on-stage band make up the Spokane Valley Summer Theatre production and two Coeur d'Alene natives are among the leads bringing extra skills to the show. Angela Rose Pierson plays Tammy along with being the show's choreographer, and Oskar Owens, playing the role of Tully, is a guitarist in the show as well.
"I've always wanted to play a role where I got to play the guitar on stage, and I haven't yet been able to do that. I've always enjoyed Jimmy Buffett's music, so it felt like kind of a win-win," Owens said.
Having worked professionally in New York City and Los Angeles before returning home to perform in shows in Coeur d'Alene and Spokane Valley, Pierson said Tammy is very outside of the past roles she's been cast in and that to stretch her performing muscles in a new way has been a "nice change and challenge."
"Drink plenty of margaritas before coming. The dancing is very athletic and vibrant and will make audiences want to dance in their seats," Pierson said.
This musical marks the last show Spokane Valley Summer Theatre will be putting on at University High School before the new $48 million state-of-the-art performing arts center opens in 2024 in Spokane Valley. Combining the animated atmosphere of Margaritaville with the bittersweet knowledge that this performance will be the last before they finally get the autonomy of their own facility means the cast are ready to go all out during their three-week run.
Melody Chang Heaton wears multiple hats as the communications and marketing director for SVST as well as portraying the character, Wanda, onstage. She said the group can't wait for their custom-designed facility to be ready after a successful partnership with the Central Valley School District.
"With SVST heading to the performing arts center, we're no longer going to have a three-show season. We're expanding to a 10-show season, with six shows on the main stage and four in the studio. So it's a special little party," Heaton said.
This will also be Owens' last show in the area before moving to Nashville to pursue a career in music and television and film, so he was grateful to finally get the chance to work with SVST before he left the area.
"It's just a really wholesome, fun and empowering story and an invitation to escape the world for a couple of hours. You'll feel like you're going on a vacation when you walk into the theater," Owens said.
If you go
What: Spokane Valley Summer Theatre's Jimmy Buffett's "Escape to Margaritaville"
When: Aug. 4-20
Where: University High School Theatre, 12420 E. 32nd Ave., Spokane Valley
For tickets, visit www.svsummertheatre.com or call 509-368-7897.
Recent Headlines
---