Guess what tomorrow is
by
ELAINE CERNY/My Garden Path
|
April 30, 2023 1:00 AM
I'm sure you had no trouble guessing that tomorrow is May 1. Yippee! Was this a long winter or did it just seem like it? In either case, we're all glad it is finally over.
Although there are things that still need to wait a while, there are others that we can "hop to."
Go ahead and plant those "cool weather" veggies such as lettuce but hold off on the warm guys such as tomatoes and melons.
The same goes for those flowering plants. Some can take some cool weather such as primroses but others, like dahlias are better off staying indoors until about June 1.
If you haven't already done so, go ahead and spread some lawn fertilizer. This is also a good time to aerate the lawn by having someone run one of those machines over the grass to pull out little plugs of soil. Your lawn will respond to that action.
Lots of lilac bushes are leafing out right now. They will be in bloom very soon with their heavenly scent. Now that's something to look forward to!
I hope you're seeing hummingbirds at your sugar-water feeders. These little guys can be very entertaining. On the other hand, now that warmer weather is here, it's time to take down those suet feeders. They are a great idea in the winter as suet eating helps the birds to stay warm. Leaving them up when the temperatures go up can turn the suet rancid and make for sick birds.
Area greenhouses are open and bursting at the seams with things to take home. Just be sure to "harden off" any tender plants before you plant them outside. To do this just takes a bit of persistence. Start out by putting them outside for an hour or so each day. Increase that time each day until they're out there all day. Continue bringing them back inside before dark until the nights stay above 50. Then go ahead and plant them into their "summer home."
Do you have an Easter lily you want to save? It's easy. Just cut off the flower stalks when they're done blooming. Keep all the green leaves. Put the plant in your sunniest window until late May. Then plant outdoors in a sunny spot, adding a bit of fertilizer.
It's hard to believe that we were buried under piles of snow only a short time ago. I venture to say that we're safe from that stuff for quite a while. Whew.
• • •
Elaine Cerny has gardened most of her life, starting in 4-H. She has belonged to garden clubs in three states and is an active member of the River City Gardeners Club in Post Falls. Her column has appeared in The Press every other Sunday from early March to late October for the past 15 years.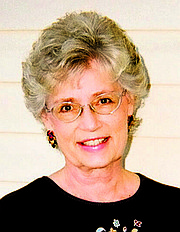 Recent Headlines
---