Community Thanks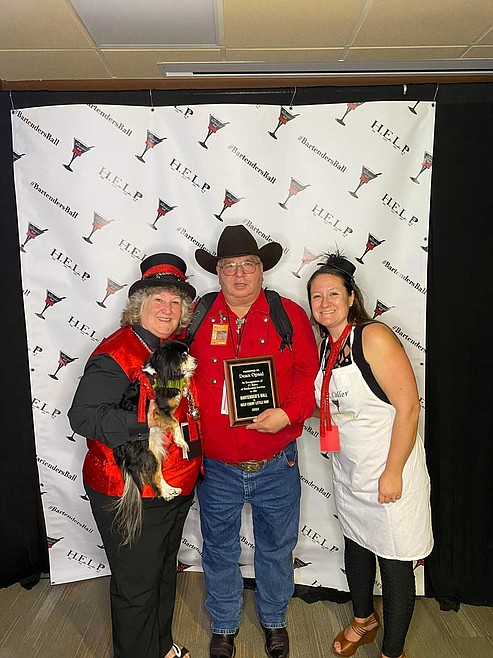 From left: Karen Hansen with "Tighty," Dean Opsal and Holly Hansen. The Hansens of Windermere Coeur d'Alene are the organizers of the Bartender's Ball. Opsal is a Beam Suntory/liquor representative.
Courtesy photo
H.E.L.P.: 11th annual Bartender's Ball breaks more records
The Bartender's Ball had a new venue this year. The Coeur d'Alene Casino graciously opened its doors to the annual Bartenders Ball, a fundraiser for the local nonprofit Help Every Little Paw. The committee was nervous about the change but 100% excited as the event continued to outgrow every venue downtown Coeur d'Alene had to offer.
The change was well received and excitement of the news flowed through the community before the committee actually officially released the news to the public.
The successful event, which showcases the best in the hospitality and service industry in the Inland Northwest, raised more than $30,000 in funds for the local nonprofit Help Every Little Paw (H.E.L.P.). Organizers Holly and Karen Hansen with Windermere Coeur d'Alene were delighted to announce the pet food drive raised more than 1,350 pounds of food for local pets in need.
We had no idea what to expect since we were holding the event at a brand new venue to us and 30 minutes from town," said Holly and Karen Hansen. "We are grateful to the 2023 sponsors: Dean Opsal/Beam Suntory, Comfort City Super Sleep Center, Coeur d'Alene Casino, Andy Byrd/Willamette Valley Bank, Pioneer Title, American Leak Detection, Kootenai Family Dental, Pastry and More, Holly and Karen at Windermere Coeur d'Alene Realty, Ruby Frog Entertainment, Ron with Two Reeds Pro Audio/Video, Travis Bertram with TBD Productions, Michael Hairychin-Ice Sculpturist and Super 1 Foods. Most of these sponsors have supported the event for years. Their sponsorship funds the event so 100% of the profits could go to the Help Every Little Paw mission!"
2023 broke a record for the number of bars and caterers with 24 entries who competed with their specialty drinks and appetizers for the coveted title of Champion for 2023. The competition was fierce! H.E.L.P. appreciates each and every participant and hopes everyone will support these businesses throughout the year. The bars and restaurants are:
Bars
Bee's Knees Whiskey Bar, Capone's Pub & Grill, Coeur d'Alene Casino Resort Hotel, Best Western Plus Coeur d'Alene Inn, Cricket's Restaurant & Oyster Bar, Kaiju Sushi & Spirits, Ponderosa Springs Golf Course, Revolver North, Silver Corner Bar, Stogies Cigar and Pipe Lounge and Stormin' Norman's Shipfaced Saloon.
Food
Bearded Ginger Bar and Grill, Capone's Pub & Grill, Coeur d'Alene Casino Resort Hotel, Cogs Gastropub, Melons, New York Pizza Dept., Ponderosa Springs Golf Course, Stormin' Norman's Shipfaced Saloon — Coeur d'Alene, The Goat Lounge — Coeur d'Alene, Two Tones Cafe, Two Tones Cafe and Westwood Brewing Co.
We encourage you to buy locally from these generous local businesses who donated Silent Auctions and Live Auction prizes and Sponsorship: Aesthetica Skin and Beauty, Albert Shaver Home Inspector, American Leak Detection, Andrew Byrd Willamette Valley Bank, Ardent Law Firm, Arlon Rosenoff Fine Art, At Your Service Bartending School, Bar Greens, Bartenders Ball ticket, Beam Suntory, Beam/Suntory, Bearded Ginger, Beauty Mafia, Bees Knees, Big White Dog Photography, Bras on DUDES, Brian Buckholtz, Bumble Bee Jewelry/Cory Bomar, Camfit, Capones Pub & Grill, Coeur d'Alene Summer Theatre, bankcda, Coeur d'Alene Casino, Coeur d'Alene Casino, Best Western Plus Coeur d'Alene Inn, Coeur d'Alene Pet Resort, Christine Matheny, Coffee cottage, Cogs Gastropub/Wallace, Comfort City Bedroom Furniture, Cool Nails, Crafted at home, Crickets Bar & Grill, Crime scene entertainment, Culinary Stone Susan, Custom Den Engraving Experts, Dale Miller Custom Woodwork, Davenport Hotel, Dean and Loretta Opsal, Deborah Best Photography, DJ Andy/Tequila Leah, Eleanor's Shoes/Holly Hansen, Entangled Hair, Flying Squirrel Trampoline Park, Galena Ridge Golf Course, Gerome Jewelry, Ginger and June Candle Co., Good Dog, Guisto Sour Dough Experience, Hagadone Marine Group Boat Rental, Heather Callahan, Holiday Inn Express, Holly and Karen Hansen/Windermere, Inland Tea and Café, Jan Jesberger Insurance, Jitterz, Kaiju Sushi & Spirits, Kellogg Pet Medical Center, Killer Bee Creative, Kim Mattern/Quilt, Kootenai Family Dental, Kroc Center, Lacey Green Photography, Lady of the Lake Sheree Jerome, Lake City Shoe Repair, Lake City Veterinarian, Lakewood Veterinarian, Lindsey Tuckness massage, Luba Wold Photography, Marc Flores Country Insurance, Melons, Midway Auto, Miracle Movers, Moose Lounge, Mt. Dow Pet Supply, North Idaho Cleaning, North Idaho Embroidery/Renee Larson, NY Pizza, Oasis Bordello, Pastry and More, Petco, Pioneer Title, Ponderosa Capone's, Ponderosa Golf, Posh Bounce, Posh Smile, Pulse Productions Video, Reclaimed Beauty, Revolver Bar and Lounge, Ron Reed Audio/Visual, ROW Adventures, Ruby Frog Entertainment, Runge Furniture, Ryan Foti TAKE HOME CHEF, Seasons Bar & Grill, Seright's ACE Hardware, Shenango Signs, Silver Corner Bar, Silver Mountain Galena Ridge Golf, SkullEase by Jubel, Spokane Chiefs, Spokane Indians, Sportsman Haus, Spray Tan by Brandi, Squeaky's Car Wash, Staple Office Supply, Stephanie Byrd/Quilt, Stogies Whiskey Bar, Stormin' Normin's, Super 1 Foods, Texas Road House, The Goat, Tilly's on 7th, Toni William Massage, Triple Play, Twin Lakes Golf course, Two Tones, Westwood, Your CBD Store Post Falls and ZIPS Post Falls.
The event would not have been a success without the countless hours that our committee put in and each sub-committee's volunteers. A special thank you to the committee: Jenna Ahearn, Brandie Binfield, Sarah Burger, Andy Byrd, Josie Coder, Lacie Griffin, Karen Hansen, Holly Hansen, Dawn Kelp and Isaac Loren.
Event volunteers: DJ Montoya, DJ Bry, Andrew Anthony, David Blythe, Brook Breckenridge, Leshia Binfield, Michele Binfield, Jonathan Crowell, Leah Hansen, Lynn & Wayne Hammond, Jenny Loren, Kristal Louden, Forrest McLuskie, Mary Beth Ochoa, Janet Rhodes, Nora Rhodes and Tyler Zoesch.
Judges: Andy Bowman, Brian Buckholtz, Scott Cyr, Jimmy Opsal, Loretta Opsal, Taylor Riddle and Mike Wall.
Help Every Little Paw is a nonprofit organization dedicated to the health and happiness of all pets. We achieve our goal to rescue those abandoned, stray or neglected, and to provide medical attention, spay and neuter program, socialization rehabilitation and food to those in need through raising necessary funds.
HOLLY and KAREN HANSEN, Windermere Coeur d'Alene
Bartender's Ball organizers
Recent Headlines
---