Burning down the house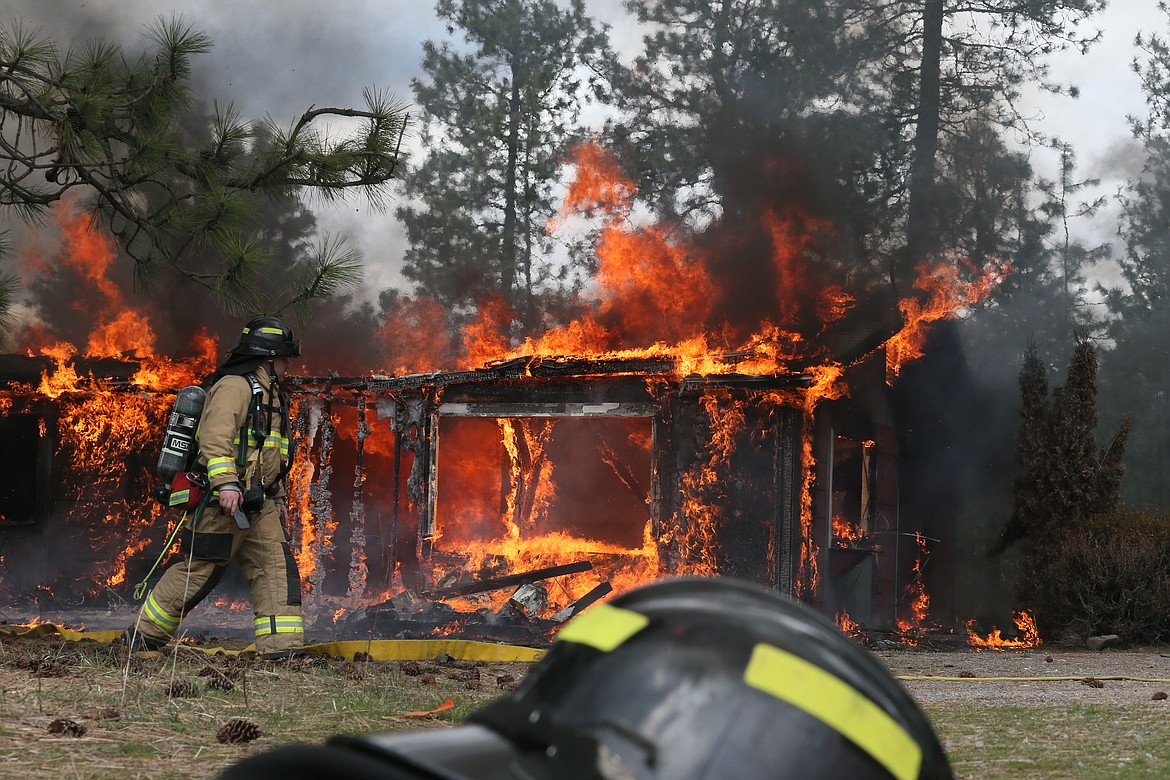 Hauser Lake Fire Protection District firefighter Kyle Andrews walks by a burning house Saturday at a training site at Highway 53 and Pleasant View Road.
DEVIN WEEKS/Press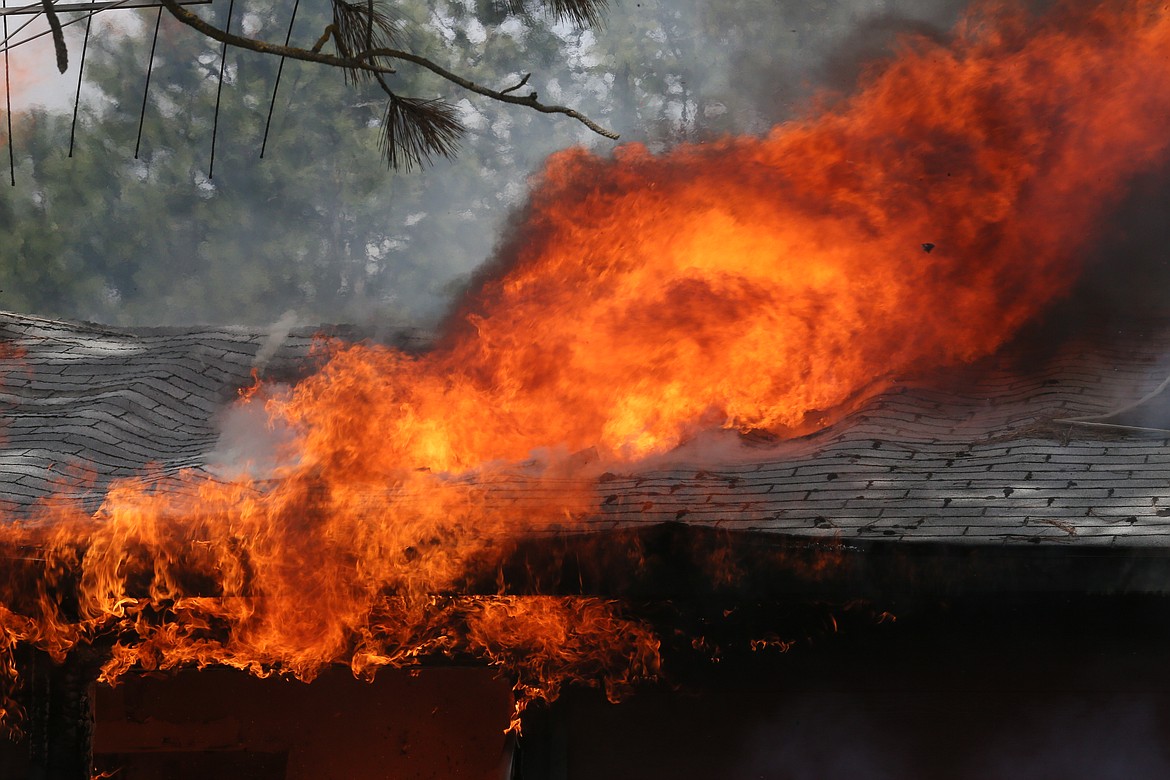 Fire devours a roof Saturday during a burning exercise at Pleasant View Road and Highway 53.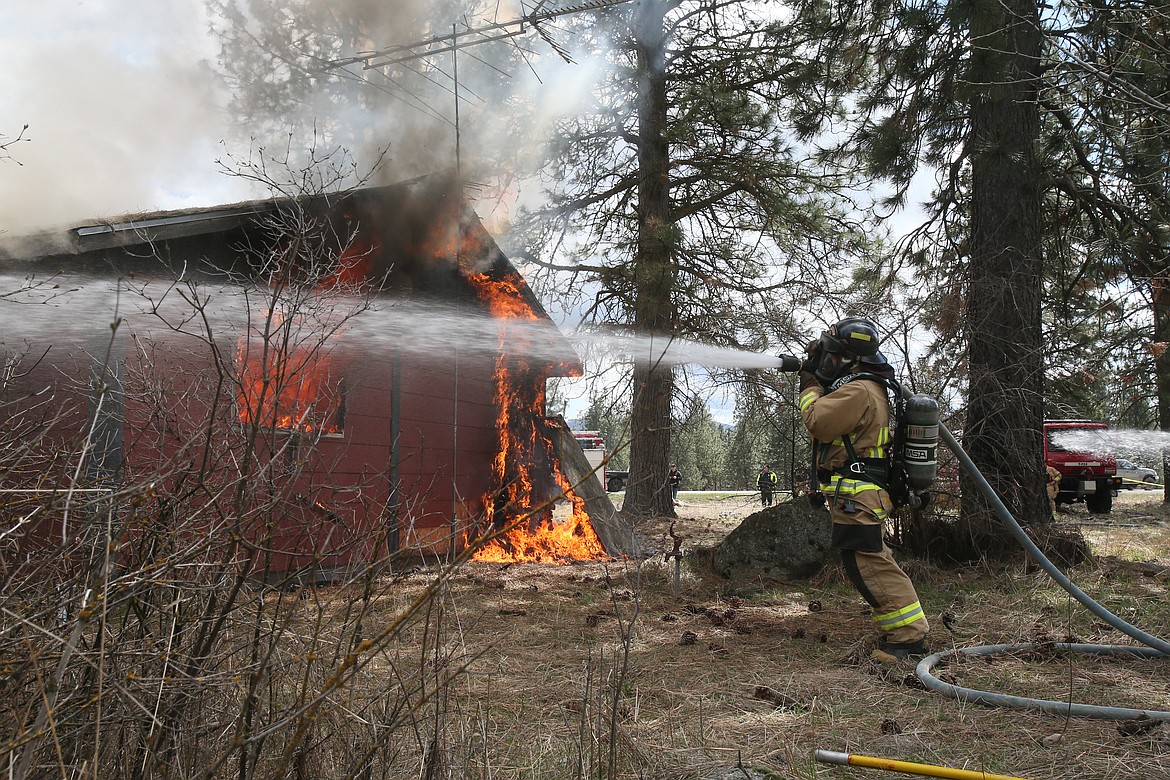 Hauser Lake Fire Protection District firefighter Kyle Andrews sprays the perimeter Saturday during a controlled house burning exercise.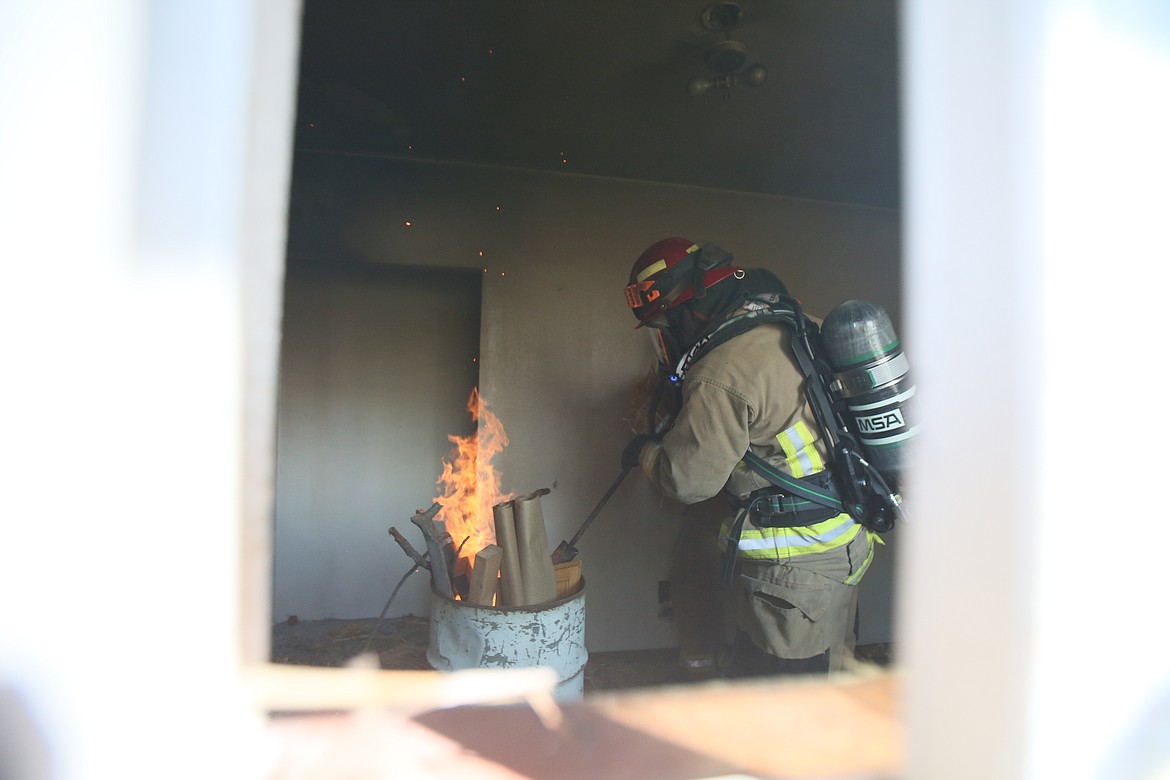 Hauser Fire Capt. Gary Mobbs torches flammable material in a burn barrel Saturday morning during a training exercise.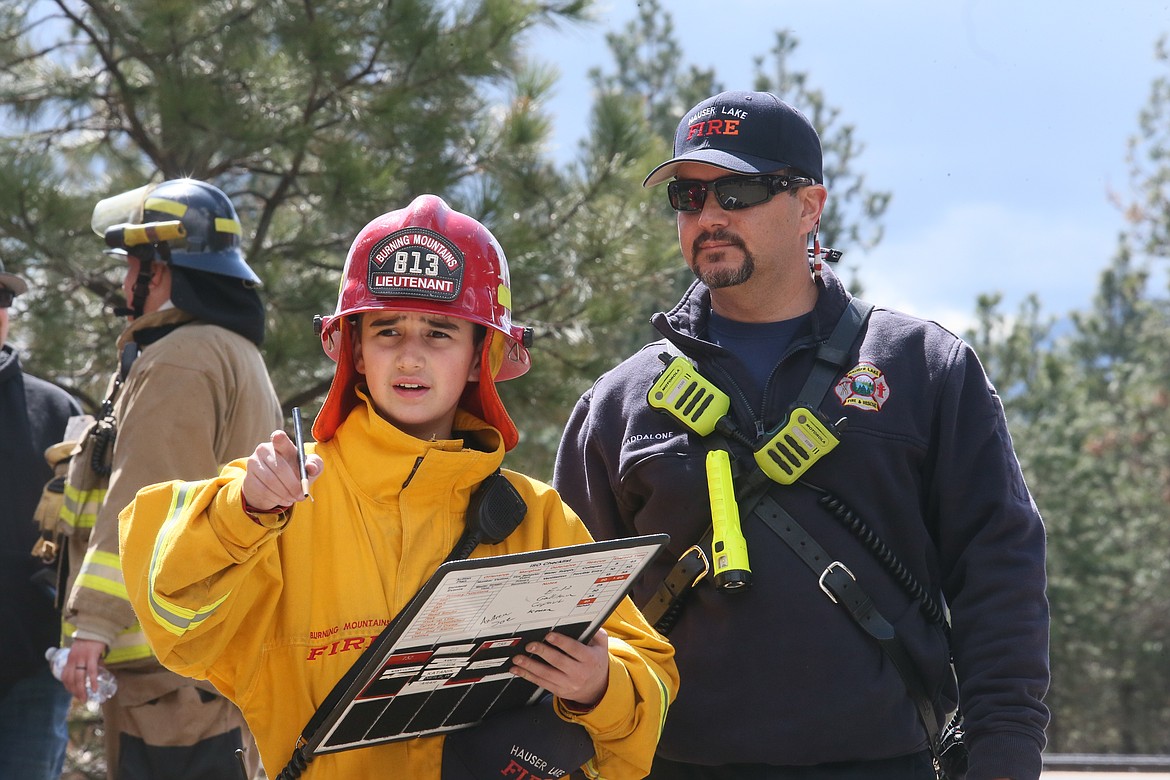 Future firefighter Beau Maddalone, 12, observes a house burning training exercise with his dad, Hauser Fire Deputy Chief Thomas Maddalone, on Saturday at Pleasant View Road and Highway 53.
Previous
Next
by
DEVIN WEEKS
Staff Writer
|
April 23, 2023 1:08 AM
Blackened glass burst forth from a picture frame window as smoke rapidly billowed from the roof and fire began to devour everything in its path.
The abandoned house at Pleasant View Road and Highway 53 just east of Hauser Lake Road would have been demolished to make way for the Idaho Transportation Department's Pleasant View interchange project. Instead, members of the Hauser Lake Fire Protection District, Kootenai County Fire and Rescue and the Kootenai County Sheriff's Office took advantage of the site as a training location before Hauser Fire and KCFR burned it to the ground Saturday in a controlled burning exercise.
"ITD has acquired this property and they have to bulldoze it," Hauser Fire Chief James Niels said. "This will be the off-ramp, that's why it has to go. Since they have to level it anyway, why don't we get some nice training with a real structure? We've cut holes in the roof, we smoked it up."
"We've done all kinds of fun stuff with it," he added. "We've been cutting doors, all the stuff we usually don't get to do. It's just an awesome training exercise."
The house has been used as a training location for about a year. An obstacle course in the front room has served as an exercise for firefighters to crawl through with their gear, blindfolded, to simulate what they will experience in a burning building. SWAT teams have blasted through doors and kicked a few down as they've trained at the site.
A hole was punched into the structure with a piercing nozzle that sprayed water throughout a small bedroom. A burn barrel filled with branches and organic material was ignited, providing an opportunity for the firefighters to observe the behavior of smoke before the house caught fire.
Neils said this sort of opportunity doesn't happen often. Hauser Fire members conducted a burn training on another structure in spring 2022, he said, but before that it had been 10 years since they trained on an actual burning house.
"We don't get many structure fires," he said. "This is how we get our new people into situations where they actually work with real fire."
The Hauser Lake Fire Protection District is a volunteer organization. Saturday's crew consisted of seasoned firefighters as well as a few firefighters in training.
Neils' son, William Neils, 16, is a Lakeland High School sophomore who is following in his dad's footsteps.
"He's been on for 29 years now, so my entire life," William said. "It's always been something that I've been around and I knew that I wanted to do when I was older. I have another year before I can start actually doing the fire stuff. You've got to be 18."
He said it's really interesting to see how everything comes together during a training day, "just watching what everyone's jobs are and what they're all doing."
He said aside from watching his dad in action, he really enjoys fire and rescue.
"I just want to be able to help people and make a difference," he said.
Fire crews will be monitoring the site as it smolders throughout the weekend.
The ITD overpass project is expected to improve safety by constructing an interchange at this site. The highway will be shifted north to accommodate on- and off-ramps and Pleasant View Road will be expanded to four lanes and elevated over the railroad tracks. A series of projects now through 2024 and 2027 will widen and reconstruct Highway 53 between the state line and Rathdrum, with the new Pleasant View interchange at planned in 2028.
Recent Headlines
---