Haaland defends Willow, says US won't end oil drilling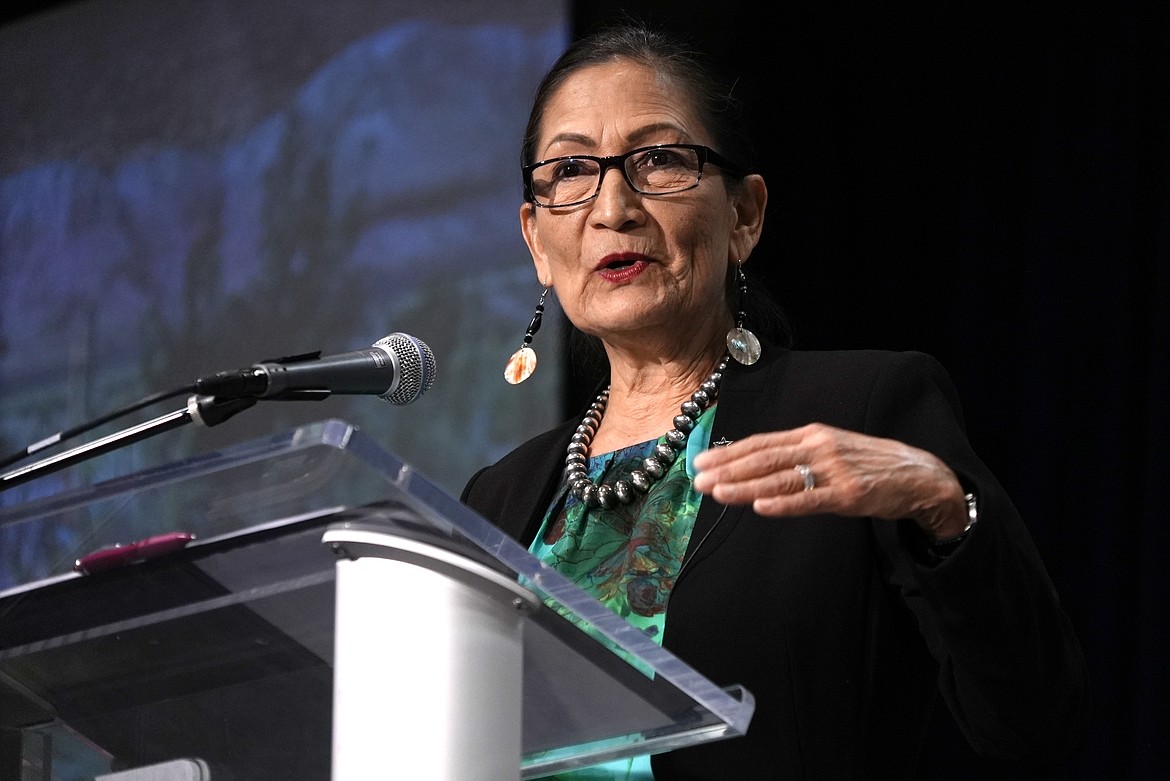 Interior Secretary Deb Haaland speaks at the Society of Environmental Journalists conference in Boise, Idaho, on Friday, April 21, 2023. (AP Photo/Brittany Peterson)
By MATTHEW DALY
Associated Press
BOISE — Interior Secretary Deb Haaland defended her department's approval of the contentious Willow oil project on Friday, saying that despite President Joe Biden's campaign promise to end new drilling on federal lands, "We're not going to turn the faucet off and say we're not drilling anymore.''
Speaking to the annual conference of the Society of Environmental Journalists, Haaland said the Biden administration is "following the science and the law when it comes to everything we do, and that includes gas and oil'' leases considered by her agency, which oversees U.S. public lands and waters.
Despite Biden's pledge, "We're not going to say we're not going to use gas and oil. That's not reality,'' Haaland said. "So we are doing the best we absolutely can.''
Haaland's comments came after the administration faced sharp criticism from some of its strongest supporters — especially young climate activists — after Interior approved the $8 billion Willow project on March 13. The massive drilling plan by oil giant ConocoPhillips could produce up to 180,000 barrels of oil a day on Alaska's petroleum-rich North Slope.
Leaders of major environmental organizations and Indigenous groups had pleaded with Haaland, the first Native American Cabinet member, to use her authority to block the drilling project, which they say contradicts Biden's agenda to cut planet-warming greenhouse gas emissions in half by 2030. Environmental groups call Willow a "carbon bomb" and have mounted a social media #StopWillow campaign that has been seen hundreds of millions of times.
Haaland, who opposed Willow when she served in Congress, joked Friday that as Interior secretary, "often I don't have personal feelings.'' Still, Haaland's views seemed apparent. She did not sign the secretarial order approving the project, leaving that to her deputy, Tommy Beaudreau, and declined multiple opportunities to say she personally supported the decision.
In response to questions from hundreds of assembled journalists, Haaland said the Willow decision was countered by approval of a host of clean-energy projects, including a recent plan to produce "solar power from the deserts of Arizona to communities all over the West.''
"We're in a climate crisis everyone, and so we are taking that part very seriously,'' she said.
In an online video released 10 hours after the March 13 decision was made public, Haaland said she and Biden, both Democrats, believe the climate crisis "is the most urgent issue of our lifetime.″
On Friday, Haaland called Willow "a very long and complicated and difficult decision to make,'' and noted that ConocoPhillips has long held leases to drill for oil on the site, in the National Petroleum Reserve-Alaska.
"You know, legal, existing rights are a thing in this country. And so we have to honor those in some respects. What we did really try to do is make it smaller, right, to protect the stakeholders and do whatever we could to help the situation to be more amenable to the wildlife and the ecosystems in Alaska.''
The final approval reflects a substantially smaller project than ConocoPhillips originally proposed and includes a pledge by the Houston-based oil company to relinquish nearly 70,000 acres (28,000 hectares) of leased land that will no longer be developed.
Biden said last month he ha d "a strong inclination to disapprove" Willow, b ut was given legal advice that the oil company could win in court. Instead, his team forced concessions that included conservation of millions of acres in Alaska and the Arctic Ocean.
"And so I thought the better gamble — and a hell of a tradeoff — to have the Arctic Ocean and the Bering Sea and so many other places off limits (from oil drilling) forever now,'' he said March 24 during a visit to Canada. "What I really want to do ... is conserve significant amounts of Alaskan sea and land forever.''
Asked if she wished Biden had spoken out more on Willow Haaland said, "Of course that is a question for President Biden.''
Activists said Friday they were not satisfied with Haaland's response.
"The Biden administration depends on voters under 30. That's just a fact. And if they continue to greenlight disastrous fossil fuel projects and unnecessary lease sales, then they risk losing a key constituency in 2024," said Cassidy DiPaola, spokesperson for Fossil Free Media, a group that opposes oil and other fossil fuels.
Story Details
Recent Headlines
---