Cd'A Audubon spreads its wings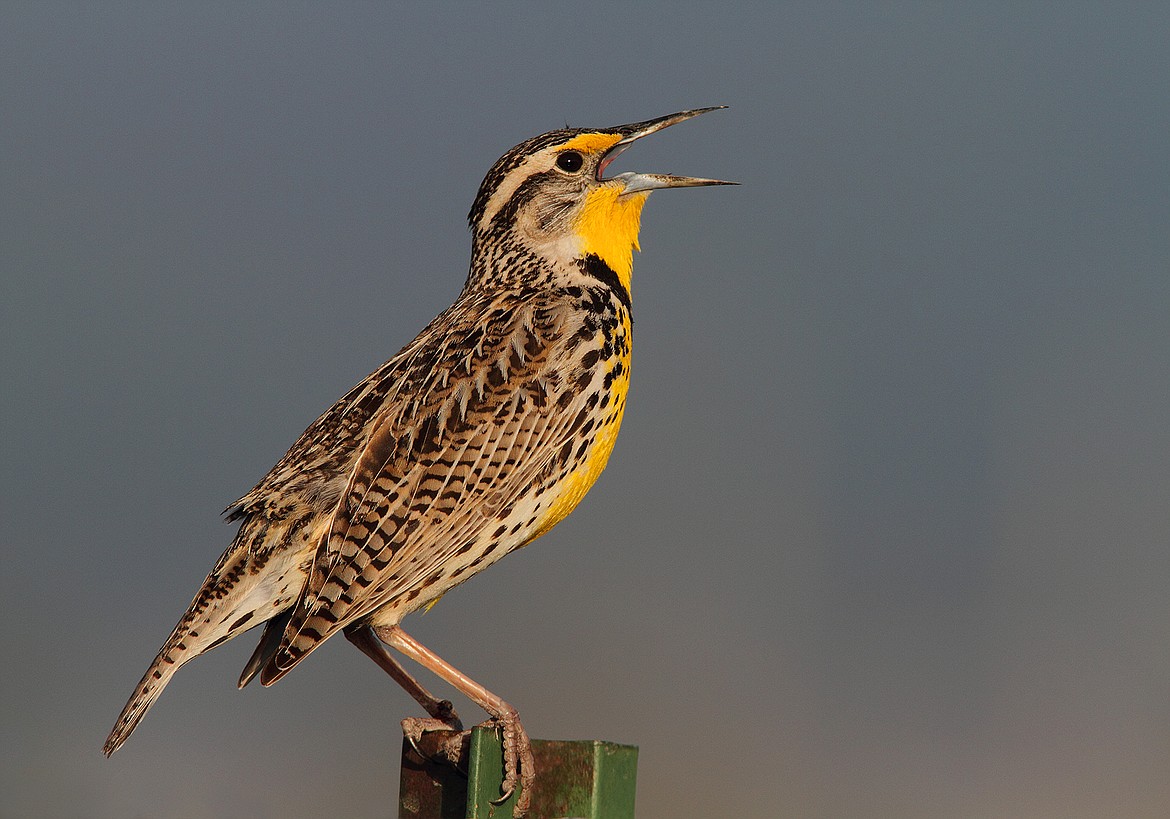 The song of the meadowlark announces the return of spring. Photographer Ralph Kerr started birding with the Coeur d'Alene Audubon Club to improve his photography, and stayed to became president. Spring observation field trips with the club begin today, and continue through May.
Photo Courtesy of Ralph Kerr
by
JOSA SNOW
Staff Writer
|
April 20, 2023 1:04 AM
The weather is changing and the bird migration is starting so it's the perfect time to get out gawking and walking with the Coeur d'Alene Audubon Club, said board member and field trip chairman Ted Smith.
"You don't have to be even a remotely good birder to have a good time going with us," Smith said. "We love teaching people."
Club field trips begin at 7:30 a.m. starting today, following the songs of spring and observing the diversity of bird species in Kootenai County and North Idaho. Club members will meet in the At Home parking lot on the corner of U.S. 95 and Neider Avenue to carpool to each adventure location. Once on site, retired ornithologist Smith, and other dedicated club leaders, will educate new birders, compare their bird lists or just chat about conservation education and biodiversity.
Field trip locations will be to the Saltese Wetlands today, to the Cougar Bay Preserve on April 26, to the Chain Lakes on May 4, to Mica Bay on May 9 and to Myrna Park on May 18.
The club will meet at 6:30 a.m. May 24 to go to Turnbull National Wildlife Refuge.
Because spring marks the beginning of migration season, the Audubon Club goes to more locations more often to see more birds. After a long winter of field trips exclusively to Mica Bay, spring brings a welcome wave of viewing opportunities.
"I had a selfish reason for joining the club," said board president and wildlife photographer Ralph Kerr. "I thought it was a way to learn about more species and more habitat, and I could expand my areas for photography. And then, as I participated more, and heard speakers and learned more, I became more interested. It's made my interest broader, and if I get lucky, I get a good photograph."
For Kerr, spring is the beginning of a flurry of activity and subject matter for his art, but it's more than that.
"I enjoy the bird life and I enjoy the bird songs," Kerr said. "The song of the Western meadowlark in the springtime is what told us spring is here."
In addition to taking novice or avid birders on field trips, the Audubon Club board hopes to bring the joys of their hobby into local elementary schools.
"We're working to get Audubon in the Classrooms started back up, to bring awareness to birds in general," Smith said. "Which, if you're doing a good job looking after birds, you're looking after biodiversity. Birds are a good segue to protect our environment."
The club will have a dry run for the updated curriculum at an Earth Day event organized by the Kootenai Environmental Alliance. Birders will meet from 10 a.m. to 2 p.m. April 22 at the Coeur d'Alene Public Library to build bird feeders with children and at McEuen Park to take them on guided birding tours.
"My purpose for trying to get the Audubon classroom fired up is if this becomes a way to get kids off cellphones and outside, that's a good thing," Smith said.
Getting kids outside is just a natural extension of what the Audubon Club does for adults.
"Most of the people use bird watching as an excuse to get outside," Smith said. "Some of us are hardcore birders that drag people along."
Some members of the club submit data from their field trip birding observations that's used by Cornell University to track and monitor bird species in the area.
Club members range broadly from devoted, to citizen scientists, to casual, but all share an interest in observation.
"The birds and their livelihoods and what we can learn about them is the primary goal," Kerr said.
This year, the Coeur d'Alene Audubon Club is rebuilding some momentum after COVID-19, and members are also working to engage new and younger members.
The club has about 25 active members who regularly attend the field trips and around 90 inactive members who have paid dues, but don't necessarily attend the meetings. National Audubon Society members can be assigned to a local club, like the Coeur d'Alene chapter. They may not participate in that chapter's group activities, but may still go birding on their own to follow their hobby independently.
"For me it's a way of hunting without killing things," Kerr said. "When I was younger I hunted. I'd rather just do photography now."
Recent Headlines
---