Her childhood dream comes true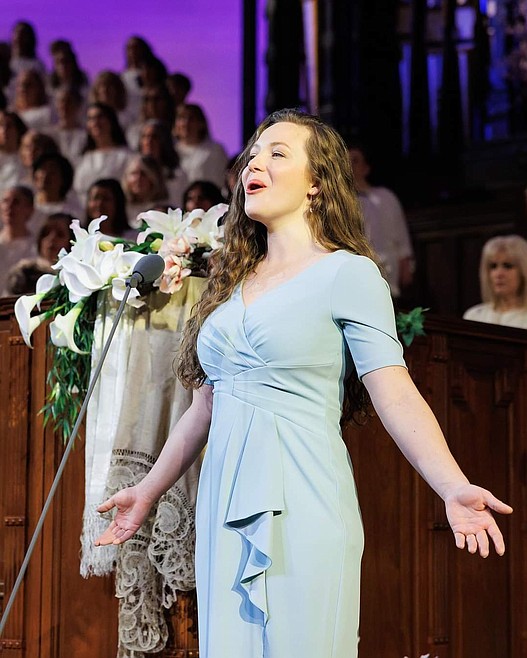 Coeur d'Alene's Madison Leonard performing with the Tabernacle Choir on Easter Sunday.
Courtesy photo
In 2010, Coeur d'Alene's Junior Miss Madison Leonard won the state title and went on to be chosen America's Junior Miss in Mobile, Ala. She was the first ever from Idaho. She graduated from Pepperdine and earned a master of music degree from Northwestern University. A critically acclaimed opera soprano who's performed around the country and world, Madison's married to baritone Shea Owens. They welcomed son Franklin in 2021.
I've followed Madison's incredible journey since her Junior Miss days, she's a genuine ray of sunshine. She shared on social media the realization of a long-held dream; to sing with the Tabernacle Choir and Orchestra in Salt Lake City's Temple Square.
"I felt bold as a child pointing at the TV and saying, 'I'm going to sing with them one day!' and it felt completely surreal to do just that on Easter Sunday," Madison wrote.
The program was broadcast to a worldwide audience and the stream is on YouTube, (April 9, 2023) Easter Music and the Spoken Word.
• • •
For quite a few years, the city of Post Falls hosted a free tree giveaway annually to celebrate Arbor Day. Literally thousands of trees were given out in a few hours on a Saturday morning. I'm looking out my window at a beautiful 30 feet tall birch in our front yard that we received as a sapling.
For a number of reasons, the event hasn't been held for a few years, much to the disappointment of our residents. But I'm pleased to report that an Arbor Day Tree Hunt is being planned for Saturday, April 29, from 8 a.m. to noon.
Participants will visit four parks and have their Tree Hunt card stamped. The first 100 people to turn in a completed card that morning will receive a free tree!
All of the info is on the city website, www.postfalls.gov
• • •
High five to Silverwood! It's just a couple of weeks from opening for the season and depends upon 147 employees to make the magic happen. Many of those are teens, so what a great perk of employment to have a "cast member" bus to transport them to and from work. The route takes the bus to Liberty Lake, Post Falls, Coeur d'Alene, Hayden, Rathdrum and, new this year, Sandpoint.
• • •
Feeling a bit melancholy and missing my dad. Today, April 19, would have been his 94th birthday. I remember like it was yesterday celebrating his 75th birthday at a political dinner in Coeur d'Alene. I brought a cake and everyone in the room sang "For he's a jolly good fellow." He was touched. Quite unexpectedly, six months later, he was gone. Ron Rankin was a jolly good fellow and the best dad a girl could ever have. Every single day of 52 years of my life I had a father who loved me and told me so often. I'll remember to count my blessings instead of being sad that it's been 19 years since I gave him a birthday hug.
• • •
Happy birthday today to Gerlinde Hamilton (70!), Rich Piazza, Angie Hannon, Rick Seymour, Petrina Spellman, Carolyn Beard, our son-in-law, Rick Gonzalez, Steve Adams, Charlie Staples, BreAnna Brunton and Joe Bodman. Tomorrow, my mother, Alice Rankin (92!), Hayden Hustoft, Rowan Bauman, Maritom Pickett, Sherry Mundt, Jerome Pollos, Scott Hough, Bill Hilbish, Sarah Gondo, Marcia Jimenez, Laura Warner, Sarah Myers, Blaise Koep and John M. Smith blow out the candles. On Friday, Gunnar Amos, Brent Hostetler, Sandy Langston, Ali Taylor, Larry Bird and Janet Johnson will celebrate. On Saturday, Shirley Grimmett, Ron Strobel, Jeannette Peacock, Cliff Standridge, Mark Nelke, Jim Barrett, Curtis Gregory, Dave Nordby, George Greenfield and Corey Beaver mark the day of their birth. April 23 birthdays belong to Shelly Enderud, Blair Williams, Troy Speziale, Malika Mills, Kevin Bennett, Charlotte Brown, Tracey Singer, Kathleen Schmidt and Tracy Williams. On Monday, Jean Monaghan (91!), Mary Watson, Dan Taylor, Pascale Cafferty, Hayley Gabriel, Dea Lenz, Lori Rogers, Mark McWhorter, Chris M. Willoughby Sr., Mike Regusa, Eric Haakenson, Jordan Ketzenberg and Tim Ketzenberg take another trip around the sun. Monday, Matthew Wild, Cheryl Burchell, Lori Hess, Patricia Keller, Cathy Biby, Tom Hern, Krystal Arthur, Eric Haynes and Joey Grunden put on their party hats.
• • •
Kerri Rankin Thoreson is a member of the National Society of Newspaper Columnists and the former publisher of the Post Falls Tribune. Main Street appears every Wednesday in The Press and Kerri can be contacted on Facebook or via email mainstreet@cdapress.com. Follow her on Twitter @kerrithoreson.
Recent Headlines
---