Lakeland school board approves gender identity policy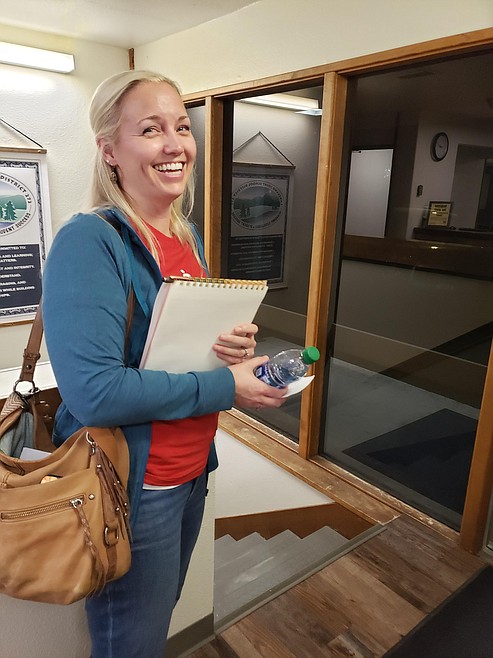 Jaqueline Myers gave public comment in support of a new policy at a Lakeland Joint School District Board of Trustees meeting Monday that restricts teachers from discussing gender identity or sexuality with students in the district.
JOSA SNOW/Press
by
JOSA SNOW
Staff Writer
|
April 11, 2023 1:09 AM
The Lakeland Joint School District Board of Trustees voted Monday to create district policy that requires students to use restrooms and locker rooms that correspond with their biological sex, and the policy identifies gender identity, gender expression, sexual orientation and transgender identity as topics the district will not discuss, address or educate children about.
"There should be no discussion with a child on this topic with any other adult other than the parent," said Vice Chair Ramona Grissom.
The policy aims to protect parents' rights by preventing teachers from talking to a student about gender or sexuality without elevating the conversation to include a principal, a counselor and the parent.
"The intention within this policy is that no district staff should be going there to create an educational platform for these kiddos," said Board Chair Michelle Thompson.
Trustees Randi Bain and David Quimby agreed with the language of the policy, but were reluctant to approve it without a clear procedure in place. It is unclear what a teacher should do if the subject is brought up. The policy was approved with the condition that within three weeks a procedural process be presented and approved to accompany it.
Trustee Bob Jones voted against approving the policy citing the word "discuss" as concerning for teachers.
"It's an arena that is wrought with legal potential to be raised," Jones said.
Before implementation, the policy will also be reviewed by Attorney Amy White to protect the district from any legal pitfalls that could come up in trying to enforce it.
Several people submitted public comments to the board, and some spoke in favor of the policy.
"Radical gender ideology has no place in our schools and I fully support this board's commitment to keep the focus on academic achievement and the fundamentals of education," said Jaqueline Myers. "Just as those who support this new gender ideology wouldn't want their kids to be taught that transgenderism is harmful, all parents should have the right to choose how to educate their children on controversial topics."
Myers is the Lakeland lead for Parents Rights in Education, a national nonprofit that trains parents and community members to be active in their school districts.
Other written comments supported the policy and no one spoke against it.
"Approving this policy will finalize the district's agreement with the policy that parents are responsible for overseeing their children's education and maintaining each family's values. The school's focus should be on academics," wrote Judy Fujimoto, a member of the Lakeland Parents' Rights in Education group.
Over 600 parents and stakeholders in the district previously responded to an email requesting feedback on the draft policy, and board clerk Rosanna Santiago compiled those comments, which were overwhelmingly in support of the policy, to present to the board.
Most but not all of the feedback was positive.
"If you're listening, you hear some folks say, 'Please respect my child,' even if what they're wanting is not consistent with what we want, and what somebody else wants," Jones said. "And we have to be able to establish that respect."
Jessica Kaminski, parent of a Lakeland district student who does not identify as strictly male or female, told The Press last week she is frustrated.
"Obviously the policy is discriminatory, but if you actually read it, it doesn't even make sense," Kaminski said. "At the basis it's meant to discriminate against our trans and non-binary students."
She said her child does not use the school restrooms.
"My child is afraid to use the bathroom at school," Kaminski said.
Prior to the policy's approval, if a student identified as non-gender conforming, they were referred to the principal, the principal communicated with the student's parents, and they would typically work out an arrangement where the student could use a faculty restroom.
If a student is unwilling to use the bathroom that corresponds to their biological sex, the new policy would have administration "work with the student and their parents to provide reasonable accommodations for the student."
The policy excludes using a bathroom that is designated for members of the opposite sex as a reasonable accommodation.
"So many of my child's friends are part of the LGBTQ community, and they're completely closeted at home," Kaminski said. "Does this policy put these kids in a situation where the school staff is basically outing these kids at home."
To view the full draft policy, go to cdapress.com.
Recent Headlines
---