THE FRONT ROW with JASON ELLIOTT: Family fuels Dimitri to another level in the pool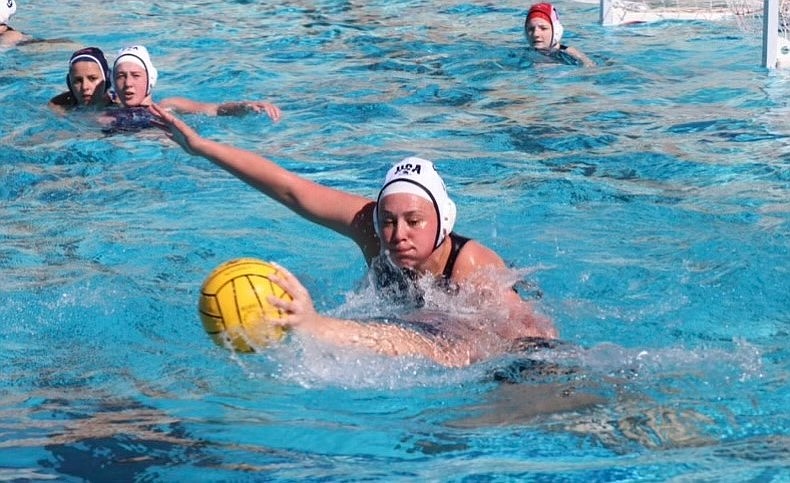 Coeur d'Alene High senior Joslyn Dimitri gets to a loose ball during a training session with the USA U-18 Developmental Team during a training session in March. Dimitri was one of 60 selected for the camp, with the top 18 to represent the U.S. in the Junior Olympics in North Texas in July.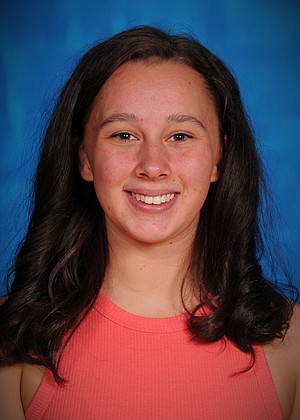 Previous
Next
There's just something about competition and the water that brings the best out of Coeur d'Alene High senior Joslyn Dimitri.
Sure, growing up in California helps, but so does family.
"I've been swimming since I was 4 years old and really got into water polo when my cousins started playing," Dimitri said. "As a family, we all play the same sports. My cousins started getting into it, so I thought, 'OK, I'll try it out.'"
More on that later.
Two years ago, while her grandmother was searching for a new place to live, the family left Brentwood for Idaho.
"She was looking for somewhere to live in the Boise area," Dimitri said. "She traveled up here (to North Idaho) and just fell in love with the area. Being that we didn't want to live too far apart from each other, we moved up here as a family to be with her. And it's really beautiful up here. In Brentwood, it's flat with no land. Here, there's mountains, hills and it's right next to a lake. It's really beautiful."
DIMITRI PLAYED center in water polo as a freshman and sophomore at Liberty High in Brentwood before moving to Coeur d'Alene during the summer before her junior year.
In middle school, she also competed in cross country. Since her move to Coeur d'Alene, Dimitri competed on the Coeur d'Alene High swim team, where she finished 10th in the 500-meter freestyle and 11th in the 100 butterfly at state last fall.
But it's her time with the Inland Northwest Kroc Water Polo Club that has taken her to another level.
Dimitri was one of 60 players nationwide selected to compete on the USA Development Program U-18 girls team in late March.
"I went to a couple of Olympic development camps," Dimitri said. "They have some here (at the Kroc) and a few throughout the northwest, either in Washington or Oregon. The people running the camps watch you, see what you can do and what your strengths and weaknesses are. They grade you on that and decide if you can move on to the regional level. From that, they put you on different teams that you've never played with before and watch how you interact with them and see if you can take the skills and training you learned from the camp."
To attend these camps, she needed a membership to the USA Water Polo Association, something that is required to compete on the Kroc team.
Dimitri added that she went into the process with no expectations.
"I went, not really to get chosen, but to just play," Dimitri said. "I was just stunned they chose me for this team. I've only been doing the camps for two years, so this process is completely new to me. My goal from this is to get all the good training and skills I can from this and bring it back to my club team to help make them stronger. Maybe it will influence some of the other girls to come out and try this next year."
The national team, comprised of 18 players from the developmental team, will participate in the Junior Olympics from July 27-30 in North Texas.
Dimitri is the center/striker for the CDA/Kroc team, which won a state title earlier this year.
"My main goal is to get open because I'm the one closest to the cage (goal)," Dimitri said. "I'm supposed to be able to work around the defender, whether that's spinning or moving my body so it's easier to pass it to me."
"She's been our whole set, kind of like the center in basketball," Inland Northwest Kroc Club coach Mark Collingham said. "It's the most difficult position to play in the game and she's taken that position in the last few years. She's so strong that teams have to double-team her to guard her, which frees up other players. It's so tough and difficult for other teams to defend us because she's got so many skills."
And those skills didn't come without focus and determination.
"She's the most goal-oriented person I've ever coached," Collingham said. "One of the first things she mentioned when she joined the team was goals. Not only long-term goals and where she wanted to go to college, but also where she wanted to go to college and shorter-term goals like what she wanted to work on through the season, that day and for the month. She always had a notebook of what she wanted to work on, whether it was shooting, passing or her defense. And I've never had another player that has done that on their own."
Water polo matches are played with four, seven-minute quarters. The water is 10 feet deep, and the athletes have to stay afloat during play, doing so by using an 'egg beater' kick, similar to the motion of mixing eggs, to remain afloat and keep from going underwater during matches. Using that style helps swimmers find the firm points in the water to remain above water.
"Being able to swim a long distance really helps a lot," Dimitri said. "You've got to be able to use your entire body and legs to get your body out of the water. You've got to use your arms to turn people and shoot the ball."
And yes, a lot of stuff not seen otherwise.
"There's also a lot of kicking and grabbing and physical stuff," Dimitri said. "But it really doesn't bother me because it happens all the time. You just try and kind of push through it."
NEXT FALL, Dimitri will continue her water polo playing career at Division III Austin College in Sherman, Texas.
"I was looking at some schools in California, but technically, I reached out to Austin College," Dimitri said. "I kind of recruited them to me. I went down there, met the coach and saw a couple of practices and hung out with some of the girls on the team. And I just loved the atmosphere."
Other schools that were interested in Dimitri included Division I programs UC Davis, Washington, Penn State, San Jose State and Mount St. Mary's. Santa Monica City College, a junior college, was also interested.
"I'm going to major in education and history," Dimitri said. "But my main goal is to get my master's, so I can come back and teach and coach someday."
Dimitri added that her experience with the Olympic camps has also improved her as a leader and player.
"I'd try it and see if it's the best thing for you," Dimitri said. "You'll get all the skills and training you'll need, and can bring it back to your club and show them what it takes. It makes you stronger as a player, both mentally and physically and get to know more people outside of the state."
With the Kroc club team, Dimitri has also had the chance to play with her younger siblings and some cousins.
"I've loved it," Dimitri said. "It's been a great experience. You know their strengths and how to play with them. You also get a chance to ride with them to games, and sometimes play against them during practices, which made it competitive because you wanted to beat them."
"She's so serious about water polo," Collingham said. "Every practice, she works on doing the best she can, focuses herself and it raises the level of everyone around her."
Jason Elliott is a sports writer for The Press. He can be reached by telephone at 208-664-8176, Ext. 2020 or via email at jelliott@cdapress.com. Follow him on Twitter @JECdAPress.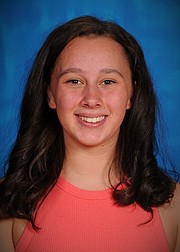 Recent Headlines
---