Pilgrimage to Boomer mecca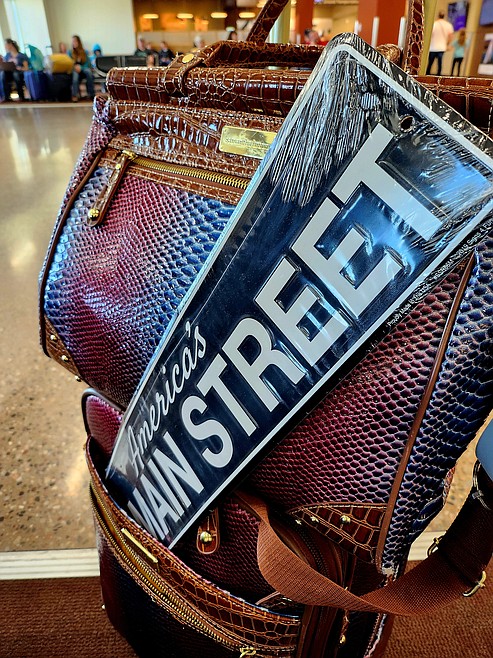 The Main Street sign on its way to Post Falls from Phoenix.
Photo courtesy of Kerri Thoreson
Our Gen X daughter, Sarah, was puzzled, then amused when I said that during my visit to her home in Chandler, Ariz., last week that I wanted to take a road trip to Winslow, Ariz. Why, she asked. To stand on the corner, I answered. Crickets. So I messaged her the link to the circa 1972 Eagles song "Take it Easy" for reference.
"Well, I'm standin' on the corner in Winslow, Arizona, and such a fine sight to see. It's a girl, my lord, in a flatbed Ford, slowing down to take a look at me."
We made the three-hour drive to the Baby Boomer mecca on Route 66 and, once there, I think Sarah got it. She was likely one of the youngest tourists there that day. What a fun place, the half city block Standing on the Corner Park. There's even a vintage flatbed Ford parked at the curb. In the intersection is a giant painted Route 66 logo surrounded by gift shops selling all manner of souvenirs. One that caught my eye was a street sign with the Route 66 logo and America's Main Street imprinted. My personalized license plates are MAIN ST, an homage to the name of this column, so I really wanted that 24-inch long sign.
The challenge? For over 20 years I've traveled by air all over the country and three times internationally to London, Paris and Amsterdam. Without exception, I fly only with carry-on luggage, checked bags aren't practical when flying non-rev, standby as the parent of a flight attendant.
Souvenirs for me are limited to something small and light, like jewelry. The sign was just a couple inches too tall to fit in my luggage. Sarah said I could just stick it in the outside pocket of my rollerboard and take my chances with TSA security. Yeah, right. Well, Glenn Frey and Jackson Browne must have been sitting on my shoulder because the TSA didn't bat an eyelash or pull my luggage aside. Score!
• • •
If you go to Winslow, an overnight stay at the historic railroad-era hotel La Posada is a must. It's stunning, even if the grounds weren't yet in bloom. The hotel's fine dining is exceptional, too.
• • •
A question both Sarah and I pondered on the drive back to Chandler is for her Gen X generation, what song could inspire a similar iconic roadside attraction? We're stumped.
• • •
I returned home from the sunshine Friday evening and on Saturday was treated to every possible kind of weather Mother Nature could throw at us … snow, hail, sun, rain and high winds. Welcome to springtime in North Idaho!
• • •
Happy birthday today to Sharon Stevenson, Terri McTavish, Dan Powers, Sharon Wagner, Kelli Hawkins, John Negaard, Jamie Dallas and Gail Osterson. Tomorrow, Bruce Hough, Caitlin Hodl and Tyler Bush ring in another year. On Friday, Carrie Gridley Shenfield, Katie Keane, Mary Epstein, Melaine Spalding and Eli Gonzales blow out the candles. Amy Bartoo, Wilma Higgins, Pat Hughes, Greg Prado, Kevin Kram, Veldon Lee and Shanna Riske will put on their party hats Saturday. Nicole Medlock, Jodi McKenzie, Kimber Gates, John Hays, Caleb Peck, Carol Graham, Joan Nowoj-Phelps, Cynthia Taggart and Tom Messina mark the anniversary of their birth on Sunday. Dianna Scott, Sandra Borg, Darin McEvers, Sharon Finnerty, Kathryn Rosia and Nancy Benjamin do the birthday dance on Monday. Lonna Duncan, Idella Mansfield, Karen Zande, Doreen Johnson, Karen Reagan and DiAnna Macklin are April 11 birthday girls.
• • •
Kerri Rankin Thoreson is a member of the National Society of Newspaper Columnists and the former publisher of the Post Falls Tribune. Main Street appears every Wednesday in The Press and Kerri can be contacted on Facebook or via email mainstreet@cdapress.com. Follow her on Twitter @kerrithoreson.
Recent Headlines
---