Get ready to enjoy April
by
ELAINE CERNY/My Garden Path
|
April 2, 2023 1:00 AM
As Saturday was April Fools' Day, I hope they didn't "get" you! Otherwise, happy April!
I don't know what's going on with the Ponderosa pine trees, but they're dropping cones by the hundreds. They make great Christmas wreaths, but it's a little late for that.
I see lots of new growth popping up here and there. We'll soon have scads of tulips, crocus and other spring beauties. After this long, snowy winter, these will be very welcome. That snow ceased to be all that pretty by about January.
As it's still too early to do much in the way of planting, you can always use that extra energy to clean up the yard. Most of us have dead leaves everywhere, not to mention those of us with all those beloved pine needles. Time spent with a rake on a few nice days will make a world of difference.
Resist the urge to trim back those rose bushes. Pruning a plant tells it to produce some tender new growth. If the cold weather is still hanging around, this growth may get hit hard and it could kill the plant. Try to wait until the end of April.
A job that you can do now is to trim back those hardy perennials. If they've outgrown their space, dig them up and divide them. Replant what fits the spot and put the cut-off part elsewhere or give it away.
It's almost time for the hummingbirds to get here. April 15 is their usual arrival time. If you enjoy seeing them in your yard, be sure to fix up a feeder for them and hang it out by mid-month. Don't bother with buying food for them as it's easy and inexpensive to make. Add a fourth of a cup of sugar to a cup of boiling water. Stir to dissolve and pour into your feeder. Hang in a spot you can see from a handy window and you're all set. You'll be glad you did!
I'll leave you with these words of advice: "Give a weed an inch and it will take a yard."
• • •
Elaine Cerny has gardened most of her life, starting in 4-H. She has belonged to garden clubs in three states and is currently an active member of the River City Gardeners Club in Post Falls. Her column has appeared in The Press every other Sunday from early March until late October for the past 15 years.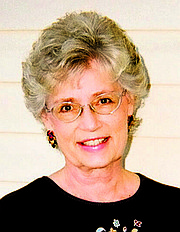 Recent Headlines
---