PREP ROUNDUP: West fires 65 as Coeur d'Alene boys win at Idaho Club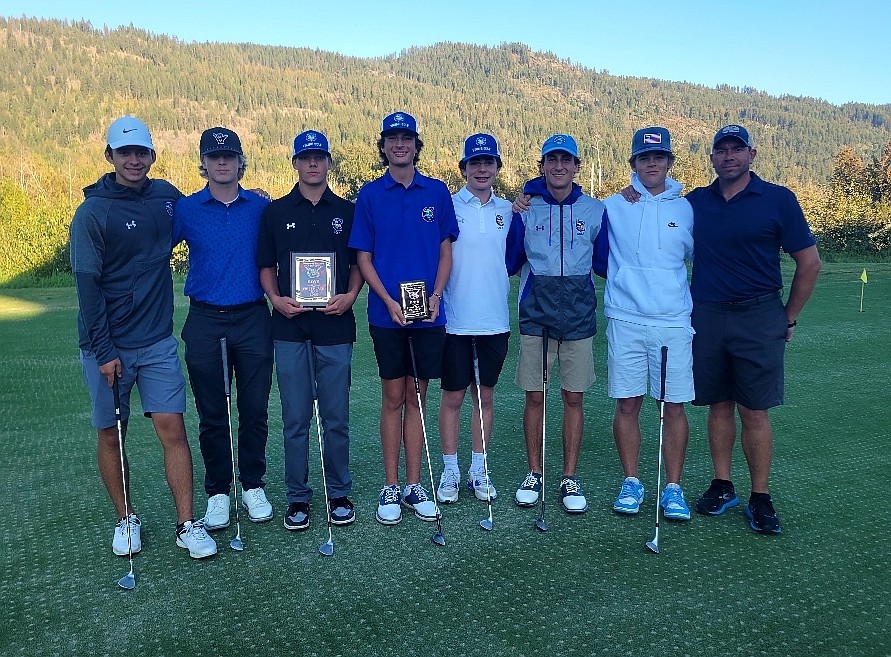 Courtesy photo Coeur d'Alene's boys golf team won the Sandpoint Invitational on Monday at The Idaho Club. From left are Landon Stringham, Trey Nipp, Gavin Duvall, Luke West, Ben Crabb, Jamison Dale, Grant Potter and coach Chase Bennett.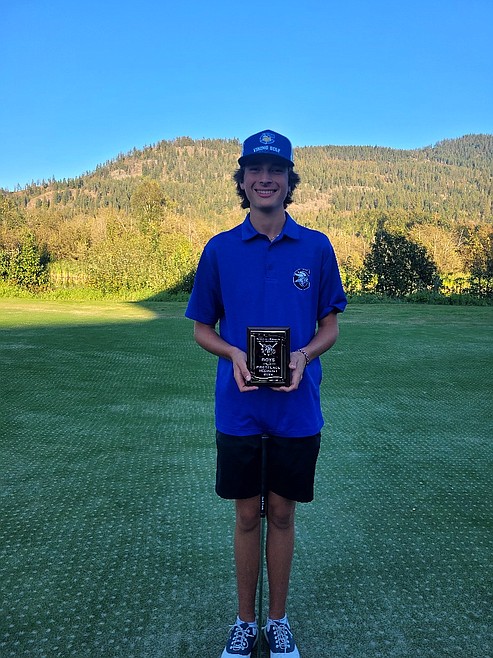 Courtesy photo Luke West of Coeur d'Alene shot a 6-under-par 65 to earn medalist honors at the Sandpoint Invitational on Monday at The Idaho Club.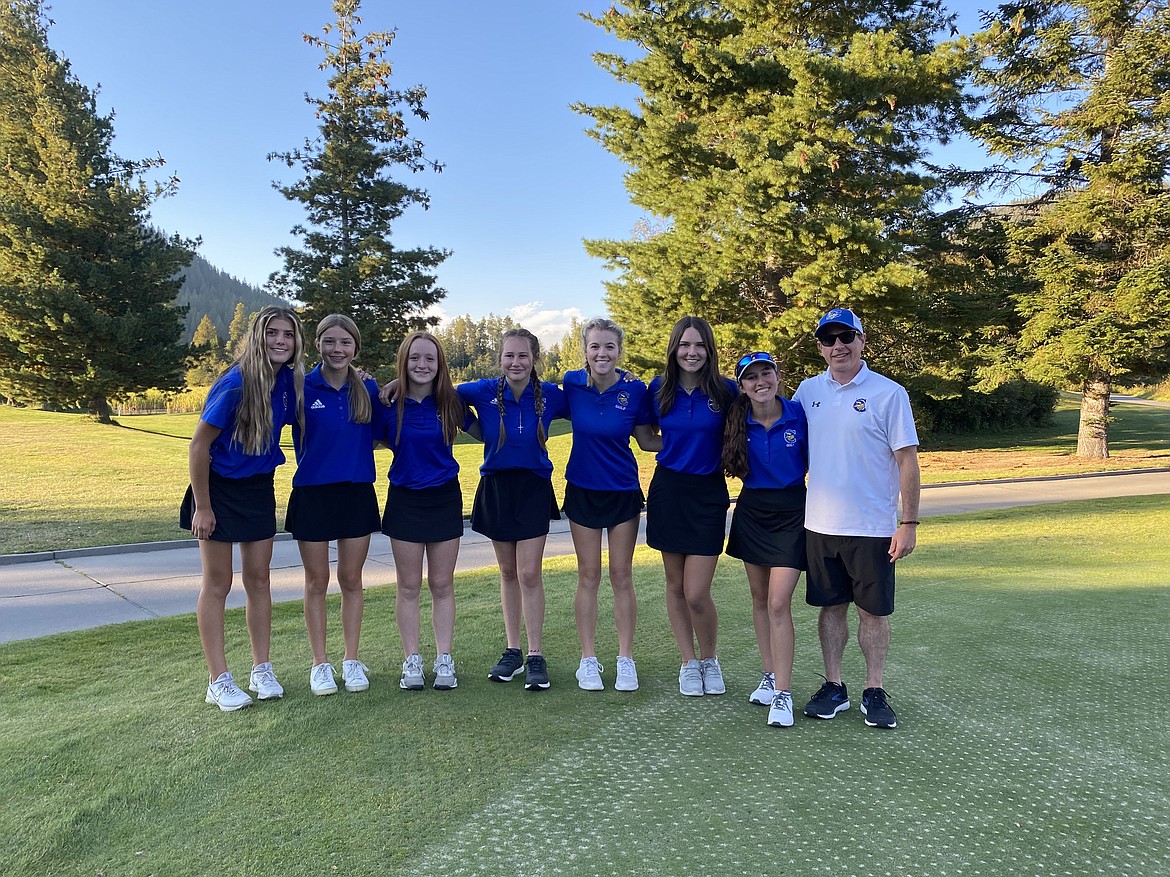 Courtesy photo Coeur d'Alene's girls golf team placed second at the Sandpoint Invitational on Monday at The Idaho Club. From left are Sophia Vignale, Stella Deitz, Mady Rily, Addie Garcia, Taylor Potter, Peyton Blood, Hayden Crenshaw and coach Jeff Lake.
Previous
Next
|
September 27, 2022 1:15 AM
• GOLF
SANDPOINT — Luke West shot a 6-under-par 65 on Monday to earn medalist honors and lead Coeur d'Alene to the team title at the Sandpoint Invitational at The Idaho Club.
Coeur d'Alene shot 293, 27 strokes ahead of second-place Lewiston.
The tourney was the final one of the regular season. The 5A Region 1 tournament is Thursday at The Links in Post Falls, and the 4A Region 1 tourney is Thursday at The Idaho Club.
"We are turning it on at the right time," Coeur d'Alene coach Chase Bennett said. "Luke has really stepped up his game when it matters. The rest of the guys have figured out what it takes to conquer the course and win."
In the girls tournament, Coeur d'Alene shot 377 and finished second, 27 strokes behind Sandpoint. Audrey Sheffler of Sandpoint was medalist with an 83.
"The Idaho Club is a really tough course and the girls played extremely well considering the course layout and setup was pretty difficult today," Coeur d'Alene girls coach Jeff Lake said.
BOYS
TEAM SCORES — 1, Coeur d'Alene 293. 2, Lewiston 320. 3, Moscow 356. 4, Sandpoint 358. 5, Lakeland 360. 6, Post Falls 406.
MEDALIST — Luke West, Coeur d'Alene, 65.
COEUR d'ALENE — Grant Potter 79, Luke West 65, Trey Nipp 74, Jamison Dale 77, Landon Stringham 77.
LEWISTON — Carson King 79, Tiegen Knewbow 79, Noah Acord 86, Cody Ray 82, Christian Reed 80.
MOSCOW — Chase Lovell 88, Paxton Dorigo 93, Gage Schlueter 91, Luke Zimmer 96, Isaac Harmon 84.
SANDPOINT — Joey Aexel 89, Jake Samuels 81, Rusty Lee 95, Austin Dillon 93, Micah Young 102.
LAKELAND — Brady Hanna 84, Tristan Chamness 85, Garrett Love 92, Isaac Fritts 99, Erik Briske 104.
POST FALLS — Brodyn Compton 83, Gavin Rodriguez 105, Kellen Odd 101, Cadence Warren DNF, Noah Kent 117.
GIRLS
TEAM SCORES — 1, Sandpoint 350. 2, Coeur d'Alene 377. 3, Lewiston 382. 4, Post Falls 435. 5, Moscow 466. 6, Lakeland 508.
MEDALIST — Audrey Sheffler, Sandpoint, 83.
SANDPOINT — Alexa Tuinstra 87, Demi Driggs 95, Taylor Mire 85, Audrey Sheffler 83, Reagan Samuels 96.
COEUR d'ALENE — Taylor Potter 94, Peyton Blood 93, Mady Rily 98, Sophia Vignale 92, Stella Deitz 99.
LEWISTON — Mollie Seibly 92, Abbigail Tellez 93, Julia Brume 90, Avery Martin 114, Lexie Casey 105.
POST FALLS — Hannah Conijn 104, Chloe Monette 100, Audry Byrd 121, Peyton Tritt 117, Clair Gordon 114.
MOSCOW — Myah Parsons 102, Hayes Brown 113, Addison Raney 128, Alexa Lambert 123.
LAKELAND — Karsyn Miller 121, Jessica Thompson 132, Emma Marshall 132, Makayla Schranck 123.
• VOLLEYBALL
Post Falls d.
Lewis and Clark
POST FALLS — Coming off six matches in two days over the weekend, the Trojans began a stretch of four matches in three nights with a 20-25, 25-18, 25-18, 25-14 victory over the Tigers of the Greater Spokane League on senior night at The Arena.
Kylie Munday had 20 kills, 15 assists and three aces for Post Falls (19-4). Kaelyn Nagel, one of four seniors honored, had 17 assists, Jenna Sarff nine kills, Vanessa Kison seven aces, Sam Anderson four blocks, senior Shauna Cozza two blocks.
"We got to celebrate our wonderful seniors — Kaelyn Nagel, Carleen Codd, Shauna Cozza and Piper Wasson — tonight, and to come away with a win made the night even more special," Post Falls coach Willow Hanna said.
For Lewis and Clark, Ellie DeAndre had eight kills, Lilia Nicholson 12 assists and three aces, Grace Reichard 11 digs, Hallie Brigham two blocks.
Post Falls travels to Lewiston tonight.
Deer Park d.
Timberlake
SPIRIT LAKE — The host Tigers fell to the Stags 25-13, 12-25, 25-12, 25-23 in nonleague play.
Maci Sandbank had 13 kills, six digs and an ace for Timberlake (1-11). Jozee MacArthur had 25 assists, Addison Hester two blocks.
For Deer Park, Kolbie Colliver had six kills, Delaney Newman 22 assists, Mady Ellingson two blocks, Camryn Chapman five aces, Ruby Robinson 15 digs.
Timberlake returns to action Oct. 3 at home vs. Riverside.
St. Maries JV d.
Kootenai
ST. MARIES — Callie Smith had two digs, Kaylee Lupo one kill, Keira Bohannon one assist, Tuesday Glessner one ace for the visiting Warriors in the 25-9, 25-14, 25-17 loss to the Lumberjacks junior varsity.
"I am very proud of the girls, they came together and were working as a team tonight," Kootenai coach Lacey Bohannon said. "It was nice to see them find their reason for playing volleyball again. You could see that what we have been working on in practice is clicking. There were some great saves by multiple players. As a team their passing consistency has gotten so much better."
Kootenai (0-8) travels to Clark Fork tonight.
• LATE SATURDAY
Rocky Mountain tournament
MERIDIAN — Lake City finished tied for third with Timberline in the Gold Bracket, after losing to Highland in the semifinals.
On Friday, Lake City beat Capital 25-18, 25-18, beat Fruitland 25-6, 25-11 and lost to Timberline 25-23, 25-18. On Saturday, Lake City beat Kuna 25-13, 25-8, beat Borah 25-9, 25-22, split with Wood River 20-25, 25-17, beat Centennial 25-14, 25-21 and lost to Highland 25-18, 26-24.
Ella Hosfeld had 33 kills, 82 assists and 50 digs in the tournament for Lake City (14-3). Allie Bowman had 11 aces and 109 digs, Aubrey Stennett 37 kills, 76 assists and six aces, Emberlyn Reynolds 25 kills and 14 blocks, Payton Peugh 42 kills and seven aces.
"Overall, it was an awesome weekend," Lake City coach Michelle Kleinberg said. "We played tough against some very strong competition."
Lake City travels to Coeur d'Alene on Thursday.
• BOYS SOCCER
Lake City 4
Lakeland 0
COEUR d'ALENE — Sophomore Jacob Molina scored twice and assisted on the other two goals as the host Timberwolves blanked the Hawks in Inland Empire League play.
"We started off well but we weren't very efficient in the final third," Lake City coach Kevin Jump said. "Lakeland made it difficult for us today. They gave us their best effort for the entire match. We played well; but, we were just missing something today on our final touch. We're grateful for coming out with a victory."
Lakeland (0-6 IEL) plays at Sandpoint on Wednesday.
Lake City 7-2-1, 6-1-0 IEL) is home vs. Lewiston on Saturday.
First half — 1, LC, Bryce Snow (Jacob Molina), 9:00. 2, LC, Molina (Beckham Dodge), 30:00. Second half — 3, LC, Landon Miller (Molina), 49:00. 4, LC, Molina (Aidan Stewart), 51:00.
Shots on goal — LL 5, LC 23.
Saves — LL, unknown, 16; LC, Benji Deming 5.
• GIRLS SOCCER
Lake City 11
Lakeland 1
RATHDRUM — The visiting Timberwolves scored eight times in the first 32 minutes on the Inland Empire League game at Sunrise Rotary Field to improve to 11-0-0, 8-0-0 IEL.
Lakeland (5-6-0, 1-6-0) got on the board first in the second half, in the 43rd minute.
"That's a huge feat. Sandpoint didn't score on them," Lakeland coach Kevin Rogge said. "I was happy; we played on their half more than expected; and we did have chances. They (the T-Wolves) are quick, fast and they can pass the ball. We're still building our program."
Lakeland plays host to Sandpoint on Wednesday.
Lake City returns to action Oct. 3 at Lewiston.
First half — 1, LC, Olivia Azzollini, 3:00. 2, LC, Georgia Whitehead, 6:00. 3, LC, Elliotte Kortus, 9:00. 4, LC, Whitehead, 10:00. 5, LC, MacKenzie Goings, 15:00. 6, LC, Whitehead, 19:00. 7, Reagan Cherry, 20:00. 8, LC, Aspen Boykin, 32:00. Second half — 9, LL, Evelyn Bowie (direct kick), 43:00. 10, LC, Whitehead, 54:00. 11, LC, Kortus, 59:00. 12, LC, unknown, 68:00.
Shots on goal — LC 21, LL 8.
Saves — LC, 4. LL, Malia Batman 0, Payton Sterling 10.
Cd'A Charter 8
Bonners Ferry 1
POST FALLS — Maddie Daigle and Rebekah Hines each had hat tricks as the Panthers beat the Badgers in Intermountain League play at Post Falls High.
"Rebekah and Maddie are still finding some good connections with each other and doing a good job of hitting the back of the net," Charter coach Stacy Smith said. "We were able to cycle in several players tonight and give some of our youth some on-field experience. It's always a good day to be able to do that and give a rest to some of our more experienced players that we rely on."
Coeur d'Alene Charter plays host to Priest River on Wednesday.
First half — 1, Charter, Maddie Daigle (Cadence Wilson), 8:00. 2, Charter, Rebekah Hines (Daigle), 11:00. 3, Charter, Daigle (Hines), 22:00. 4, Charter, Hines (Daigle), 26:00. Second half — 5, Charter, Hines (free kick), 44:00. 6, BF, unknown, 47:00. 7, Charter, Mira Crawford (unassisted), 55:00. 8, Charter, Alexa Sheppard (Wilson), 57:00. 9, Charter, Daigle (Wilson), 64:00.
Shots on goal — BF 5, Charter 15.
Saves — BF, unknown, 7; Charter, Adysen Robinson 4.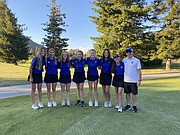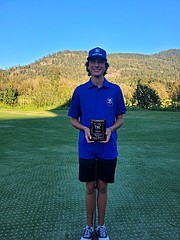 Recent Headlines
---