Vandals open Big Sky play with win
|
September 25, 2022 1:30 AM
From local reports, wire and news services
FLAGSTAFF, Ariz. — Roshaun Johnson ran for 85 yards and two touchdowns in his return to his home state, Gevani McCoy was 18 of 20 for 184 yards and another touchdown and the Idaho defense shut out Northern Arizona in the second half, holding the Lumberjacks to just 184 yards of offense as the Vandals topped the Lumberjacks 27-10 in the Big Sky Conference opener Saturday before 7,022 at the Walkup Skydome.
It marked only the third victory in 16 Big Sky road games for Idaho since the Vandals returned to the conference in 2018. It was the first time (other than the COVID-shortened spring 2021 season) that Idaho won its Big Sky opener.
The Vandal (2-2) offense clicked from the first possession, driving 75 yards over 13 plays before Johnson capped the drive with a 3-yard touchdown run for a 7-0 lead.
NAU (1-3) responded with a 13-play, 75-yard drive of its own to knot the game at 7-7 late in the first quarter. After that drive, Idaho held NAU to just 109 yards of offense for the remaining three-plus quarters of the game.
Idaho added a 24-yard field goal by Ricardo Chavez to retake the lead 10-7 early in the second quarter.
The Vandals drove 88 yards on 11 plays, capped by a 2-yard touchdown pass from McCoy to Connor Whitney to extend the lead to 17-7 with 3:08 to play in the first half. NAU hit a 47-yard field goal at the end of the first half to cut the lead to 17-10.
Idaho held NAU to 33 yards on 26 plays in the second half and the Lumberjacks never threatened to score after the break.
Chavez added a 35-yard field goal in the third quarter to extend the lead to 20-10 and Johnson capped his day with a 9-yard touchdown run with 11:15 remaining.
Idaho controlled the clock for 41:28 and racked up 24 first downs and 399 yards of offense. McCoy had just two incompletions while finding four different receivers for at least four catches each.
Johnson, from Goodyear, Ariz., carried the ball 25 times for 85 yards and two scores, and Anthony Woods tallied 84 yards on 18 carries. McCoy also had four carries for 22 yards.
Jermaine Jackson caught five passes for 96 yards for Idaho. Michael Graves tallied five catches for 50 yards and made a key block on Johnson's second touchdown. Hayden Hatten caught five receptions for 49 yards and had one pass to Jackson for 30 yards.
Tommy McCormick had seven tackles and an interception for the Vandals, and Fa'Avae Fa'Avae again led the team with eight tackles. Ben Bertram had four tackles and two TFLs for his first start and Juliano Falaniko tallied a sack, three tackles and a QB hurry.
RJ Martinez threw one touchdown and one interception for Northern Arizona. He was 15-of-34 passing for 127 yards.
Idaho hosts Northern Colorado this Saturday at 6 p.m. at the Kibbie Dome in its homecoming game. Northern Colorado is 2-2 after a 35-14 win over winless Idaho State.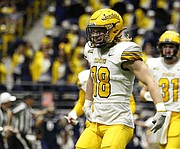 Recent Headlines
---