HUCKLEBERRIES: To err is inevitable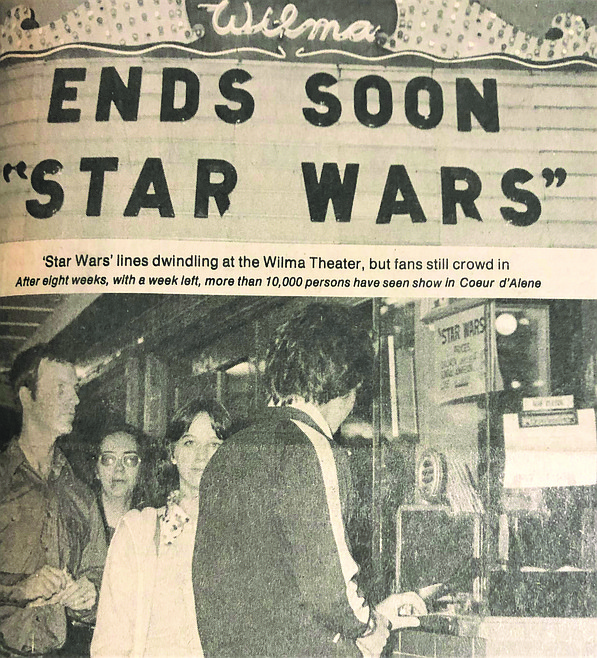 Fans line up for showing of "Star Wars: A New Hope" at the Wilma.
|
September 25, 2022 1:00 AM
Zach Hagadone and I have each offed a prominent person prematurely.
"One time, I declared Idaho Rep. Helen Chenoweth dead before she actually died (but only by three years)," confesses Zach, editor of the Sandpoint Reader.
And moi?
I dispatched Lady Bird Johnson years before she departed this mortal coil. I didn't actually say that the former First Lady had died. But I did refer to her as "the late" Lady Bird Johnson.
All journalists err. And readers trumpet our mistakes when we do.
"Once a paper hits the streets, our mistakes look about as inconspicuous as a pimple on the nose of a prom queen," former Press editor Doug Clark once said. "To be a journalist is to learn to live with the worst kind of embarrassment."
No matter how we try, Clark added in a 1982 column, "the sad immutable truth" is that "a percentage of errors will slip past editors and proofreaders and end up lining a bird cage with yesterday's news."
With that disclaimer out of the way, let's get back to Zach.
On his Facebook page, he said his Mother of All Media Bloopers happened when he was a 22-year-old Associated Press staffer in Boise: "The big one was when I transmitted the wrong lottery numbers to every paper, radio station, and TV news program in the state."
That's a good one. Now, my turn.
I once spent a day with a local city clerk, compiling info for a feature story about her small town – and then got her surname wrong throughout the ensuing article.
And I made a huge error in judgment as a sports editor at the beginning of my career by writing a column slamming the high school spring sports banquet as "too long" and "too boring." The sports-crazy town and my publisher went nuts. I saved my job by eating crow in a follow-up column.
Let's give Zach the last word.
Early this month, after 20-plus years in the news biz, he made a spelling error that haunts him.
"This week, at age 41 (going on 42 this month), he writes, "I spelled 'Tolkien' wrong in a headline and copy. Multiple times. With my byline. Even editors (especially) need editors, and they never get editors. Somehow, this error feels worse than all the others."
I'm not going to throw the first stone here. Obviously, I'm not without sin when it comes to newspaper miscues. Truth be told, I Googled "Tolkien" to ensure that I spelled it correctly here.
As the Crows Fly
When we last checked in with Gordon Crow, he was a former Idaho state senator headed to Minnesota to handle government affairs for Schwan's Food Services. And he was a Lutheran. Now, he's retired and a Roman Catholic convert.
He and wife, Sandy, a former aide to Kootenai County commissioners, now travel the country in an RV, producing YouTube videos about Catholic parishes. Gordon calls his channel, "MassTransit." The goal of MassTransit, Gordon tells Huckleberries, is "to show the beauty of the Catholic Church by showing the beauty of parishes found in the beauty of parishioners."
One of the architects of Idaho welfare reform, Republican Gordon served six years in the Idaho Senate representing Coeur d'Alene, Dalton Gardens, and Hayden.
In 2000, he didn't seek re-election. From 2001 until 2008, he worked for Schwan's. Then, he managed chambers of commerce in Wyoming and Louisiana, led a medical foundation in Minnesota, and ran an economic development outfit in Wisconsin.
After retiring this June, Gordon launched MassTransit. His wife warmed to the idea of RV life slowly. Finally, Sandy figured they'd moved so many times that "we might as well keep moving." The Crows plan to settle in Texas. And produce MassTransit videos about the Boise diocese next spring.
Don't Be Uncivilized
Never serve wine in a plastic cup. Ever. Or at least never ever serve it that way while Daniella Cross is around. Tongue firmly cheeked, she considers such a faux pas to be blasphemy.
While browsing her social media feeds last week, Daniella spotted a photo of a rich woman committing the unforgiveable sin.
Daniella tells Huckleberries that serving a wine in a plastic cup doesn't change the taste of the wine. But it does change the experience. She compares it to inviting guests over for a steak dinner and then serving the delicious meat on a paper plate with plastic utensils. "A plastic knife cutting into, even the most tender of loins, tearing into a paper plate, lacks the cultured experience of feeling that knife gliding against porcelain," Daniella said.
She doesn't begrudge anyone who, due to circumstance or cost, can't afford proper wine glassware. "However," she said, "the experience of holding that delicate glass, swirling it and watching the legs form, will make even the least expensive box wine taste better."
Huckleberries
· Poet's Corner: If you happen upon one while you are out,/walk slowly away, but don't panic or shout;/take no backward glance as it waits on the loam --/and just hope that the thing doesn't follow you home – The Bard of Sherman Avenue ("How to Handle a Stray Zucchini").
· Bumpersticker (on a white BMW with Shoshone plates spotted by Anna Heisey of Coeur d'Alene at H95 & Appleway: "I Speed Because I Have to Poop."
· By late September 1977, the original "Star Wars" had ended the eighth of its nine-week run at the old Wilma. A record 10,000-plus fans had seen the movie described by Press staffer Robert Jones as a cross between Flash Gordon in the 1930s and the "Made in Japan" outer space monsters of the 1950s. Jones wrote that "Star Wars" had given the public something it wanted: "Fantasy, escape, and maybe even hope." And 45 years of entertaining sequels and spinoffs.
· Bumpersnicker (on a green Honda CR-V with an accompanying K27 sticker behind the Coeur d'Alene Library): "Loving Kindness Is My Religion."
· Fifty years ago (Sept. 13, 1972), a somber Press headline greeted the town: "Cd'A Man Missing in Vietnam era." Mr. and Mrs. Roy McMurray, the story said, had been told that their son, Fred, was last seen ejecting from his plane and an extensive search was underway. We know the rest of the story now. The warrior survived captivity, came home, and still lives among us. Hurrah.
Parting Shot
You May Be A Newcomer If … you think The Coeur d'Alene Resort floating green has always been there. But you'd be wrong. Of course. Thirty-five years ago (Sept. 23, 1987), Duane Hagadone appeared before the Idaho Land Board to lobby for the one-of-its-kind green. He predicted that it would be the most photographed spot in Idaho. But he also worried that enviros would try to mess things up. Ultimately, then governor Cecil Andrus brokered a deal that gave Duane his floating green in exchange for public access to the eastern end of Sanders Beach. And everyone lived happily ever after.
D.F. (Dave) Oliveria can be contacted at dfo@cdapress.com.
Recent Headlines
---