'Field of memories and dreams'
by
BILL BULEY
Staff Writer
|
September 23, 2022 1:09 AM
COEUR d'ALENE — When Sandy Emerson told Charlie Nipp to meet him at Memorial Field, he didn't say why.
Just be there, Emerson said.
So Nipp and his wife, Susan, did as instructed and after church last Sunday, they met Sandy and his wife, Jeanne.
They walked around and admired the stands, the field, the dugout and recalled the days when both men played ball there.
"It was fun to talk about how nice it was," Sandy Emerson said.
But that wasn't the reason for this encounter.
Sandy guided them over to the 'Rock of Fame.' The handful of names on the wall are among the finest to ever call Coeur d'Alene home. There's Arnold "Red" Halpern, Dr. Ted Fox, Art Manley, Lee Shellman, John Schwandt, Ladd Livingston, Dr. Robert J. Eagan, Hugh and Betty Neuman, Ken Roberge and Ron Edinger.
As they read them, Emerson said, "Oh, there's another name."
Charlie Nipp.
It was there, second row, one up from the bottom, between Karen Haskew and Scott Reed.
Nipp nodded.
"I'd heard about that," he said.
While some might enjoy such recognition, not Nipp. His style is more unassuming and soft-spoken.
"He was modest," is how Emerson put it.
In his letter to the city nominating Nipp for the Rock of Fame, Emerson wrote, in part:
"From the very beginning and for over 60 years now, Charlie Nipp has not only been a participant but also a city parks and rec employee with a family legacy but is a product of the Coeur d'Alene Parks Department. He has been giving back since returning with his family in the early '70s. His work and efforts have supported and improved youth athletic programs and even have enhanced the physical character of city parks. He exemplifies the positive nature of the city's Parks and Recreation Department and its programs."
Nipp, who grew up in Coeur d'Alene and played basketball and baseball at Coeur d'Alene High, is today an owner of Parkwood Business Properties, which develops and manages commercial real estate.
He returned to Memorial Field for a conversation with The Press about his name joining 14 others on the Rock of Fame.
"It's an incredible honor," he said. "Look at all the marvelous names there. Being part of that history is really significant for me just because of the deep roots here."
The statement on the Rock of Fame says this: "Thank you to these noteworthy citizens for their many contributions and the countless hours they have devoted to our parks and recreational activities."
Nipp's name, along with Doug Eastwood and Steve Anthony, was actually engraved on the wall more than a year ago and there was supposed to be a recognition ceremony. Due to COVID, it never happened, so Emerson decided on his own it was time to show his good friend.
Sitting in the grandstands that were restored a few years ago, Nipp glanced around on a sunny day toward the green grass and the infield dirt. He loves this field. He can still hear, see and even smell those days when he was a kid playing baseball.
"These are memories and dreams of every kid that grew up in Coeur d'Alene," he said. "Typically, most of us had a couple pairs of jeans, a sweatshirt and a bike. And here's where we came to play, to socialize, to enjoy life."
This is where his father, Rhinehard, and his uncle played ball. This is where Charlie Nipp played ball, too. He was a good athlete. The 1962 Coeur d'Alene High team, with Nipp at shortstop, won a state championship. And he played on the 1963 championship basketball team coached by the legendary Elmer Jordan.
"A great coach, a great mentor," said Nipp, who went on to play baseball and basketball at Whitworth College.
Nipp shows a few black-and-white pictures of himself and other kids, some six and seven decades ago. One is a group of smiling, laughing boys, the peewee champs of 1954. Nipp, who played shortstop, is among them.
Another year, Pepsi-Cola was his team's sponsor.
"After every game, we would get on our bikes and ride down on Sherman Avenue, and the Pepsi-Cola Bottling plant was on 11th and Sherman. So we'd go in there and they'd give us a free Coke," he said, smiling.
It was a glorious time and place to be a kid.
"You could play a game here, get your bike, go down and take a swim," Nipp said. "From there, you could go to Playland Pier if you wanted to."
But there were tough times, too.
When Nipp was a junior in high school in 1962, his father died in an accident while working for the street department.
While it shook Charlie, he was not alone.
"It was amazing how the community surrounded my family," Nipp recalled.
The next spring, Red Halpern, the city's parks and recreation supervisor, knocked on the door where Nipp lived, 730 Government Way.
"You probably need a job," he said to the teenager.
Nipp would spend about five years working for the city of Coeur d'Alene under Halpern, even returning during his summers from college. A primary role was caring for Memorial Field, dragging the field and preparing the lines.
"It was very dusty. We would hand-water it — there was no grass," he said.
Halpern made a lasting impression.
"He believed deeply in recreation, meaning everybody participated. Everybody had an opportunity to play," Nipp said.
After graduating from college, Nipp taught and coached baseball and basketball at Lake Oswego, Ore., for about 10 years before he and Susan returned to Coeur d'Alene.
He began a successful business career and they raised a family.
"We wanted our kids to experience what all of us experienced," he said.
Nipp went on to coach and sponsor teams in the city parks department programs and volunteered on boards and associations. He still contributes in many ways to the city.
He loves knowing the public can walk, bike or run for miles along Coeur d'Alene's waterfront, passing the Spokane River, Tubbs Hill and City Beach.
"Think of this. Where else can you do that? We're just blessed in many ways," he said.
And yes, Nipp still drops by Memorial Field and watches games.
And he remembers.
"It really is a field of memories and dreams for a lot of kids," he said.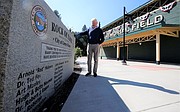 Recent Headlines
---