Lake City point guard Mitchell verbally commits to Idaho State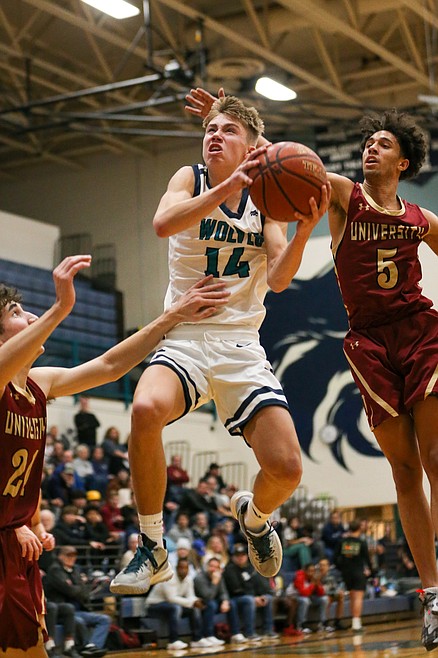 JASON DUCHOW PHOTOGRAPHY Lake City High senior Kolton Mitchell, who recently gave a verbal commitment to play at Idaho State in 2023, drives to the basket against University High of Spokane last season.
|
September 21, 2022 11:30 AM
By MARK NELKE
Sports editor
In recruiting, go where you're wanted, they say.
Idaho State wanted Kolton Mitchell first, and wanted him the most.
And last week, the Lake City High senior point guard verbally committed to play for the Bengals, beginning in 2023.
"I really like the coaching staff," Mitchell told The Press. "They've been the first school to be on me; they started recruiting me last spring (in 2021). And they offered me pretty quickly (in July before his junior year), so I had lots of time to think about it.
"I was waiting to see if other schools would reach out, but no one else was as pushing as they were.
"They wanted me from the very beginning; they wanted me to be the guy for their class, be their point guard — hopefully right when I get there, but we'll see. I've got to earn that."
Idaho State head coach Ryan Looney, a Central Valley High grad and a former assistant at North Idaho College, was the Bengals' lead recruiter on Mitchell.
"I really connected with the coaching staff," the 6-foot-1, 155-pound Mitchell said. "They really like me. I want to go where I'm most wanted."
A three-year starter at Lake City, Mitchell averaged 17.5 points and 4.2 assists per game last year as a junior, and shot 37 percent (59 of 158) from 3-point range.
For his T-Wolf career, Mitchell has 1,160 points, has hit 155 of 394 3s (39.3 percent) and has totaled 276 assists.
Mitchell was first team all-Idaho as a junior, and second team as a sophomore. He was MVP of the 5A Inland Empire League last year, co-Player of the Year as a sophomore, and all-league as a freshman.
Mitchell had preferred walk-on offers from Utah Tech (formerly Dixie State) and Colgate.
"Most schools wanted to see me play in the winter, but with the transfer portal and COVID and everything, it was a lot harder for me to get recruited as a small point guard," Mitchell said, noting some schools prefer a plug-and-play 21-year-old point guard to an 18-year-old just out of high school that they have to develop.
Looney is heading into his fourth season at Idaho State. He is 28-56 overall at ISU, with a best of 13-11 in the 2020-21 season.
"I think their program's on the up," Mitchell said. "They've got 10 new guys, lots of transfers that should be real good so they should have a good year, and I'm excited to be a part of that next year."
In preparation for this season and beyond, the slender Mitchell said he's been working on putting on more muscle.
"I've been trying hard this offseason to get stronger, get a little faster, jump higher, increase my vertical and stuff," he said. "And then make sure I knock down all the open 3s and stuff."
Mitchell said he weighed the pros and cons of committing now vs. seeing what other offers might come in during the upcoming season.
"I could roll the dice and maybe go somewhere bigger, and not have the chance to play for a couple of years, but talking to Looney, I thought it was the right fit for me," Mitchell said. "They really like me. They told me all the time, they want me to be their guy, they want me the most. So, hearing that over and over again, it's hard to pass up."
Recent Headlines
---