Huckleberries: 'One Day House' one for record books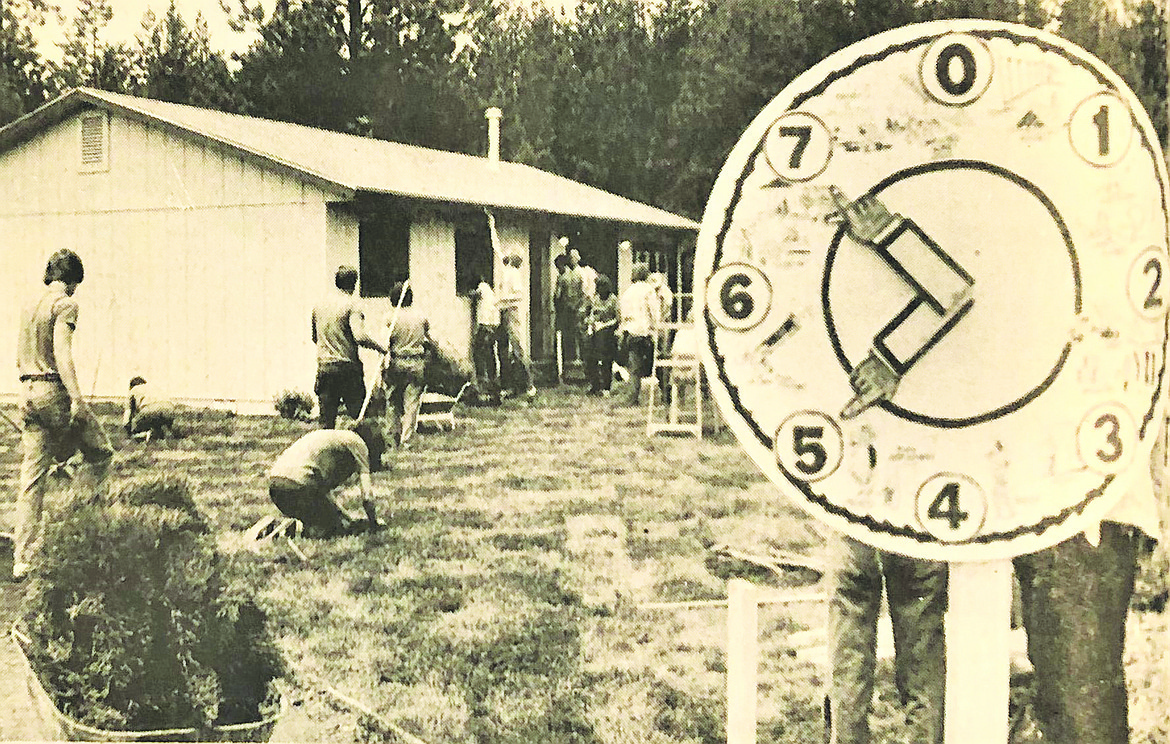 A clock keeps track of time for the "One Day House" effort.
by
DAVE OLIVERIA/Huckleberries
|
September 18, 2022 1:00 AM
For decades, the North Idaho Building Contractors Association has called it the "One Day House."
But the 307 volunteer builders and subcontractors who met in Post Falls on July 7, 1982, needed only 6 hours, 55 minutes, and 23 seconds to build the three-bedroom, ranch-style house – not 24 hours.
"It was a depressing time in the home-building industry," recalls Evalyn Adams, the group's executive officer at the time and a future county commissioner. "Interest rates were sky-high (18 percent). The industry was really in the dumps. We wanted to turn a negative atmosphere into something hopeful."
The speedy result was recognized by the Guinness Book of World Records, although it has since been eclipsed. ABC News radio host Paul Harvey did a live onsite broadcast for his national audience. And the national "That's Incredible" TV show filmed the miracle.
The idea for the One Day House was sketched out on a napkin by Al "Bub" Bowen and Mike Hughes at the state home builders convention the year before in Boise. They had heard guys from the rival Boise association brag about building a house in a month to raise money. And they knew they could do better.
After working out the details the local builders made Richard and Mindy Galbraith an offer they couldn't refuse – a 960-square-foot house for only $39,500 (with financing below prime rate). The package came with a 10-year guarantee and also included landscaping, carpeting, oak cabinets, appliances, a finished garage, and decorative window blinds.
Work began at 8 a.m. that Wednesday and ended a few minutes before 3 p.m., 1½ hours ahead of schedule. Construction subgroups wore T-shirts of different colors for tracking purposes, to get them in and out of the house when their part of the work was complete.
A joyful crowd of 2,000 roared its approval when Post Falls building inspector John Miller emerged from the house with a smile and deemed it fit for occupancy.
Then, the Coeur d'Alene Press reports, another shout went up as Mindy Galbraith turned the key on the front door and entered her house. And yet another cheer greeted the moving van that pulled into position to unload the lucky couple's household goods.
And the crowd erupted one last time when a catering van from the North Shore Resort appeared "and tuxedo-clad waiters marched ceremoniously into the home with a champaign dinner."
The activities ended with the Galbraiths enjoying their meal and smoke curling from their new chimney.
Flashback: Fish Inn
You May Be a CDA Old-Timer if … you recall the Fish Inn near Wolf Lodge Bay.
Here's how journalist Jeff Sher once described it: "Coming west from the Silver Valley, a motorist knew Coeur d'Alene was near at hand when the Fish Inn rose into view. There it was beside the road: 93 feet of powerful predator, painted like a rainbow trout, jaws open wide, waiting to suck in the unsuspecting traveler."
In its heyday, Sher continues, the Fish Inn was known for its trout dinners and ice cream cones. It once was named by America Road & Track magazine as one of the country's best road bars. Why am I telling you all this?
Fifty-five years ago (Sept. 16, 1967), Mr. and Mrs. Kenneth R. West,o sold the place to "newcomer" L.T. Kressley from South Dakota for about $50,000. The realignment of Highway 10 (Interstate 90) almost killed the business after that.
In the end, on Feb. 17, 1996, an early-morning fire fried the Fish Inn.
Fan Mail
In last week's Huckleberries, I told you of Christie Wood's decision 10 years ago to change her political party from Republican to Unaffiliated. She was frustrated with the ever-rightward lurch of the local GOP. Well, she returned to the fold, sorta. In an email, Christie writes: "Because (current GOP leader) Brent Regan declared war on school districts, the college, the cities, library boards, etc., in order to make them all partisan, I changed my affiliation last spring back to Republican. They changed the rules on common sense, not me. I am not willing to sit out with no voting opportunity for local races." Hmm. I don't think Christie will be following the, ahem, carefully vetted candidate endorsements from the KCRCC.
Huckleberries
· Poet's Corner: In spring the grass grows night and day,/unceasing in its ancient way;/some time beneath it I'll lie meekly --/until that day I must mow weekly – The Bard of Sherman Avenue ("The Philosopher Contemplates His Lawn.")
· Overheard: A mother and young daughter were shopping in the grocery section of Hayden Walmart when a baby started wailing an aisle away. Mom then said to Cute Daughter: "What's that sound like?" Cute Kid: "Something from Jurassic Park."
· Sixty years ago (Sept. 15, 1962), Father Thomas J. Lahey announced the boundaries for the new Catholic parish, everything north of Harrison Avenue. And the name of the parish: St. Pius X.
· Did you know that Queen Elizabeth once honored a CDA native for overseeing construction of the Channel Tunnel between England and France? In 1996, the queen awarded the Order of British Empire (OBE) to the late Jack Lemley, a world-class engineer and manager. Jack was born here in 1935 and graduated with the CHS class of 1953. Hat Tip to Betty Stone for the reminder.
· On a recent bike ride, I dodged three vehicles, two of which rolled through stop signs and the third of which cut a corner. I also spied three in-your-face bumperstickers: "Don't Be an A—hole," "Don't pretend your racism is patriotism," and "(Eff) Biden." Be careful out there.
· Bumpersnicker (in the Hayden Walmart lot Tuesday): "Idaho's Full, Californians go home."
· Quotable Quote from photojournalist Kai Eiselein of Moscow: "Well, if nothing else, the past few days have given me an idea of what it's like to be a rack of ribs in a smoker."
Parting Shot
On Sept. 16, 1977, the Environmental Protection Agency added the description "sole-source" to the Rathdrum Aquifer. In other words, the aquifer is our "sole" or "principal" source of drinking water. State senator Art Manley said at the time he wasn't surprised by the designation, stating "No one can deny that increased population will affect the quality of the aquifer water." That was 45 years ago. Our current crazy growth seems infinite. But the quality water of our aquifer isn't.
D.F. Oliveria can be contacted at dfo@cdapress.com.
Recent Headlines
---