PREP FOOTBALL: Just enough: Coeur d'Alene holds off Lakeland in hard-fought nonleague showdown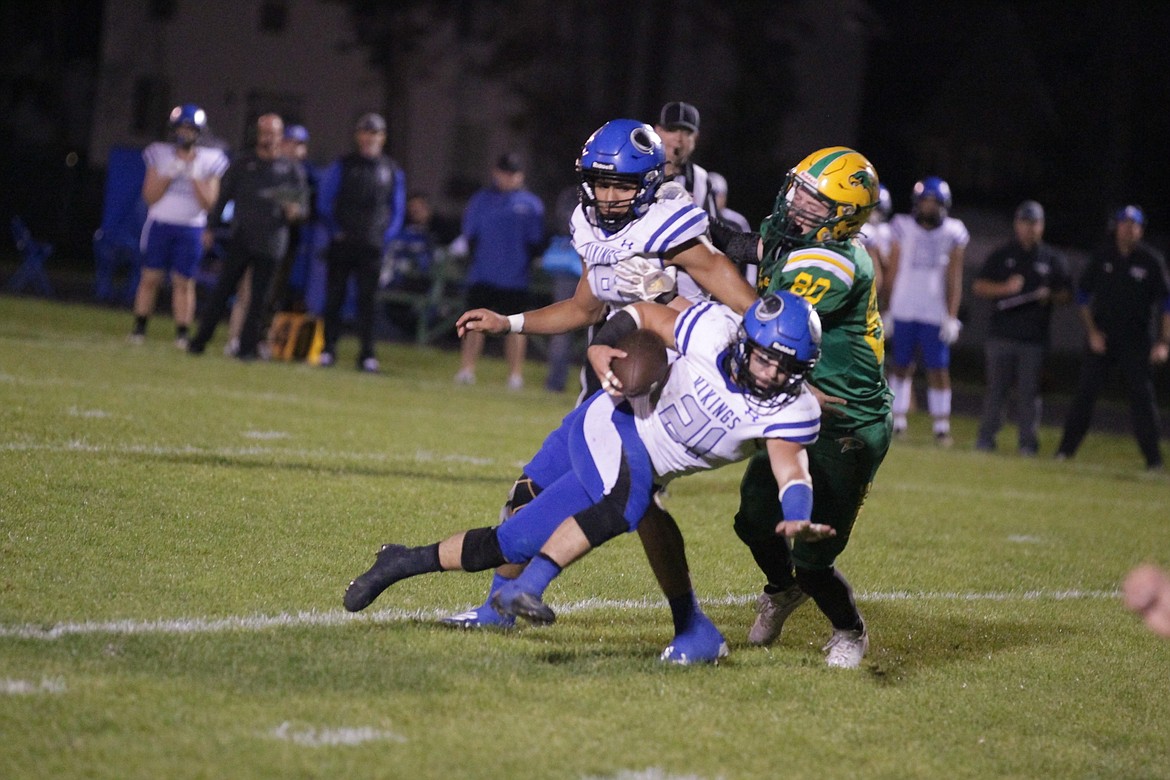 JASON ELLIOTT/Press Coeur d'Alene senior running back Maddix Maciosek tries to remain on his feet for a gain in the fourth quarter of Friday's game against Lakeland at Corbit Field in Rathdrum.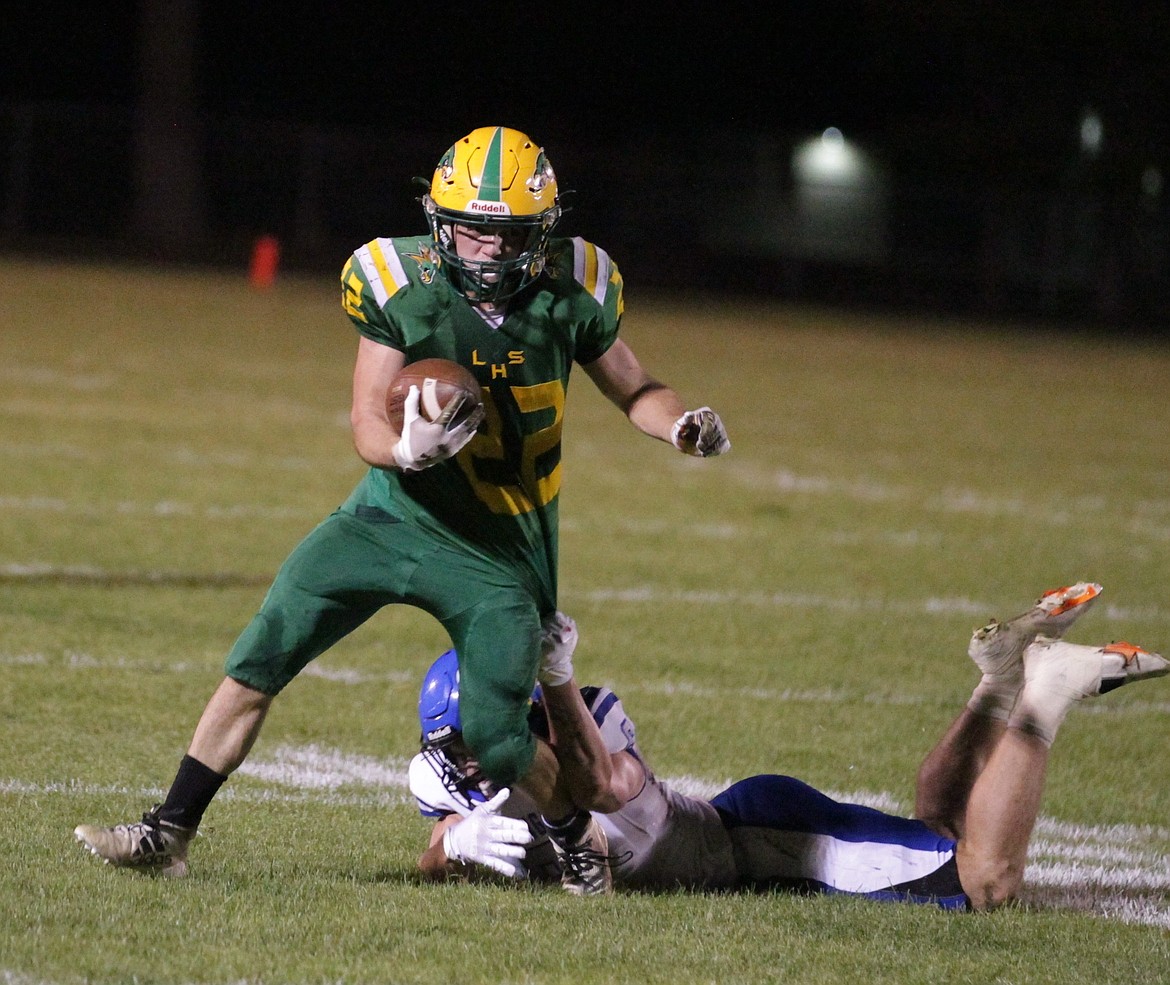 JASON ELLIOTT/Press Lakeland senior running back John Cornish tries to extend his run through the grasp of Coeur d'Alene senior linebacker Brandon Whitby during the third quarter of Friday's game in Rathdrum.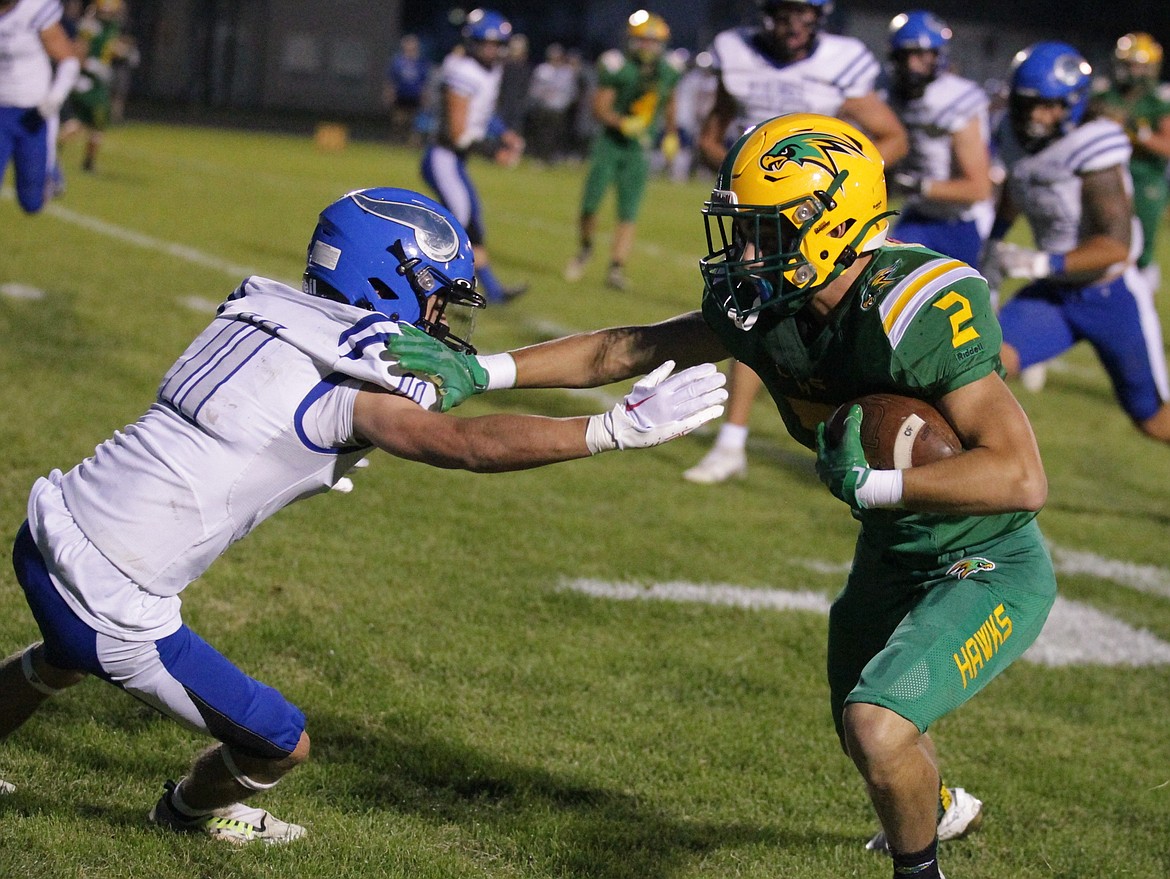 JASON ELLIOTT/Press Lakeland sophomore wide receiver Ezra Benson fights off the tackle of Coeur d'Alene senior defensive back John Haynes during the first quarter of Friday's game in Rathdrum.
Previous
Next
|
September 17, 2022 1:25 AM
By JASON ELLIOTT
Sports writer
RATHDRUM — Lakeland did almost enough to earn a hard-fought home win.
Coeur d'Alene just had a few more plays in its tank.
Coeur d'Alene junior Kruz Wheeler scored on a 29-yard touchdown run to give the Vikings their first lead of the game with 2:54 remaining in the first half, then the defense made it hold up in a scoreless second half for a 14-13 nonleague win over the Hawks at Corbit Field on Friday.
Lakeland (4-1) marched right down the field in the first quarter, opening the scoring on a 20-yard field goal by Owen Forsman. The Hawks struck again on a 15-yard pass from Caysen Loutzenhiser to Ezra Benson to take a 10-0 lead after the first.
Coeur d'Alene (2-2) answered with a 32-yard pass from Jamison Kizziar to Colton Farrar with 9:41 remaining in the half.
"Our kids kind of panicked in the first quarter and a half," Coeur d'Alene coach Shawn Amos said. "We got hit in the mouth and didn't respond very well. We finally settled down and played better football, but Lakeland's a good football team. You don't go 4-0 unless you're a good football team. They've got their identity and they stick to it and run."
Coeur d'Alene, which lost to Rigby and Rocky Mountain to open the season, beat Sandpoint two weeks ago before having a bye week last week.
"We lost to two really good teams and we just beat two really good teams," Amos said. "We're somewhere in that trajectory and need to continue to take steps to get where we want to. It was a great battle for us and hopefully our kids respond in the appropriate way."
Kizziar, a junior, completed 16 of 25 passes for 199 yards for Coeur d'Alene.
"Jamison is just growing up," Amos said. "He had the COVID year, and only played half the time last year as a sophomore. We opened with Rigby and Rocky, and it was like 'welcome to 5A football.' We never lost faith in him and the guys didn't lose faith in him. He's going to be good. He's got a long way to go, but he's making strides too."
Wheeler and senior running back Maddix Maciosek combined for 125 of the Vikings' 149 yards on the ground.
"I thought both Kruz and Maciosek ran hard tonight," Amos said. "Both are downhill guys. We just couldn't get out of our way in the first half. We still have a ways to go, and it wasn't as good of a step as we'd like it to have been."
Farrar had 122 yards receiving on eight receptions for Coeur d'Alene.
"The first three games, we had a hard time connecting with each other," Kizziar said of Farrar, a senior. "He's going to start rolling the rest of the season and was really key for us tonight to pull through."
Lakeland senior running back John Cornish ran for 108 yards, the bulk of which came after fellow senior tailback Thomas Calder suffered an ankle injury with 4:34 remaining in the half. Calder did not return.
"We weren't really tentative in practice this week," Cornish said. "In the long run, this is going to make us better as a team. Because we know what it's like to lose to a team at this level now. And it's just going to make it better."
"He's one of the better backs in the state of Idaho and has proven it the last five weeks," first-year Lakeland coach Mike Schroeder said of Cornish. "He's a good running back and good football player, and we really appreciate all that he does for us."
Lakeland also lost sophomore wide receiver/defensive back Weston Saputski to injury late in the first half.
"Having Calder out and losing Weston Saputski really changed the dynamic of the game for us," Schroeder said. "We as coaches need to do a better job with our backup players, and it's going to be on the coaching staff to get better. We need to be more academically inclined for the week."
Leading 14-13 with four minutes remaining, Kizziar hit Farrar on a 12-yard pass on third down, taking the ball to the Lakeland 38 and helped the Vikings run out the clock.
"I think we played really hard and everyone gave it their all," Schroeder said. "But at the same time, that's to be expected. I think we kind of let an opportunity slip away; when you play that hard, you really want to win the game. It's no consolation in that, and we expected to do that, and we just made too many mistakes."
Coeur d'Alene beat Lakeland 48-7 in the team's most recent matchup, in 2020 at Viking Field.
Lakeland last beat Coeur d'Alene in 2001. The teams have met just nine times since then, and only twice since 2009.
"Lakeland's a physical team up front and are going to run it down your throats," Amos said. "You kind of know what they're going to do, but they're really good at it and their running backs are tough and run hard. Having Lakeland being good is good for us because it's great competition for us."
Coeur d'Alene hosts Woodinville (Wash.) next Friday night. At the game, the Vikings will honor their 1982 state football championship team.
Lakeland hosts Post Falls next Friday.
Coeur d'Alene 0 14 0 0 — 14
Lakeland 10 3 0 0 — 13
First quarter
LL — FG Owen Forsman 20, 8:36.
LL — Ezra Benson 15 pass from Caysen Loutzenhiser (Forsman kick), 4:47.
Second quarter
Cd'A — Colton Farrar 32 pass from Jamison Kizziar (Cooper Prohaska kick), 9:41
Cd'A — Kruz Wheeler 29 run (Prohaska kick), 2:54
LL — FG Forsman 41, :03.
INDIVIDUAL STATISTICS
RUSHING — CdA, Wheeler 12-79, Kizziar 8-24, Maciosek 9-46. LL, Calder 7-79, Cornish 21-108, Loutzenhiser 1-4, Saputski 2-23.
PASSING — Cd'A, Kizziar, 16-25-0-199. LL, Loutzenhiser 5-11-0-47.
RECEIVING — Cd'A, Farrar 8-122, Erickson 3-38, DeGraw 1-3, Clute 1-14, Robertson 2-35, Maciosek 1-2. LL, Calder 2-28, Benson 2-20, Kuenkler 1-14.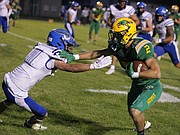 Recent Headlines
---