Gone fishin': Memories made, fish tales told Sunday during C.A.S.T. for Kids in Post Falls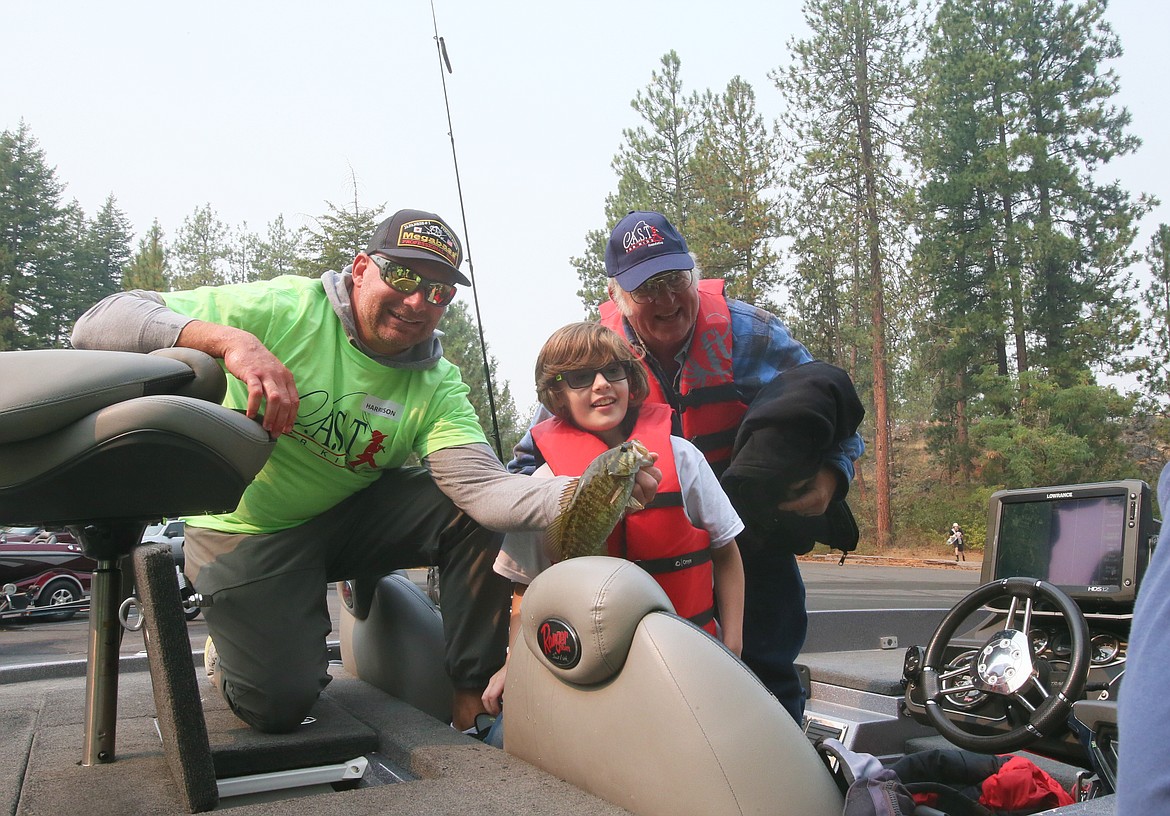 Tanner Sams, 12, of Rathdrum, and his grandpa, Tim Clements, enjoy showing off a smallmouth bass, held by Lakeland Middle School Vice Principal Harrison Bertsch, during the C.A.S.T. for Kids event Sunday morning in Post Falls.
DEVIN WEEKS/Press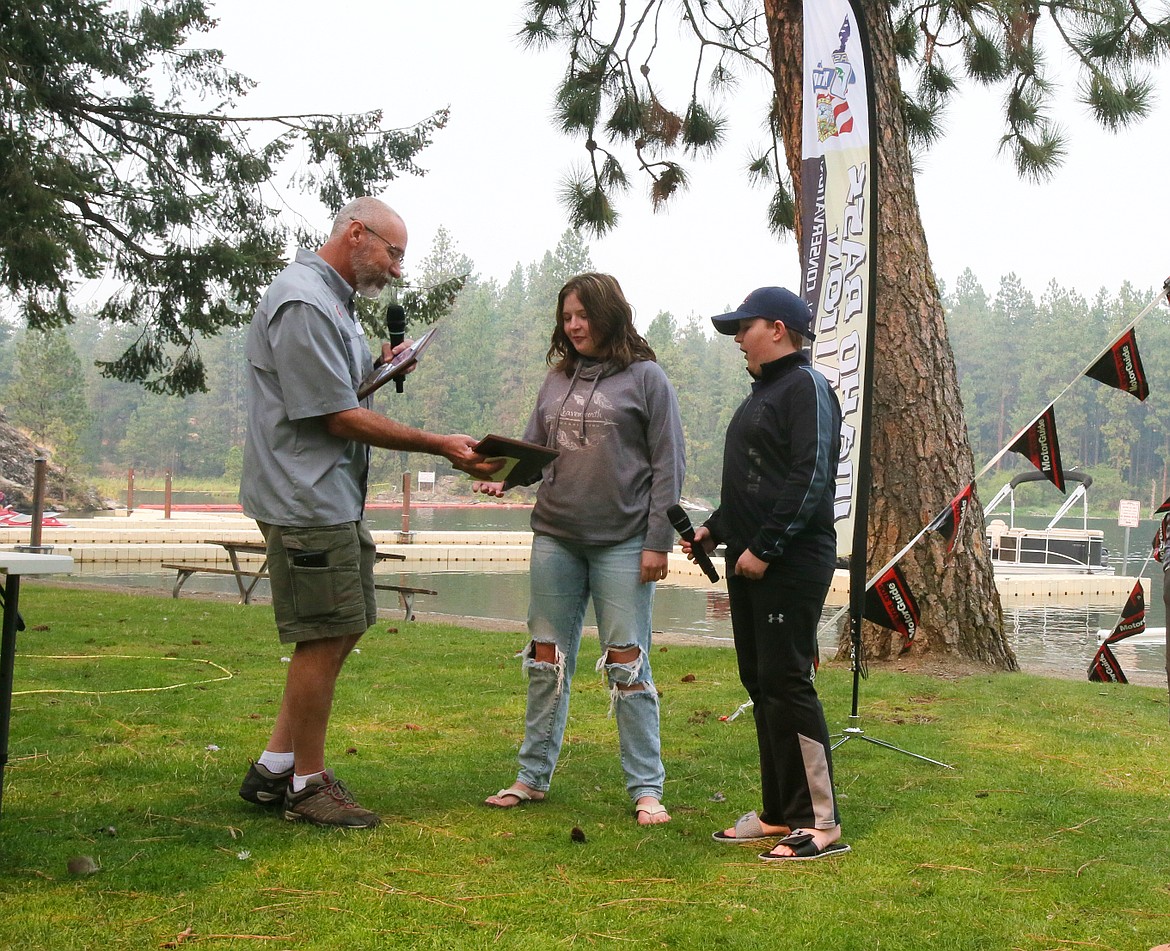 C.A.S.T. for Kids event coordinator Chris Rambough awards plaques to Post Falls siblings Faith Banks, 14, and Christian Banks, 12, after a Sunday morning of fishing.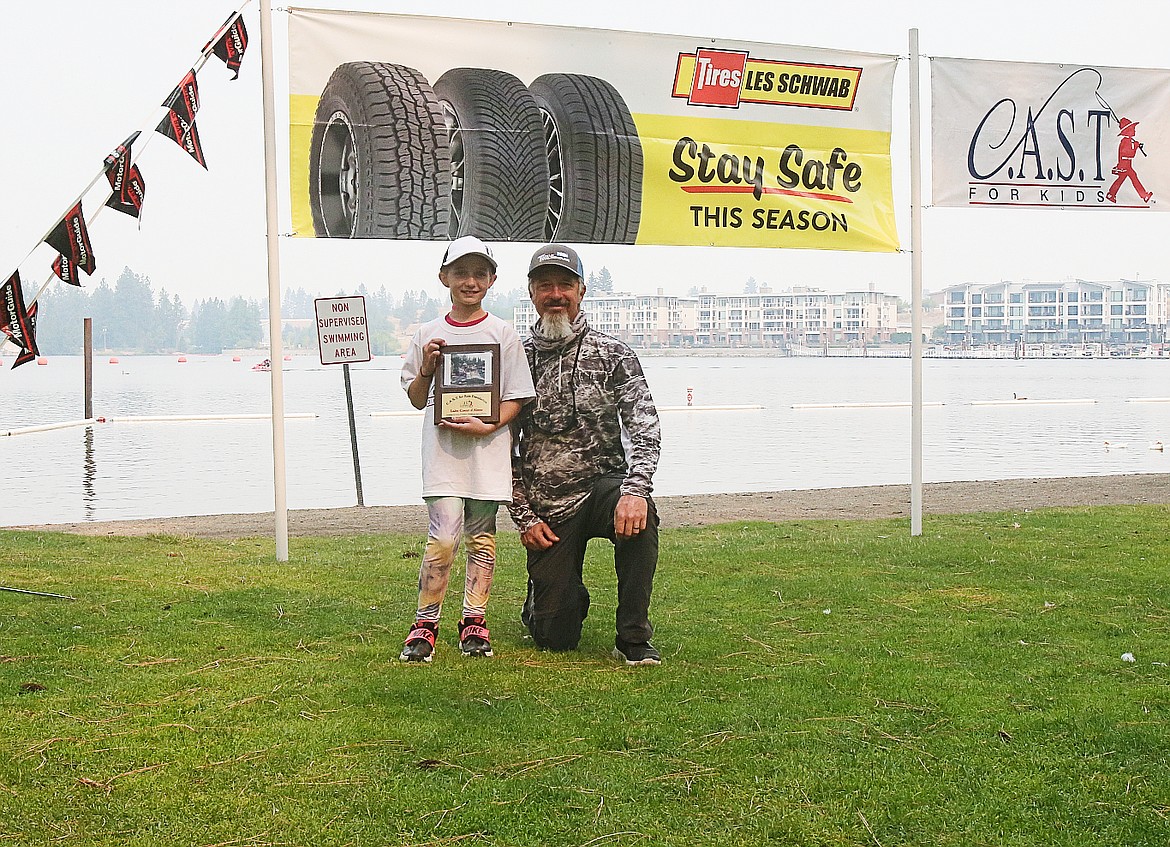 C.A.S.T. for Kids participant Haylee Madison, 9, smiles for the camera with Mark Tubbs, boat captain, after receiving a plaque Sunday.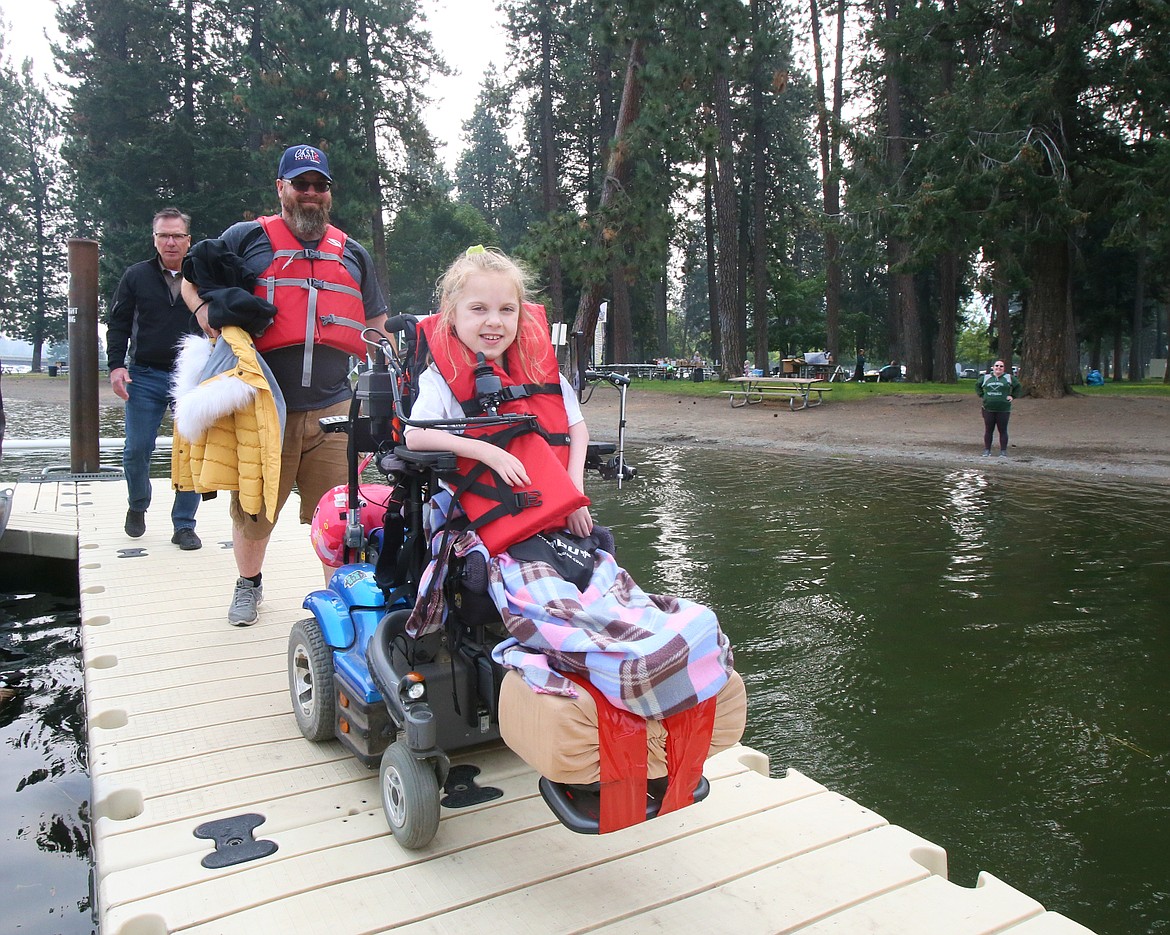 Tracy Sams, 9, of Rathdrum cruises along the Q'emiln Park Boat Launch dock followed by her dad Trever Sams after a C.A.S.T. for Kids fishing excursion Sunday morning on the Spokane River.
Previous
Next
by
DEVIN WEEKS
Staff Writer
|
September 13, 2022 1:06 AM
POST FALLS — Joyful chatter was heard through handheld radios as young fishing enthusiasts celebrated their catches.
"I caught a fish!" "I caught another fish!" "Good job!"
Tanner Sams, 12, of Rathdrum, could barely contain his glee as his boat pulled out of the Spokane River at Q'emiln Park in Post Falls.
"I caught two monsters!" he exclaimed. "Smallmouth bass."
Memories were made and many a fish tale was told Sunday morning during the C.A.S.T (Catch a Special Thrill) for Kids Lake Coeur d'Alene event, which took 21 kids ages 6-18 on fishing excursions along the Spokane River at no cost to their families.
"It's something they don't get anywhere else," event coordinator Chris Rambough said. "Fishing is great for kids, everybody, and why not special needs kids? They love it. You can't even imagine how much joy comes out of this for them."
Tanner's sister, Tracy, 9, was all smiles as she cruised down the dock in her wheelchair.
"I didn't catch any fish, though," she said.
"But she had the world's biggest seaweed catch," her grandmother, Valerie Clements, said with a laugh.
"We went through five lures," said her dad, Trever Sams.
The C.A.S.T for Kids Foundation is dedicated to enriching the lives of children with special needs, supporting their families and strengthening communities through the sport of fishing.
This was the second year the event took place in North Idaho. The Sams family has participated both years.
"It's an experience my daughter would never have otherwise," mom Marri Sams said. "She would never be able to get out onto the boat without the help and the generosity."
Tracy has arthrogryposis, a condition that limits her mobility. But that didn't keep her from reeling in a fish last year.
"She's extremely adaptive," Marri said. "In order for her to be successful, we have to be around people who are OK with kids being adaptive."
And the C.A.S.T. volunteers are, she said.
"The term 'inclusive' is too cliche for this," Marri said. "It's just community."
Lakeland Middle School Vice Principal Harrison Bertsch volunteered for the C.A.S.T event. He went fishing with Tanner, who is a student at his school.
"It's been awesome," Bertsh said. "It's just a great day to spend time with kids that might not have the opportunity to get out and do this, and to share that with them, share time in the boat with them. It's not about catching fish, it's more about just being out there and enjoying the day."
Rambough and his wife, Stacy, have coordinated C.A.S.T. for Kids events for 20 years in the Boise area. More than 50 volunteers and several local businesses and organizations stepped up to ensure the 2022 North Idaho event was a success, including Pappy Boyington Marine Corps League No. 966 and Kootenai County Marines Toys For Tots — a League member was a boat captain and one was on shore duty.
"It takes quite a bit to put the event on," Chris Rambough said. "We provide fishing poles, tackle boxes, T-shirts, hats, trophies. The tackle boxes are full of tackle. It's quite the deal. It's pretty cool for them."
He said the event has room to grow — all they need is more volunteers.
To volunteer or participate next year, visit castforkids.org or call Rambough 208-519-9955 for details.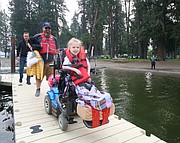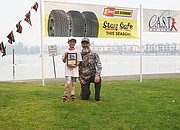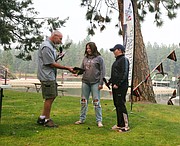 Recent Headlines
---