MY GARDEN PATH: Enjoy every day
by
ELAINE CERNY/Special to The Press
|
September 4, 2022 1:00 AM
Looks like our short and hot summer has about run its course. It seemed so short as it was so slow getting started. May was just plain chilly but once it warmed up, it stayed in the 90s for a long time. Not the best "growing season" but hey, it beat snow!
Now that September is here, we need to change gears and start the winding down process. There are plenty of things that need doing, things that will keep us busy for a while.
If you're wanting some new spring flowering bulbs, start shopping for them as they don't last long on those store shelves. Just don't forget to get them planted as too often I hear someone comment about how they did just that and didn't realize it until about Thanksgiving!
There are just a few things to keep in mind when you do go to planting those bulbs.
• A sunny location
• One with good drainage
• Add fertilizer at planting
It's also time to take care of your vegetable garden. Pick all the ripe things. Corn, for instance, doesn't improve in flavor when left on the plants once it's ripe.
I'm not able to have a vegetable garden as my back yard is shaded by many pine trees to the south. The front yard gets plenty of sunshine but our CC&Rs say "no veggies can be grown there." Phooey!
I hope you're enjoying lots of blooming perennials. I have loads of them including Black-eyed Susans, bee balm, coreopsis, cone flowers, salvia, speedwell and Japanese anemones. The fall asters are budding up and will soon be putting on their own show.
If you're still enjoying hummingbirds in your yard, get ready to bid them farewell. They usually head south about the middle of September.
We think we have tall Ponderosa pine trees in this area but I was just reading about one that dwarfs them all. This one, located in Oregon, tops out at 268 feet and is nicknamed "Phalanx."
Speaking of pine trees, this certainly was a year for them to produce a bumper crop of pine cones. I gathered up a LOT of them following each instance of the slightest breeze.
We often hear admonitions about "overhead watering" as it could cause drastic things to happen to our plants. I have to laugh because when you think about it, isn't overhead watering kind of a normal thing? We call it "rain."
• • •
Elaine Cerny has gardened most of her life staring in 4-H. She has belonged to garden clubs in three states and is currently a member of the River City Gardeners Club in Post Falls. Her column has appeared in The Press every other Sunday from early March until late October for the past 14 years.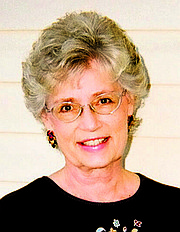 Recent Headlines
---